Important Safety Tips for Drivers and Cyclists
By following a few simple rules, we can all share the road safely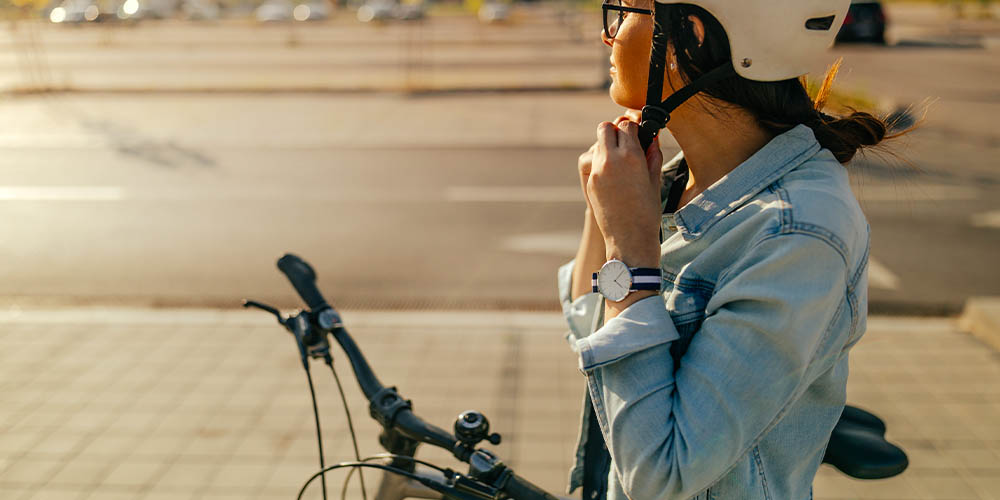 Before you get on your bike to enjoy the warmer weather, it's important to keep safety top of mind. Whether you're choosing to ride your bike as a means of transportation or for exercise, there are some important things to be aware of. To encourage all road users to be safe and share the space responsibly, we've compiled a list of tips with the help of two experts: Stephanie Hahn, the executive director of the Share the Road Cycling Coalition, and Teresa Di Felice, the assistant vice-president of government and community relations at CAA South Central Ontario.
1. Respect other road users
Often, there's a feeling of competition for road space between cyclists and drivers. Hahn says the acrimony is counterproductive, and Ontario's roads would be safer if everyone worked together. "We need to see each other as people," she says. "We're all just trying to get home to our loved ones."
2. Use the Dutch Reach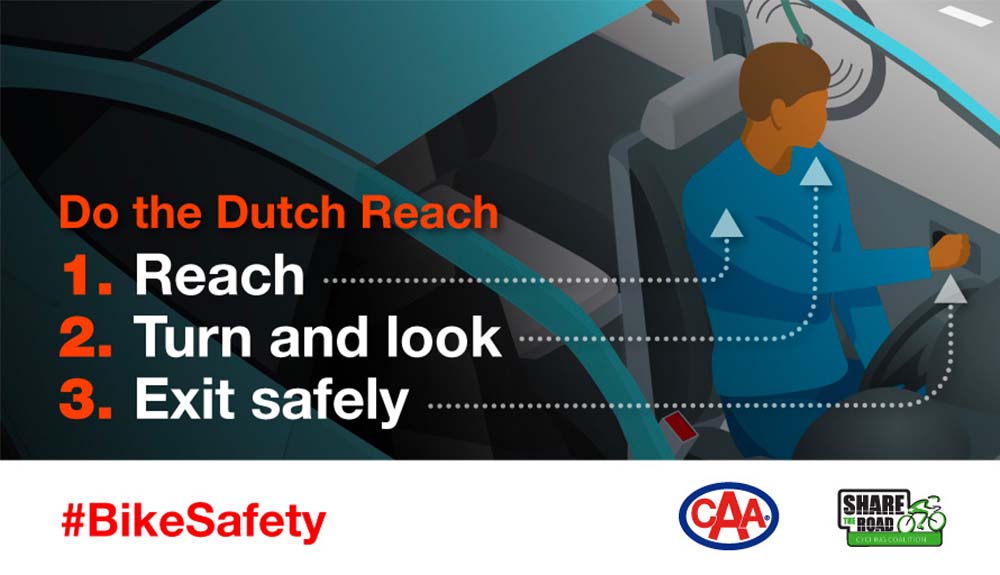 The Dutch Reach is a method for exiting a car that sees motorists open their doors with the hand furthest from the latch. For drivers, that would be their right hand, for passengers, their left. The move forces them to turn their upper body and perform a blindspot check for cyclists, who can be seriously injured by an open door (a type of collision so common it has its own name: dooring). Di Felice says the Dutch reach is a simple act that can make "a big difference."
3. Be predictable
Many car-bike collisions are the result of rash decisions, like a cyclist darting across a lane of traffic or a motorist making a sudden right turn. That's why Hahn says it's important for everyone on the road to signal their intentions. For cyclists, that means riding in a straight line, using hand signals and obeying road signs. For drivers, it means avoiding abrupt lane changes and using your signal well in advance of a turn. (CAA research among its Members shows that cyclists are most concerned about motorists who make turns without looking for bikes, as well as aggressive drivers.)
4. Leave room
According to Ontario law, keep a one metre distance when passing a cyclist. That might seem like a wide berth, but Hahn says it's vital, because cyclists often need to swerve to avoid things like potholes, road debris and sewer grates. Drivers who don't leave a one-metre buffer could be fined and handed two demerit points.
5. Drivers and cyclists need to follow the rules of the road
This might seem obvious, but Hahn says many collisions are the result of drivers and cyclists not adhering to the rules of the road. One of the most serious transgressions is drivers who ignore posted speed limits, she says. "Speeding makes our roads so much more dangerous." It's also important for drivers and cyclists to come to a complete stop at red lights and stop signs. And both motorists and cyclists shouldn't forget to yield the entire roadway to cyclists and pedestrians at pedestrian crosswalks, school crossings and crossovers.
6. Have perspective
Di Felice says it's important for drivers and cyclists to realize that everyone has work to do to make Ontario's roads safer. "Nobody wants to be hit, and nobody wants to hit someone," she says. "Let's stop pointing fingers, because everyone can do better."
Keep learning
Almost a quarter of CAA Members who aren't cyclists are now aware of the Dutch Reach—up from 8% in 2018—and among those using the Dutch Reach, there has been almost a 20% increase in usage when Members park in an area where there could be a cyclist. For more information on the Dutch Reach, watch this video from CAA and Share the Road.
Plus, visit our cycling safety website for more tips for cyclists and drivers; and check out Share the Road, which has pointers and data about cycling in Ontario.
Keep reading
Help teach your kids the rules of the road, and get our refresher on hand signals for cyclists.
Image credit: iStock.com/AleksandarNakic