How to Choose the Right Snowmobile and Gear
Everything a new snowmobiler needs to know—before hitting the trails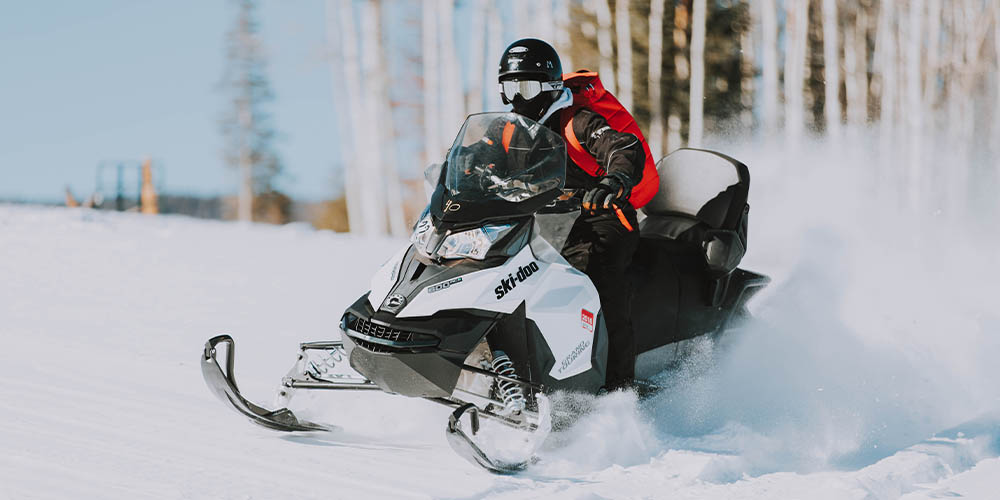 Choose the right sled
If your plans include hitting well-groomed trails with a riding buddy, try a touring sled like the 2021 Yamaha Venture. Such luxury features as an electric starter, heated hand grips and ample storage make touring sleds a great choice. The Venture's passenger seat has an adjustable backrest that allows two to ride in comfort.
If you're looking for speed, wide-eyed performance machines, such as the Ski-Doo 2021 MXZ, offer sharp handling and more horsepower than some cars. Their hair-trigger throttles deliver bursts of speed and put a priority on flattening corners rather than bumps. While they have fewer creature comforts, they're a lot of fun.
In between these two extremes are crossover sleds like the Polaris Switchback. They combine much of the power found in a performance machine with many of the luxuries found in a touring model. This adds weight, but also provides greater day-to-day livability. You'll find storage, wind-deflecting shields and a go-anywhere versatility to tackle most trails.
Get the proper gear
A properly fitting helmet is key. One that's too big or small will be uncomfortable and won't provide adequate protection. Full-face helmets are popular thanks to their ability to deflect frigid winter air. Consider an anti-fog visor for convenience. And while expensive, auto-darkening (or photochromic) visors make riding in sunny weather a treat.
Proper clothing immensely improves the experience. Single-piece snowsuits are great for sealing out the cold, but can be a hassle to remove when you stop for lunch. As with other outdoor winter activities, dress in layers and invest in a good pair of boots.
Know the provincial licencing and insurance requirements
Regulations vary by province, but in general, a snowmobile needs to be registered and insured just like the family SUV if you plan to take it on public trails. In Ontario, mandatory third-party liability coverage is required.
Be sure to register your new snowmobile with the Ministry of Transportation to receive a number decal that will be placed on your sled. In most provinces, riders over the age of 16 simply need a standard driver's licence or motorized snow vehicle operator's licence to operate a snowmobile on approved public lands.
Insure Your Ride
CAA Auto Insurance offers coverage for trailers, motorhomes and campers; visit the caasco.com/insurance/auto or call 1-877-222-1717 for more information and a complimentary quote.
Image Credit: Unsplash.com/Nate Johnston