A Guide to Travelling Safely With Pets
Your animals are part of the family—keep them safe while you're driving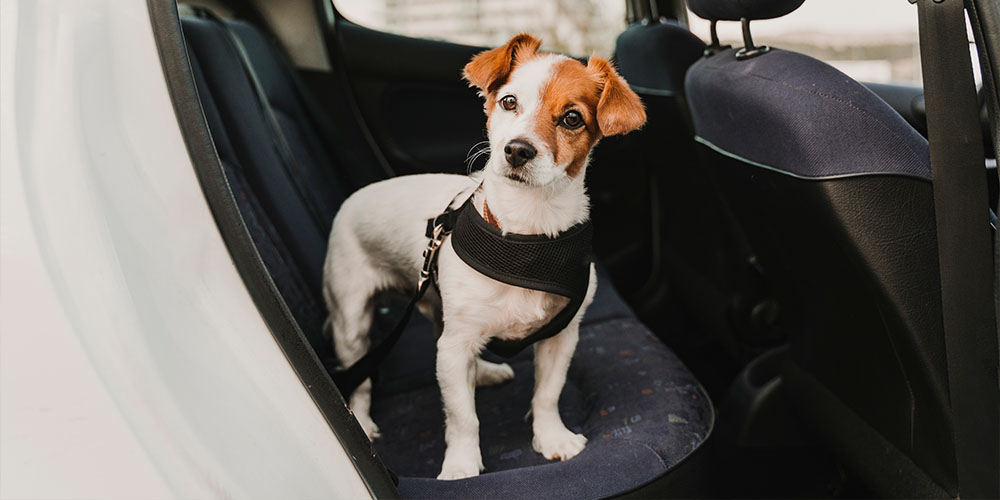 Do you love to travel with your pet? If you're planning to take a drive with your four-legged friend, here's some expert advice on keeping them safe.
Prevent harm
When driving with your dog or cat, ensure they're properly secured when the vehicle is moving to ensure their safety—and your own.
If you're in a collision, "Anything unsecured is potentially volatile inside that vehicle," says Sgt. Kerry Schmidt of the highway safety division of the Ontario Provincial Police.
"We've seen an unrestrained occupant—a person or a dog—thrown around in the vehicle. They're the ones that cause traumatic injuries, either to themselves or to others in the vehicle," he says.
Paws En Route CEO Dacia Rohlehr agrees. "Restraining your pets during travel could save both their life and yours."
Keep them safe
When in the car, use a harness with a seat belt loop, or a proper seat belt attachment to connect your dog's harness to the seat belt buckle.
"In the event of a collision, it will hold them in the seating place and will keep them from being sent flying throughout the vehicle or through the windshield," Rohlehr says.
She also recommends keeping the windows up while the vehicle is moving so pets can't stick their heads outside, as road debris can potentially harm their eyes.
Use a pet-certified carrier or crate for smaller animals, and secure it with a seat belt.
"Never leave your pet unattended in a vehicle at any time for any reason," Rohlehr adds.
If you are headed somewhere that doesn't allow dogs or cats, consider leaving them at home where they'll be more comfortable.
Weigh the risk
While there is no law on restraining pets while in a vehicle, crowding a driver's lap or feet carries a $110 fine under the Highway Traffic Act.
"It's subject to the officers' perception as to what crowded is," Schmidt says.
So that dog or cat on your lap may end up costing you—not to mention it may interfere with your proper handling of the vehicle.
Pets love to come along for the ride, but it's important to keep them safe along the way.
Ensure your pets are safe
Have peace of mind with pet insurance from CAA's partner Pets Plus Us, which offers different plans. The proper coverage may help with the cost of veterinary care and medical expenses for your dog or cat, including medications, emergency care and even surgery. CAA Members enjoy exclusive discounts on pet insurance policies. Visit caasco.com/insurance/pet for more information.
©2022 All rights reserved. Pets Plus Us Pet Insurance policies are underwritten by Northbridge General Insurance Corporation, distributed by PTZ Insurance Services Ltd. and Société d'Assurances Collectives (Sodaco) Inc. in Quebec. Pets Plus Us Pet Insurance is available in all provinces and territories. Pets Plus Us®, Pets Plus Us and Design and related words and logos are trademarks and the property of PTZ Insurance Services Ltd.
Image credit: Eva Blanco/iStock