2015 Porsche Macan Review
Getting behind the wheel of the luxury crossover at the 2014 Porsche Performance Tour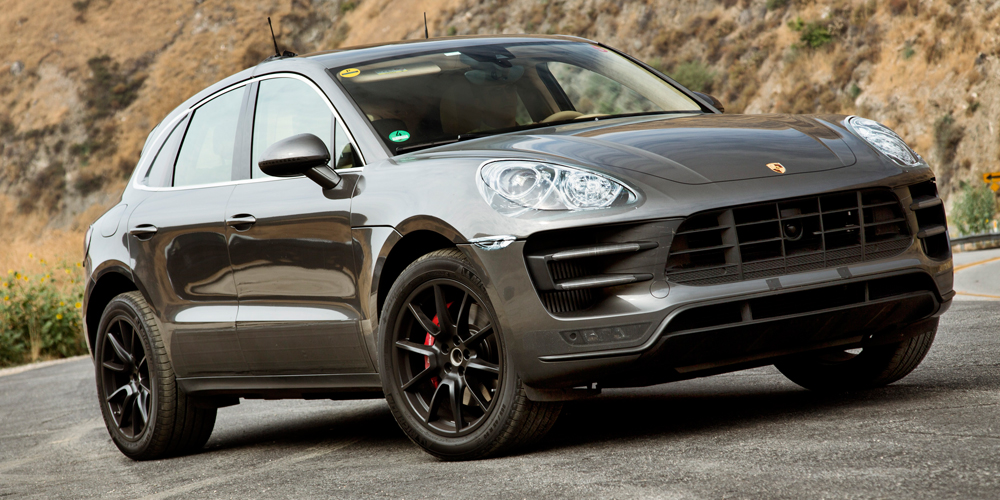 Whether it's zipping along the highway or traversing rough terrain, the compact Porsche Macan can do it all without a hitch.
Type
SUV Luxury Crossover (Macan Turbo)
14.2 L/100 km city; 10.1 L/100 km hwy
Competition
Audi Q5
BMW X5
Infiniti QX70
Acura RDX
Best For
Zipping along the highway or exploring the backcountry
We're in scenic Callaghan Valley near Whistler, B.C., on a rugged course with steep hills, giant puddles and rough, rock-covered terrain. This is not your usual Porsche test drive.
More than a dozen Porsches—including the all-new 2015 Porsche Macan SUV—rolled into Vancouver, B.C., for the first Porsche Performance Tour event held in the Lower Mainland. The first activity on the list was off-roading with the Macans. This wasn't a quick lap around a muddy field, but rather a full trek in the backcountry. The luxury crossover proved it could handle such duties with ease.
The Macan represents Porsche's introduction into the compact sport utility market. Described by Porsche as "sports car meets SUV," the front end is aggressive with a big centre grille, large side air intakes in the bumper, foglights and smoked headlamps housing Bi-XenonTM lights. The body is wide and sculpted with muscular lines, but the roof slopes down gently towards the rear like a coupe.
Our Macans were all equipped with the optional Sport Chrono package, which adds an analog and digital stopwatch on top of the dashboard and the all-important Sport Plus button in the centre console. According to Porsche, engaging the Sport mode knocks 0.2 seconds off the already quick 5.4 seconds it normally takes the Macan S to get from 0 to 100 km/h, or the blazing 4.8 seconds for the Macan Turbo.
Both trims are actually powered by turbochargers. The S has the newly designed 3.0-litre V6 twin-turbo engine producing 340 horsepower and 339 lb-ft of torque. The Turbo engine is a 3.6-litre bi-turbo producing 400 horsepower with 406 lb-ft of torque. All Macans include all-wheel drive and the seven-speed Porsche Doppelkupplung (PDK) dual-clutch transmission as standard.
When the time comes to take the road less travelled, features like the Porsche Hill Control (PHC) system and Offroad mode come in handy. With PHC activated, driving down a hill causes the brakes to kick in automatically, slowing the vehicle to a crawl and freeing up the driver to concentrate on steering. Turning on the Offroad function raises the suspension to provide 9.06 inches of ground clearance and dials back throttle response to make driving on rough terrain easier.
Whether it's zipping along the highway or traversing rough terrain, the compact Porsche Macan can do it all without a hitch.