2016 Fiat 500L Review
A family-friendly format with some European character
Compact but versatile, the Euro-inspired 500L is a compelling addition to Fiat Canada's growing family of cars.
9.3L/100 km city, 7.1L/100 km highway
Six-speed manual or optional six-speed automatic
Competition
Honda Fit, Kia Soul, Mini Cooper
Best For
Urbanites looking for a roomy interior and a little extra flair.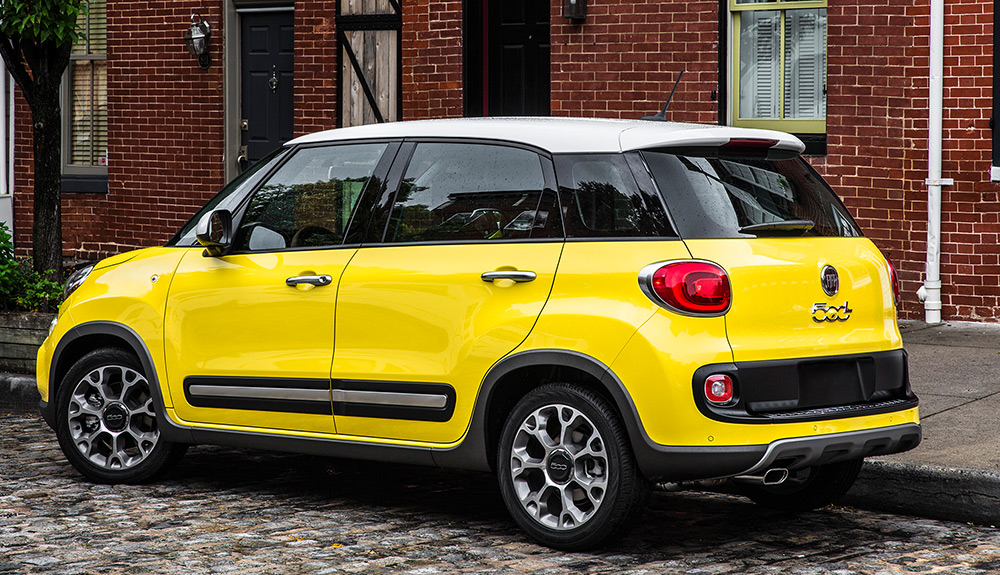 If you saw it zooming up in your rear-view mirror, you might mistake the Fiat 500L for its smaller brother, the Fiat 500. The two vehicles have a strong resemblance in the headlights, grille and front bumpers. But once you're inside, there's no confusion. The 500L is a wagon with plenty of room for your family—and gear. It adds space and light to the Fiat brand's distinctively European flair.
With seating for five and a luggage compartment of 634 litres, which expands to 1,926 litres when the seats are folded down, the 500L is a versatile package. It has 42 per cent more interior space than the Fiat 500, without adding undue bulk.
There are five models to choose from: Pop, Sport, Trekking, Urbana Trekking and the premium Lounge. I drove the Urbana Trekking model (with a base price of 25,995 MSRP), complete with an automatic transmission package, including a premium sound system and 17-inch wheels (a $1,595 option), rear-park assist and backup camera ($750), power sunroof ($1,295).
For the budget-minded, the base model—Pop—starts at 21,995, with a six-speed manual transmission. All models have the full suite of safety features, including stability and traction control.
Fiat has updated the 2016 500L with a new 1.4-litre, turbocharged in-line four-cylinder engine, with 160 horsepower and 184 lb-ft of torque—a big improvement over the sluggish old 125-horsepower powerplant. It's got enough muscle now to provide a comfortable ride on the highway with a full load. And fuel economy is rated at a reasonable 9.3 L/100 km city and 7.1 L/100 km highway.
The 500L handles beautifully, and reverses and parks like a champ, making it a delightful city driver. But with only front-wheel drive and no rated towing capacity, it really is an urban wagon, not designed for more rugged environments.
Inside, the experience for both driver and passengers is quite comfortable. There's plenty of leg and headroom, and generous door openings make entry and exit a snap. Visibility is excellent, all the way around. The Uconnect® entertainment and connectivity system offers Bluetooth, voice-activated functions and a standard five-inch touchscreen.
While the rear door provides easy access for awkward, bulky items, it opens so high that kids or shorter adults might find it a challenge to close. A clever moveable shelf allows valuables to be stowed out of sight when the cargo cover is not in place, adding to the car's errand-running capabilities.