Bermuda: The Ultimate Trip Itinerary
Pink sand beaches and verdant gardens make this archipelago the gem of the mid-Atlantic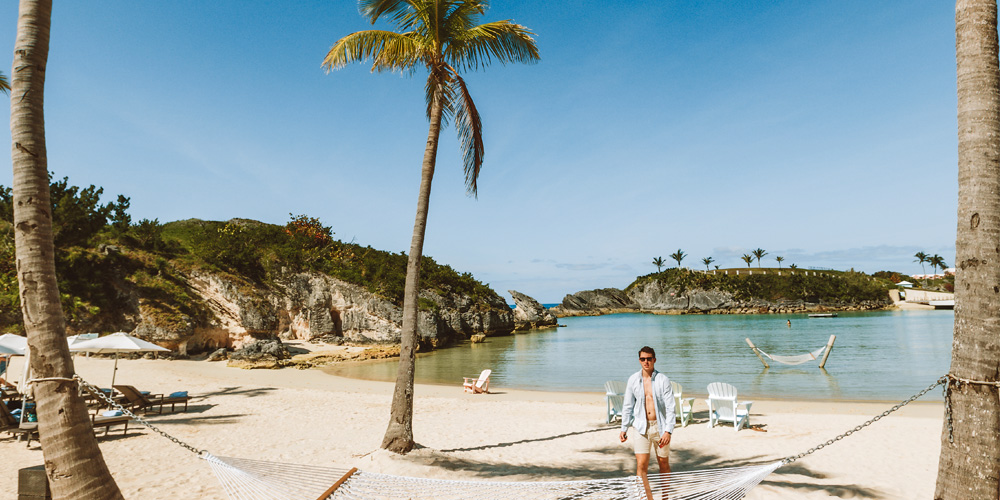 When I recall Bermuda, I always think pink—the pink sand beaches, candy-floss-coloured houses and lush gardens dotted with roses and fuchsias growing so close to the roadside that you can roll down the car window and almost touch them. I have rosy memories of all my trips to Britain's oldest overseas territory. Bermuda was one of the first places I visited, solo, years ago, and I always feel safe there. On my second trip, I learned how to mix cocktails with the region's famous rum (more on that later). I then returned to sail around these coral islands on a catamaran.
This year, I took time to dig a little deeper and learn more about Bermuda's origins. There's always more to bring me back here and it's not too far to visit. From Toronto, the flight to St. David's Island is just under three hours. People may speak of Bermuda as if it's one island, but, in fact, it's an archipelago of strung-together islands, islets and other tiny rocks that span roughly 56 square kilometres. It's small, but it's rich in culture, with a prosperous economy, complex history and lively arts community. Here are some of my favourite things to see and do on—as locals lovingly call it—"The Rock."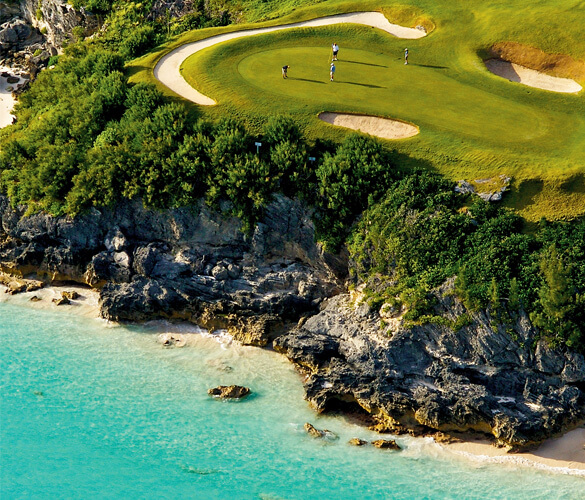 Play Golf
Bermuda is a golfer's heaven with seven world-class golf courses, including the award-winning Port Royal, designed by the inimitable golf course architect Robert Trent Jones, Sr. The PGA's Butterfield Bermuda Championship tees off here in November. Most courses are public or run by hotels such as Tuckers Point Golf Club at the Rosewood or Turtle Hill at the Fairmont Southampton. All seven courses have spectacular ocean views and are open year-round.
Insider tip: Mid Ocean, consistently voted as one of the world's best courses, is private, but opens a few coveted spots to the public on weekdays. Book a tee time far in advance.


Climb a Lighthouse
Gibbs Hill Lighthouse, among the oldest of cast-iron lighthouses on the planet, still beams out into the Atlantic, as it has been doing since 1846. If you're feeling fit, climb the 185 steps to the top and take in the views of the South Shore, Little Sound, the Royal Naval Dockyard and the skyline of Hamilton, Bermuda's capital.

Insider tip: The little door at the top leads to an outdoor walking platform with a 360-degree view.

Live Artfully
Splurge and book a stay at the Hamilton Princess & Beach Club. This Fairmont-managed property—known locally as the Pink Palace—has been a mainstay in Bermuda since 1885. Mark Twain lounged on the veranda and held autograph signings in the hotel. Now, the Hamilton Princess includes an impressive gallery space with a collection of more than 300 pieces by some of the biggest names in modern and contemporary art. Visitors can get up close to major works by Warhol, Picasso, Koons, Kusama, Weiwei and Banksy.

Insider tip: A local gallerist leads a hotel art tour by request.

Check out a New Restaurant
After taking the art tour at the Pink Palace, head to its newly opened restaurant, Intrepid. This steak-and-seafood venue is directed by the deft hand of Antwan Ellis, who honed his craft at Shula's and Todd English in Orlando. Here, in Bermuda, American grill-meets-raw-bar in an elegant art deco–inspired space. Intrepid was the code name for the Bermuda-based Second World War operative, Sir William Stephenson. He was a friend of author Sir Ian Fleming and rumoured to be the inspiration for Fleming's famous character, James Bond.

Insider tip: If you order a martini, expect vodka, Lillet and an olive—a variation of Bond's cocktail in Casino Royale. Shaken, not stirred, of course.
Learn from the Locals
Enjoy a history lesson via Unchained on the Rock, a new initiative founded by locals Liana Nanang and Ajala Omodele—year-round talks, tours and workshops chronicling Black liberation and resistance. I met them at the Commissioner's House in the Dockyard, where their guided tour of the National Museum of Bermuda offered the perspective of the African diaspora and enslaved people of West Africa, the West Indies and Indigenous American peoples. Nanang is a descendant of enslaved Africans and Indigenous Americans brought to Bermuda. She and Omodele read snippets of their poetry as we walked the halls where their ancestors once toiled—a deeply moving experience that encouraged me to learn more.

Insider tip: Follow the island's African Diaspora Heritage Trail of more than 50 Sites of Memory, created as part of the UNESCO Slave Route Project, which shares the stories of enslaved people across the globe.

Dive in for some Snorkeling
Bermuda is great for snorkelling and diving year-round. I sailed to a near-perfect snorkelling spot at the Western Blue Cut, where several shipwrecks, caught in the shallow barrier reef, are easily spotted at a depth of less than nine metres.

Insider tip: April is Dive Month in Bermuda, when visibility of the coral reefs and the numerous shipwrecks is considered at its best.

Sip Island Rum
I learned how to stir up a perfect Dark 'n Stormy cocktail with rum and ginger beer at Gosling's Rum Distillery in Hamilton. According to Gosling's, the recipe originated at a local ginger beer factory run as a subsidiary of the Royal Navy officers' club. It's said the name comes from a fisherman's observation that the dark drink looks like "the colour of a cloud only a fool or dead man would sail under."

Insider tip: Bermuda's other famous cocktail is the Rum Swizzle—you'll find different versions of this rum-and-citrus drink across the island, but I recommend the one that claims to be the original, at The Swizzle Inn Pub.

Take in the Landscape
Walsingham Nature Reserve is a one-stop shop to take in Bermuda's most dazzling views. Bluepooled grottos offer plenty of snorkelling and swimming options, and the hiking trails abound with flora and fauna. The famous Crystal Caves, with their luminous stalactites dripping above groves of stalagmites, provide a breathtaking respite from the heat of the day.

Insider tip: Rent a bike and tour the island at your own pace along the 29 kilometres of accessible trails of the Bermuda Railway Trail National Park. Tourists are not allowed to rent cars on the island, but rental electric mini-cars and scooters are available. Taxis and public transport are well organized and easily accessible.
Book the ultimate winter getaway with a CAA Travel Consultant.
Visit caasco.com/travel to learn more.