Hide Away: Cave Hotels of Cappadocia
Head to Turkey for a night's stay that's different from anything you've ever experienced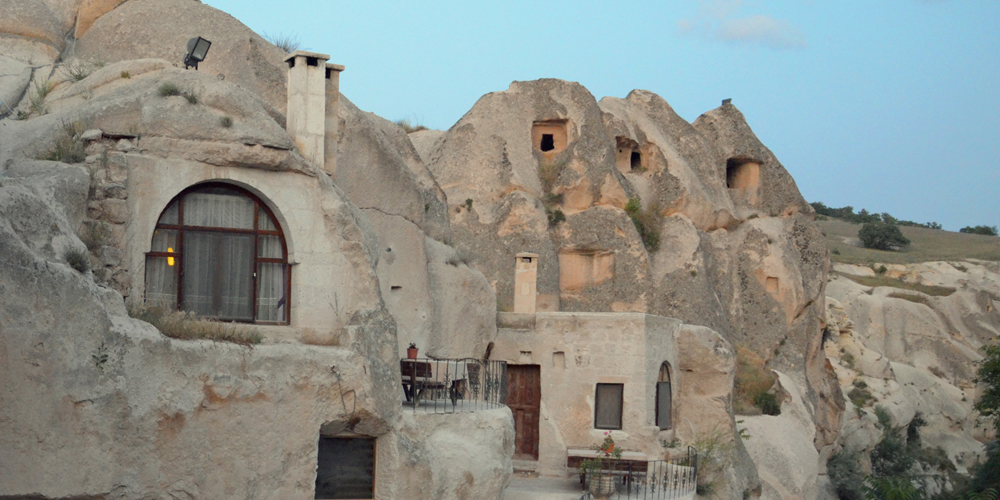 Welcome to Cappadocia, where years of wind and rain have eroded layers of deep volcanic ash, creating the cones, moonscapes and pinnacles that reach for the sky on this incredible terrain—and that's just skimming the surface.
In Göreme Valley, at the centre of the region, you'll find underground Christian churches more than a thousand years old, their walls painted with colourful frescoes. You'll also find underground "cities" used as a hiding place by the Christians during Roman rule. Caves used for agricultural storage line the roads, and some are still used as family homes. It really is another world.
Cappadocia's cave hotels allow you to fully immerse yourself in this magical land. From high-end boutique hotels to moderately priced hostels, these incredible accommodations have been sculpted out of the soft volcanic rock—called tuff—that also shapes great restaurants, incredible lobbies and exotic suites.
Gamirasu Cave Hotel is a perfect example of this unique experience. An aerial shot of the grounds displays what could easily be a village from a fairy tale, with curvy rock rooftops and small chimneys. An 11th-century Byzantine church forms part of the hotel, plus a cozy Turkish restaurant decorated with stone frescoes and colourful tapestries. In your room, you'll find elegant details chiselled into the rock, including shelves and sweeping arches. A heated pool and rooftop terraces add to the magic.
You can find the luxurious Yunak Evleri a short drive from Göreme. This incredible hotel is carved into a mountain cliff, its beauty peaking at sunset (or sunrise, if you can wake from your deep, dreamy sleep in time). This oasis is made up of seven cave houses and 40 private rooms, adorned with luxurious tubs, tall brass candlesticks and benches covered in intricate tapestries. Suites have shared terraces and there is also a pool within the quiet grounds. On cool nights, sit by the fire on the lobby's patio with a glass of wine, a blanket and a full view of the stars above. Even with your feet planted firmly on the ground, you'll feel worlds away in Cappadocia.
Feeling Inspired? See Cappadocia on a guided vacation through Turkey with Trafalgar. For details, call 1-800-992-8143 or visit a CAA Store today.