Jasper Dark Sky Festival Preview
Hear talks by Bill Nye and George Takei and check out star-studded workshops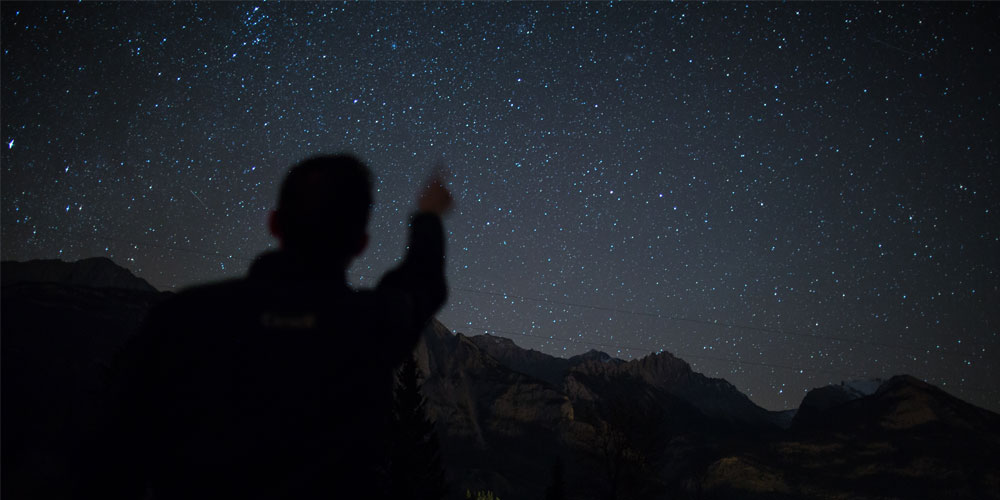 A dark sky preserve is an area free of light pollution, making it a perfect spot for stargazing. Jasper National Park is one of the world's biggest and most accessible preserves, and their annual festival is fast approaching. Celebrating astronomy and the stars—as well as a few other Jasper-related wonders—this year's events take place from October 14 to 23. Here are some of the things you'll learn there.
How to Take Photos of the Stars
Pack your DSLR camera and tripod and sign up to get advice from the pros. True enthusiasts will want to join photographer Ryan Bray for a weekend workshop that includes shooting time on the Athabasca Glacier. Those looking for just a few tips might want to join a pre-festival Saturday star session, whose planet-by-planet look at the solar system includes a quick class on night sky photography.
How the "Science Guy" Sees the World
Television star Bill Nye is giving a talk at the festival, followed by a VIP reception where you might get to clink glasses with the science educator—or even ask a few questions. Travelling with kids? Nye's afternoon talk on how the world works might be more up your alley.
How to Paint Like van Gogh
Whether or not the Dutch artist's The Starry Night graced your dorm-room wall, you'll find inspiration as you learn techniques inspired by the Post-Impressionist piece during a painting workshop.
What It Takes to Get Into Space
Canadian astronaut Jeremy Hansen is speaking on space exploration and following your dreams, a presentation that's sure to be a hit with any junior space explorers in the crowd.
Why We Need Dark Skies
The Royal Astronomical Society of Canada designated Jasper as a dark sky preserve in 2011. But what does it mean, what does it take to maintain this status and why does it matter at all? Find out at a free presentation.
How to Be a Social Media Star
George Takei is perhaps best known for his role as Hikaru Sulu on the original Star Trek, but he's since become a powerhouse on social media. The actor and advocate will be revealing some of his secrets—and surely some thoughts on the physical universe—in an evening talk followed by a meet and greet.
What the Sun Looks Like Through a Telescope
Stargazing isn't just for nighttime; our closest star, after all, is the very definition of day. At the early afternoon solargazing session, you'll get to know the Sun's visible features, followed by the chance to view it through telescopes with special filters. Expect to see not just the whole Sun, but close-ups of what appear to be flames protruding from the surface.
How to Spot the Northern Lights
Throughout the festival, nighttime astronomy talks give guests a guided tour of the sky, and a chance to learn and view meteors and the aurora borealis—assuming Mother Nature cooperates.