Visit Valparaiso: Chile's "Little San Francisco"
Discover colourful houses, coastal culture and plenty of hills to climb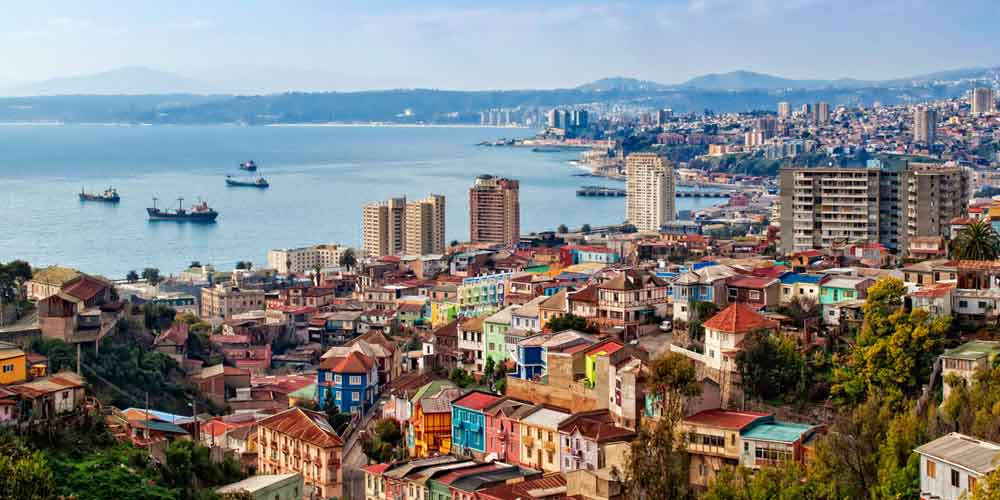 The vibrant streets of Valparaiso twist and furrow, tucking away an abundance of fabulous sites in their many folds. Bright colours and outlandish artwork cover almost every inch of the old city walls, which crumble away at the edges. There is so much to absorb in this sleepy little seaside city—known to the locals as "Valpo"—beloved by artists and creative types alike.
Explore on Foot
This city is a fantastic place to simply walk around with a camera in one hand and an empanada in the other. The hills rise and collapse like chaotic waves, earning it the nickname "Little San Francisco," so prepare for a casual stroll to feel like a hike at times. To squeeze in a variety of diverse spots, head out on one of Valpo's free walking tours, which leave every day at 10 a.m. and 3 p.m. from Plaza Anibal Pinto (the city's central square).
Take a Graffiti Tour
If you're interested in street art, then you must take advantage of the Valpo Street Art Tour. Wander around the famous neighbourhood of Cerro Concepcion, where you'll find funky hostels, incredible art and arguably the best empanadas in the country. You'll also have an opportunity to find spots off the beaten track, such as Cerro Carcel and Van Buren—neighbourhoods with thriving art scenes emerging from dilapidated buildings and an abandoned prison.
Ride the Funiculars
These far-from-wild rides up and down the many hills of Valpo are one of the city's trademarks. Tattered and shaky, the lifts are still one of the best ways to get from A to B, and from the top you are given some of the best views. Ascensor Artilleria is certainly one of the top lookout points, with the seaport on one side and the cityscape on the other.
Visit Pablo Neruda's house
La Sebastiana, Neruda's house, which overlooks the city, is yet further proof of the renowned Chilean poet's creative genius. Inspired by old ships and the surrounding nautical landscape, this house has three storeys of wonderful antiques, 1950s furniture and artwork given to him by his many famous friends.
Indulge in the Seafood
Up on the hill of Cerro Yungay, near the Neruda house, have a seat at Oda Pacifico's gorgeous ocean-view balcony. They serve a wide range of fresh seafood dishes, including octopus, shrimp or salmon ceviche and give the dish a modern spin that works wonders on the taste buds, experimenting with sweet and savoury options (think pineapple or passionfruit sauce). Check out Café Vinilo, tucked away on the trendy Avenida Almirante Montt. Their small garden is the perfect spot to spend a sunny afternoon. Order the rockfish and listen to old vinyl on their archaic record player with a glass of world-famous Chilean wine.