A Local's Guide: Winter Activities
The 10 best places to get outside and embrace winter in southern Ontario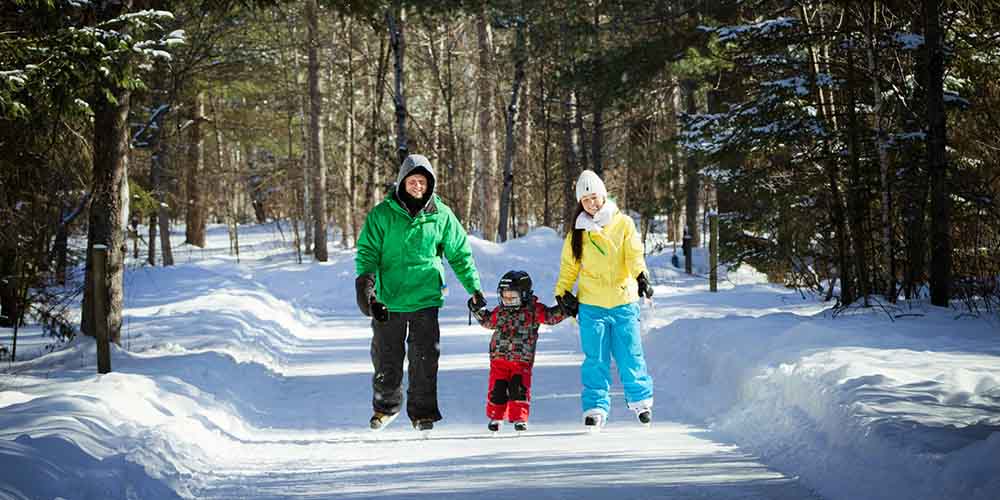 Whether you have a favourite winter hobby—and a collection of skates and snowshoes to show for it—or are looking for something new to do this season, read on for 10 activities and the best spots in the region to enjoy them.
Cross-Country Skiing
Glide past a snow-fringed Lake Huron and silent forests at Pinery Provincial Park in Grand Bend. The park's 40 kilometres of groomed trails include four with tracks and one for skate skiing. Ski rentals are available on weekends, and you can rest in a warming hut or stay overnight in one of 12 heated yurts.
Sledding
Bring your sled, tube or toboggan and shriek your way to the bottom of the giant hill at Bronte Creek Provincial Park in Oakville—then climb back up and head down the other side. If you need a break, the park's nature centre is open on weekends and has plenty of kid-friendly activities.
Snowshoeing
Tromp through forests and fields in the "jewel in the crown" of Owen Sound, Harrison Park. Follow creeks and rivers to waterfalls or set off on a more challenging hike along the Bruce Trail, the longest and oldest footpath in Canada.
Ice Fishing
Set your line on Lake Simcoe, formerly the site of the national ice fishing championship and still home to plenty of hungry perch, whitefish and trout. Local operators will provide a hut and tackle, and even drive you onto the ice in a kid-pleasing Bombardier snow bus.
Snowmobiling
Plan a day trip or weekend excursion on the 5-Alive Loop between Kitchener-Waterloo and London. Snowstorms blowing in from Lakes Huron and Erie frequently blanket the well-marked trails, maintained by the local snowmobile club, and riders pass plenty of convenient rest stops and friendly small towns.
Ice Skating
It may be more than a two-hour drive from the GTA, but the fairy-tale skating trail at Arrowhead Provincial Park in Huntsville is worth the trip. The 1.3-kilometre path winds through a snow-frosted forest, and on Fire and Ice Nights (select nights throughout the season), it's open late for skating by torchlight.
Ice Climbing
Get a thrill scaling the frozen features of Tiffany Falls in Ancaster. One of the largest waterfalls in southern Ontario that regularly freezes, this 21-metre-high cascade—a short walk from the parking lot—is popular both with advanced climbers and with newbies, who appreciate the available climbing courses.
Birdwatching
The bare branches and snowy ground make it easy to spot birds, nests and tracks at Rondeau Provincial Park in Morpeth. A migratory hotspot in spring and fall, this old-growth forest on the shores of Lake Erie is still aflutter with waterfowl, finches and woodpeckers in winter—especially by the birdfeeders at the visitor centre.
Pond Hockey
Competition heats up "The Pond" at Pinestone Resort in Haliburton as players vie for the national pond hockey championship from January 27 to 29, and from February 3 to 5, 2017. Sign up to play with a team, volunteer during the games or just watch the action on the all-natural rinks. But call first; warm weather has prevented the tournament in the past.
Downhill Skiing
Carve the slopes at Blue Mountain, Ontario's largest ski resort. It has 42 runs for a range of skill levels, terrain parks and lifts, from gentle magic carpets to high-speed chairlifts. Beginners can take a lesson at the mountain's ski school, while advanced skiers can navigate the glades high on the hill.