Happy Trails: The Beginner's Guide to Safe Snowmobiling
What you need to know before you hit the trails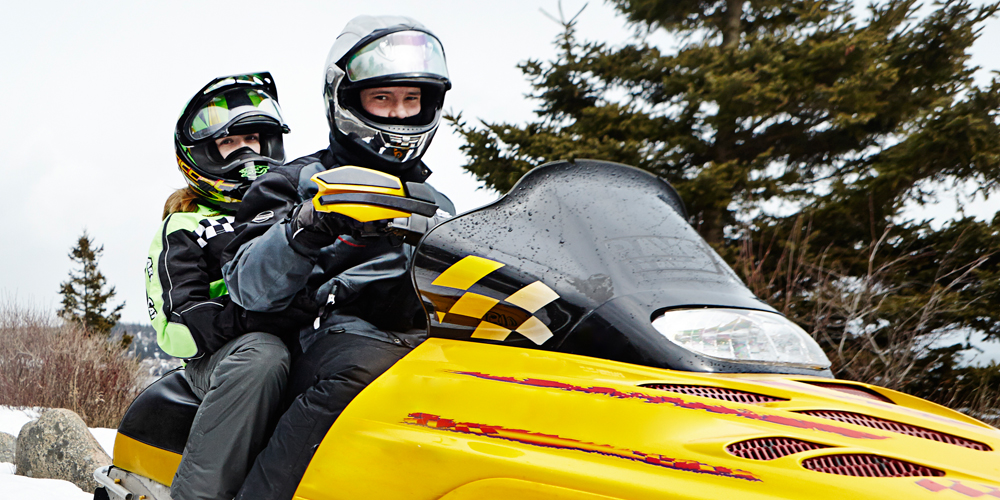 There's no doubt: riding a motorcycle is an exciting undertaking, but there are risks involved. It's important to have a healthy respect for the machine and approach riding with a great deal of care and responsibility. Here are some important points.
Mind Your Head
If you're going to invest your money in one area, it should be protecting your head. Helmets range in size, style and price. Be sure to choose a helmet that fits securely but that isn't too tight to avoid discomfort and distraction during longer trips. While you may be inclined to opt for an open-face helmet, keep in mind that you won't have a windshield protecting you from bugs and stones. A full-face helmet is also more likely to protect your entire head.
Dress for Success
Riding gear isn't just about style—it also serves as a safeguard should you ever come in contact with the road. Leather or textile motorcycle jackets with padding or armour are best, and quality riding gloves are absolutely essential. Denim or leather pants made specifically for riding should be worn and a good pair of motorcycle boots is ideal since they are built to offer grip, dexterity and protection. Inclement weather is inevitable, so be sure to invest in high-quality rain gear.
Make Yourself Visible
Black may be fashionable, but it isn't visible at night. Brightly coloured gear and reflective strips will increase the likelihood of being seen. Ensuring that your headlight, tail light and turn signals are in working order should be part of your regular inspection ritual.
Keep Up with Maintenance
Do a walk-around inspection every time you go for a ride, looking for leaking fluids or damage that may have occurred during the previous ride or while your bike was parked. Closely monitor tire pressure levels and tread wear. Following the manufacturer's recommended maintenance schedule will protect your investment and keep it running smoothly.
Be Prepared
Always ensure that you have a fully charged cellphone and enough fuel to safely reach your destination. Never ride when you are overtired. Stay hydrated and remember to reapply sunscreen on any skin that may be exposed. Also, pack a first-aid kit if you have the storage space.
Know the Rules
Riding a motorcycle isn't as simple or intuitive as driving a car. It can take the time to adapt to the handling dynamics, as well as throttle, braking and shifting controls. Even seasoned riders can benefit from a refresher course. Register for a program to go over the essentials—including proper lane placement and riding etiquette—with professional instructors in a safe, controlled environment.
Make sure you're covered: CAA Insurance will give you peace of mind on the open road. Go to caa.ca or visit your local CAA Store today to get a quote.