What Beginners Should Know About Paddleboarding in Ontario
A guide to get started with this low-impact water sport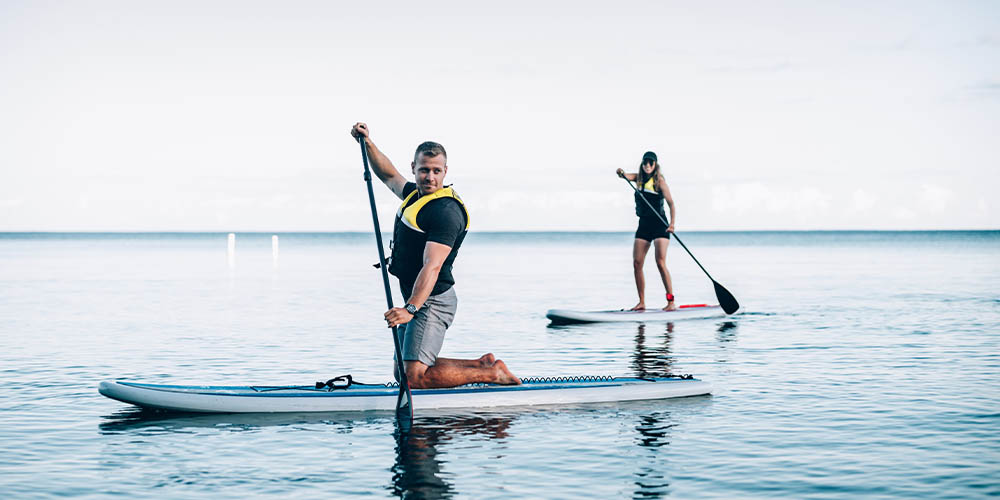 For those lounging near a lake this summer, stand-up paddleboarding (SUP) is a gentle way to spend time on the water. Here's what new paddlers need to know.
The basics
Beginners trying this sport should get insight from experts before heading out.
"I would highly recommend a lesson for someone trying SUP for the first time," says Michelle Lucy, owner and operator of Nature Girl Expeditions, an outdoor adventure company for women in the Niagara region.
"It's important to know safety skills on the water, how to use the board and equipment properly, and to learn basic paddling skills in a safe and supportive environment to gain confidence," she says.
With 250,000 lakes across the province, there are many options available for lessons.
Toronto Island SUP can teach you how to launch your board from a beach or dock, paddle in a straight line and turn while you explore the islands with a certified instructor.
Free Spirit Tours in Wasaga Beach, Ont. offers lessons and guided adventures along the Nottawasaga River.
Choosing where to paddle
Lucy recommends flat, still waters, which are more protected from the wind, waves and boat traffic.
Stick to smaller lakes, inlets, harbours, recreational canals and rivers to build your confidence before venturing to larger, unpredictable bodies of water.
Try the Welland Flat Water Recreational Canal in Welland, Ont. as it's beginner-friendly with calm water. Chippawa Creek in Wellandport, Ont. is another option, where Lucy teaches classes and hosts SUP retreats.
Paddling Maps can also help you navigate routes, find rivers and make trip suggestions.
Gear up for safety
Besides the appropriate bathing suit or board shorts, water shirt and shoes, Lucy recommends a hat and sunglasses with a floatable strap. Decathlon has several styles of swimsuits and cover-ups to keep you comfortable and dry.
You may also consider a wetsuit or rashguard to protect you from the sun. Attitude Sports has a variety with bright prints for men and women.
"I absolutely recommend a life jacket, especially for someone new to SUP," Lucy says. "The law is that paddleboarders must have a personal floatation device (PFD) on their board or have a buoyant line of 15 metres." If you're taking a lesson, one is usually provided.
If you don't have a personal floatation device, you could get a fine so it's important to have one onboard. Attitude Sports has a wide selection of lifejackets and PFDs to choose from.
It's also a good idea to have a whistle to signal for help if you need it.
CAA Member offer: Members earn 12 percent in CAA Dollars® at Decathlon and earn four percent in CAA Dollars at Attitude Sports when shopping online through the CAA eStore.
Types of boards
If you're ready to invest in your own paddleboard, there are several kinds to consider.
Hard paddleboards, also referred to as epoxy, traditional or fibreglass, handle well in wind or under turbulent conditions, but they're heavier. You'll need a vehicle or roof rack to transport it and a proper place to store it when not in use.
Inflatable boards are much more portable. They're ideal if you plan to travel with your board often and don't have a lot of storage space. It's also a more affordable option for recreational users and those just starting out.
"Both types of boards have their advantages and disadvantages. It all depends on what you'll be using the board for and your personal preference," Lucy says.
CAA Member offer: Members earn up to five percent in CAA Dollars at SAIL when shopping online through the CAA eStore.
Tips and tricks
If you're heading out to paddleboard for the first time:
Paddle where you're familiar.
Go with a friend.
Tell someone where you're going.
Make sure you have all your safety gear on board, including a whistle.
Always use your ankle leash. If you fall off the board, it'll stay attached to you and can be used as a flotation device.
Put any valuables like your cell phone in a dry bag, which can be clipped to bungees on the board.
Always check the weather before you get on the water, too.
Beginners should avoid wind speeds above 15 km/hr. Never paddle when it's raining or during a thunderstorm.
Use a weather app on your phone to track changing conditions. The water can quickly change from calm to wavy with high winds in a matter of minutes.
Places to go
Here are some other recommended spots by SUP enthusiasts in Ontario:
Paddleboarding is a great opportunity to discover a new activity and explore the beauty of Ontario's lakes and rivers.
Earn and save more
CAA Members enjoy exclusive savings and earn CAA Dollars® when shopping at over 124,000 participating retail locations and services in Canada and the U.S. View the complete list of CAA Rewards partners online.
Image credit: FOTOGRAFIA INC./iStock