Sandy, Sun-Filled Retreats in the Province
Lake-bound this summer? Here's what you'll need to bring and where to go.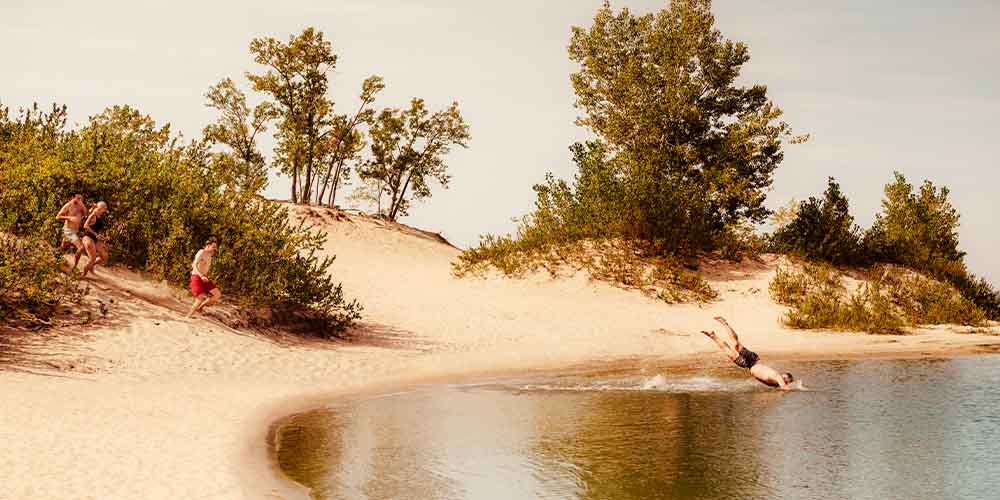 From the peaceful shores of Pancake Bay to the warm waters of Wasaga Beach, there's no shortage of beautiful waterfront in Ontario. But before heading out for a day in the sand, here's what to bring for the perfect sun-kissed day trip—pail and shovel, anyone?—as well as six top spots to check out.
Sun protection
Nothing ruins a beach day like a sunburn.
At Well.ca you'll find a variety of sunscreens that can help shield your skin from harsh UVA and UVB rays. They also have natural, mineral-based options.
If you're swimming, a water-resistant formula is recommended. And reapply every few hours.
CAA Member offer: Members earn five percent in CAA Dollars® when shopping online through the CAA eStore at Well.ca.
Beach attire
For a wide range of swimwear, from cute mix and match sets to athletic trunks, Altitude Sports has you covered.
You'll find many options of rash guards and wetsuits too.
Also consider a classic straw sun hat, baseball cap and sunglasses.
CAA Member offer: Members earn four percent in CAA Dollars when shopping online through the CAA eStore at Altitude Sports.
Stay high and dry
Make a statement with a unique and colourful beach towel. Simons has options with bright hues, stripes and fun prints.
Don't forget a large umbrella to provide some shade on those hot afternoons. Aim for one that's roomy enough to accommodate your entire party.
CAA Member offer: Members earn four percent in CAA Dollars when shopping online through the CAA eStore at Simons.
Lakeside lunch
Popsicles, brownies, fruit salad and a veggie tray––what's a beach day without delicious food to munch on?
Consider a light salad, like watermelon, cucumber and mint, or a homemade trail mix and turkey wraps. And don't forget to bring plenty of water to help you stay hydrated.
Buggy can quickly deliver everything you need right to your door.
CAA Member offer: Receive free delivery when you enter your CAA Membership number at checkout at Buggy.
Hot spots to visit
Lake—check. Swimsuit and sunhat—check. Clear skies and sun—check.
Now that you have all the gear, where to go? Here are six local beaches in Ontario to check out.
Save along the way
Your CAA Membership unlocks over 200 exclusive deals that can save you money or earn CAA Dollars, which can be used for hotel stays, dining and car rentals on your beach trip. See a complete list of CAA Rewards® partners and start shopping today.
Image credit: Destination Ontario