Danny Michel: On Top of the World
The Canadian musician shares his insights from an 18-day Artic adventure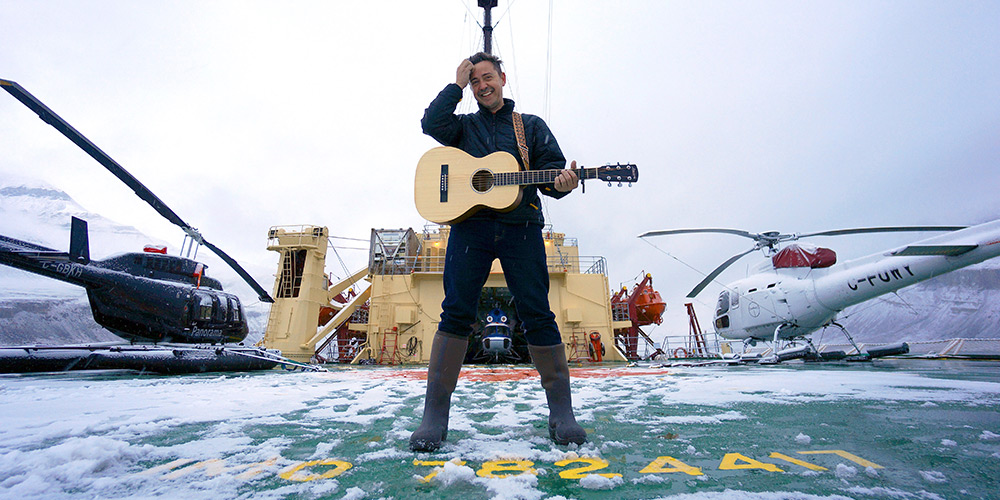 Danny Michel is no stranger to seeking artistic adventures off the beaten path. The Kitchener-Waterloo-based musician is the first-ever pop artist to collaborate with Garifuna musicians in Belize; the result was the Juno-nominated Black Birds Are Dancing Over Me (2013).
For his latest album, Khlebnikov, the songwriter headed north—really far north—to fuel his muse, taking part in Project Generator Arctic aboard the Russian icebreaker Kapitan Khlebnikov. (The album may even qualify for a Guinness World Record for the most northern album ever recorded.)
The life-changing expedition was the brainchild of Canadian astronaut Col. Chris Hadfield, who hand-picked a crew of scientists and artists (authors, filmmakers, musicians and visual artists) from around the world for the journey. The goal: to create a lasting piece of art that documented this once-in-a-lifetime northern experience.
"I said yes before he could finish his sentence!" Michel says. "I'm so lucky to have been able to go to this little corner of our planet."
For 18 days spanning across August and September 2016, from the south of Greenland to northern Resolute, Nvt., Michel holed up in cabin 712, which he turned into a makeshift studio, using bathrobes to muffle the sound while he wrote songs and soaked in the surreal beauty.
CAA: Spending more than two weeks exploring the northern reaches of our world must have been an incredible experience. Describe for readers this Arctic adventure?
DM: It was a game-changer. It was like going to camp and spending 18 days with people I'd never met before. It's hard to explain … you are on top of the planet, and it felt like you were on another planet. You are so disconnected from the world; we were alone there with all this wildlife, from polar bears to humpback whales. It was insane!
CAA: What were your first impressions once you arrived in the far north?
DM: Once we got up there, I was amazed by the sheer size and magnitude of how big this planet really is. We were going by icebergs the size of shopping malls and entire city blocks that just dwarfed our ship. It was very humbling.
CAA: Tell us how this surreal setting affected your songwriting?
DM: For the first week or so I didn't write. I just let myself sink into this new world and absorb it all. Then, after one week, I started to put it all down. Playing the style of music I normally do didn't match this environment. This record [Khlebnikov] is a snapshot of that particular time and place. I recorded a lot of sounds while on the ship … the album is full of sound effects.
CAA: You visited many remote communities. Tell us a bit about some of these encounters?
DM: It was incredible. We travelled from the northernmost municipality in the world in Greenland to remote Canadian communities with populations of 115 people; some had more sled dogs in town than humans! People in these places, such as the hamlet of Auyuittuq, Nvt., are still living like they did hundreds of years ago, with no connection to our world—no Internet, no cell service, etc. It was really beautiful to see people and nature living on this planet the way we are supposed to and to also learn about their culture and their traditions.
CAA: How hard was it for everyone on the ship to unplug?
DM: Every one of us on the ship talked about that. At first, having no phone and no connection was stressful and annoying, but then it passed and we all grew to love it. I had not felt that way since I was young. We've all gone away to a cottage for a few days without an Internet connection, but 18 days was a long time to be completely disconnected. By the end of the adventure, we all swore we would come back and change our habits, but it's really hard to live in this world without that infrastructure.
For more information and details of this incredible Arctic adventure, watch season 3, episode 4 of Michel's Dan's Space Van series on dannymichel.com.
Want more stories of remote exploration? Go off the grid with Google to learn about visual mapping beyond the usual Street View.