Enjoy Chills and Thrills at Ontario's Winter Festivals
Embrace the snow and ice at these fun outdoor events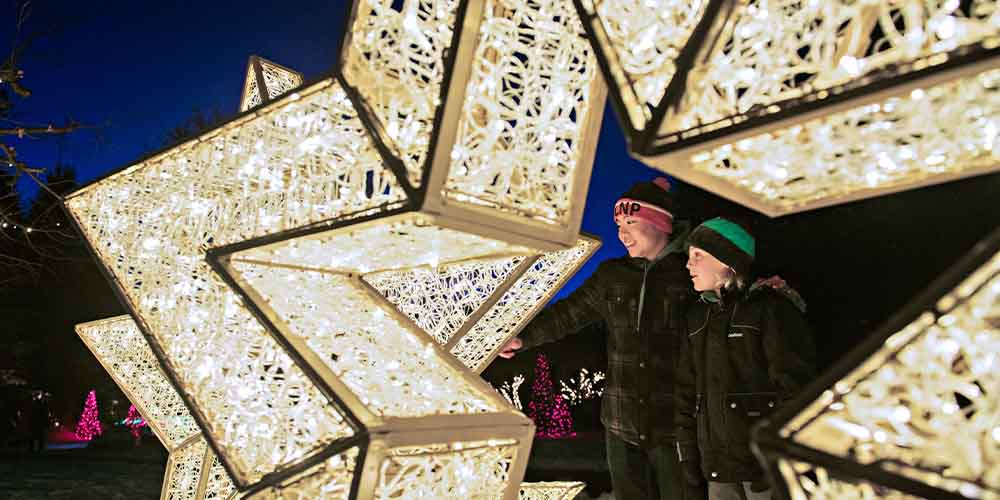 Discover the magic of Canada's cold-weather season at these five enchanting winter festivals across Ontario.
Icewine Festival, Niagara-on-the-Lake
January is the sweetest time of year in Niagara as chilly temperatures set the stage for the annual icewine harvest.
During the Niagara Icewine Festival, winemakers throughout the region put on special tastings and culinary events highlighting their delicious dessert wines.
Niagara-on-the-Lake's historic downtown also hosts a winter market with artisan vendors, live concerts and impressive ice sculptures.
Fire and Ice Festival, Bracebridge
Muskoka's hottest wintertime event returns on Jan. 28, as the Fire and Ice Festival takes over Bracebridge's charming downtown streets.
True to its name, the daylong celebration features fireworks displays and live fire entertainers alongside skating trails, a frozen crokinole rink and a thrilling hill to slide down made from snow and ice.
Bon Soo Winter Carnival, Sault Ste. Marie
Dating back to 1964, Sault Ste. Marie's long-running Bon Soo Winter Carnival embraces Northern Ontario winter with an array of chilly activities from Feb. 3 to 12.
Reminiscent of Quebec City's famed Carnaval, Bon Soo delivers fun for all ages with a frozen outdoor playground, pancake breakfasts and a jovial snowman mascot.
The carnival festivities culminate with an icy polar bear swim in the St. Marys River.
Winterlude, Ottawa
Thousands of revellers are expected to flock to Canada's capital from Feb. 3 to 20 to take part in the 45th annual Winterlude celebration.
During the beloved winter tradition, visitors glide on the frozen Rideau Canal Skateway, cheer on Canada's top chefs at the Canadian Culinary Championship competition and watch icy sculptures come to life as part of the National Ice-Carving Championship.
The family-friendly Snowflake Kingdom offers snow tubing and zipline rides, while at the Ice Dragon Boat Festival, you'll see colourful boats equipped with blades race across the ice at Dow's Lake.
Winter Festival of Lights, Niagara Falls
When the winter sun sets, Niagara Falls glimmers with whimsical light displays and larger-than-life illuminated sculptures as part of Canada's largest free outdoor light festival.
Now in its 40th year, the Winter Festival of Lights runs from Nov. 12 to Feb. 20 and features 3 million twinkling lights throughout the city.
The festival also features weekend stage performances, decadent cocoa drinks along the Hot Chocolate Trail, and a dazzling light show at the world-famous falls.
Your delightful snow adventure awaits in Ontario.
Plan your trip
Before you head out, connect with a CAA Travel Consultant for expert travel advice and helpful tips to make the most of your trip. CAA Members also receive exclusive discounts on hotel stays, dining and car rentals with CAA Rewards® partners. Visit caasco.com/rewardpartners for a complete list.
See the winter 2022 issue of CAA Magazine for more festive holiday markets.
Image credit: Niagara Falls Tourism