Six Spectacular Bike Trails Across Canada
Find the best views the country has to offer, all on two wheels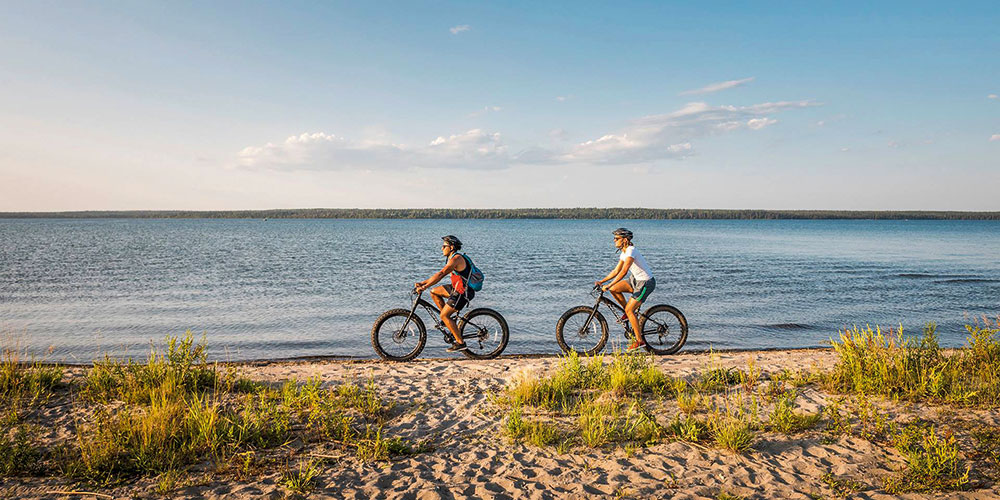 From towering mountains to dramatic coastlines, Canada offers so much to see on two wheels. Here are six scenic rides to do in a day (with plenty of time to stop for pictures).
Confederation Trail, PEI
Spanning 273 kilometres, this old railway line, now a popular hiking/biking trail, runs through the centre of the island. The easternmost section, from Morell to Elmira, is a moderate day ride with the best views of the coastline, past fishing villages and scenic St. Peters Bay.
54 km one way
Pelee Island Waterfront Trail, Ontario
A 90-minute ferry trip from Leamington or Kingsville drops riders off at the trailhead by the Pelee Island dock. Family-friendly trails fringe the largest island on Lake Erie, past beaches, nature reserves and Ontario's oldest wine region (now Pelee Island Vineyards).

30 km loop
Niagara River Recreation Trail, Ontario
This paved path beside the Niagara River zips right past the roiling waters of the falls and into historic downtown Niagara Falls with its many cafés and attractions, including one of North America's largest Victorian rose gardens—a fragrant spot for a breather.
56 km one way
Riding Mountain National Park, Manitoba
A ride through grasslands, forests and many lakes leads to the resort townsite of Wasagaming. This national park boasts nearly 370 kilometres of trails with bike routes that vary from easy to rugged climbs. The Strathclair Trail is a moderate option with a gentle downhill grade.
23 km one way
Meewasin Trail, Saskatchewan
This lengthy 105-kilometre trail lives up to its name—meewasin is nêhiyawêwin (Cree) for "It is beautiful." Start at the Remai Modern Museum and wind along the banks of the South Saskatchewan River—past shopping and cafés—to Wanuskewin Heritage Park.
16.5 km one way
Bow Valley Parkway, Alberta
This roadside route features stunning mountain views through Banff National Park, ending at the turquoise waters of Lake Louise. A pilot program, running in June and September, will limit vehicle use on the parkway, making this unforgettable trip even better for road cyclists.
48 km one way
CAA gears up to help when your bike breaks down. Your CAA membership includes CAA Bike Assist®, which is roadside assistance for your bicycle. If you run into a problem that can't be fixed on the spot, CAA will transport you and your bicycle to wherever you need to go. Visit caasco.com/bikeassist to learn more.