Discover The Province's Best Snowmobiling Trails
Five tips for an epic snowmobile adventure this winter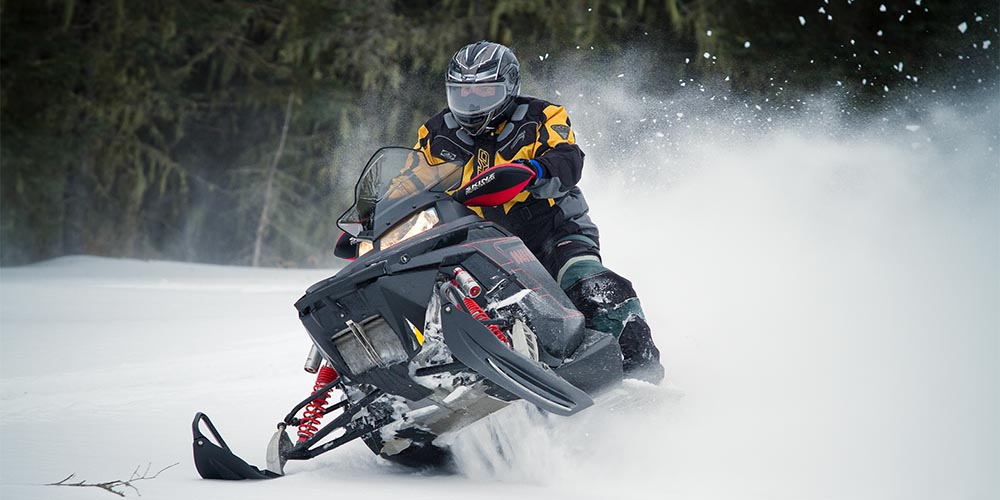 It's time to take out your helmet, jacket and boots—it's snowmobile season.
Trails galore
Ontario is home to the world's largest network of interconnected snowmobiling trails.
Riders can venture 30,000 kilometres of groomed scenic routes and loop tours.
"Snowmobilers are very excited to get back out on the trails this winter and we're doing everything possible to make this the best season ever," says Ryan Eickmeier, CEO of the Ontario Federation of Snowmobile Clubs (OFSC).
Essentials to ride
Anyone with a valid driver's licence can ride the trails.
The OFSC offers an online driver's training course for aged 12 and older to obtain a Motorized Snow Vehicle Operator's Licence. It's mandatory for anyone without a driver's licence.
If you're new to the sport, the OFSC has a beginner's guide on snowmobile touring, plus fully guided video tours so you can ride the trails with the pros.
Ensure your snowmobile is registered with the Ministry of Transportation through ServiceOntario and properly insured before you ride. If it's a rental, the company you rented from can provide these details.
And remember, your safety comes first, so always wear a helmet, face shield and goggles.
Planning a route
Thousands of snowmobilers use the OFSC's interactive trail guide to find exceptional snowmobile trails and rider experiences across the province.
It offers real-time trail status reports, accessible service information and points of interest to look out for along your route, such as lodging and lookouts.
With the Go Snowmobiling Ontario app, you can view the trails, check for updates and create a custom trip from your mobile device—with or without a Wi-Fi or data connection.
"For more experienced snowmobilers, we introduced some enhanced features on our app that help them plan their trip, pinpoint where to meet up with friends and find businesses that offer snowmobile-friendly amenities," Eickmeier says.
Trail permits
Purchasing a snowmobile trail permit helps the OFSC improve trail infrastructure and contributes to trail maintenance and expansion.
"We recently partnered with the Northern Ontario Heritage Fund Corporation and will receive over $834,000 to help complete 10 projects this year," Eickmeier says.
He says that club volunteers and contractors are also working on an additional 48 projects to improve the trails—an increase of 400 percent since last year.
Must-ride loops
These three well-marked, groomed and easy-to-find trails could be the setting for your next great winter memory.
The French Connection. This 298-kilometre loop transports you through open fields, abandoned rail lines and farm woodlots near the town of Morrisburg, along the beautiful north shore of the St. Lawrence River to Alexandria, then on to Hammond and Winchester.
The Round Algonquin Park (RAP) Tour. A remarkable 708-kilometre circle tour of Algonquin that winds through the thick maple forests of the Almaguin and Haliburton Highlands and through scenic valleys to the Ottawa River from Pembroke to Mattawa.
The Cartier Loop. For an adventure-packed ride, this 254-kilometre trail near Sudbury features a mysterious abandoned sawmill town just outside the town of Capreol, and you'll often see families of lynx and moose along the way.
Winter recreational fun is just a stone's throw away. Enjoy some fresh air and quality time outdoors by hitting a snowmobile trail.
Plan your trip
Prepare for your snowmobile adventure by speaking with a CAA Travel Consultant who can help you find the right travel accommodations.
Image credit: VIRGIL KNAPP/Destination Ontario