Where Are the Best Food Trucks in Ontario?
You don't have to wait for the CNE for creative, delicious eats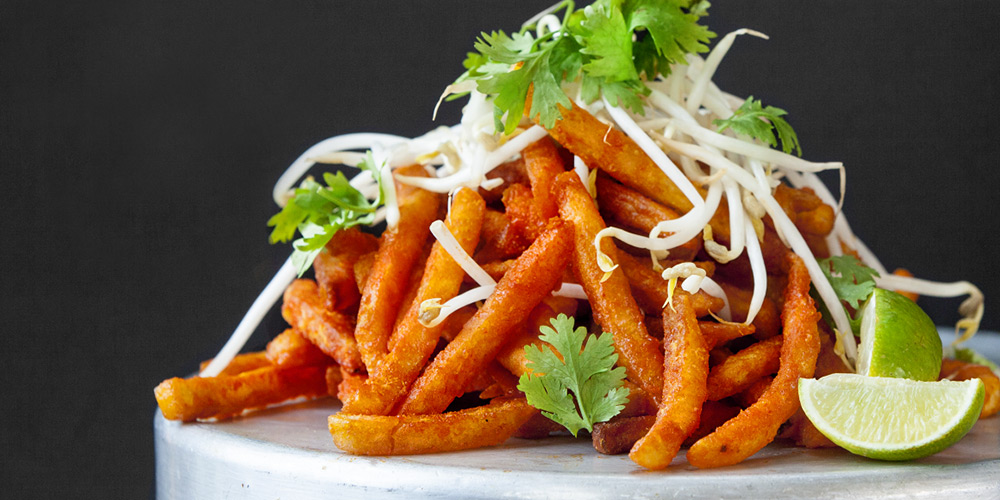 Summer means dining alfresco. While patios are everyone's go-to, the province's diverse—and thriving—food trucks still draw crowds wherever they roll in. The next time you're driving by these locations, stop off for a bite from one of these roadside vendors.
Toronto: Fidel Gastro's Priscilla 2
Priscilla, Fidel Gastro's original food truck, is a Toronto institution and the all-new Priscilla 2 is taking her place this summer. So look forward to even more delicious, belly-busting treats like The Chicky Sticky Icky (a Korean-fried chicken sandwich), The Porknado (kalbi pulled pork with dumplings) and Kung Pow Cauliflower. Oh yes, and deep-fried cheeseburgers.
Must try: Pad Thai Fries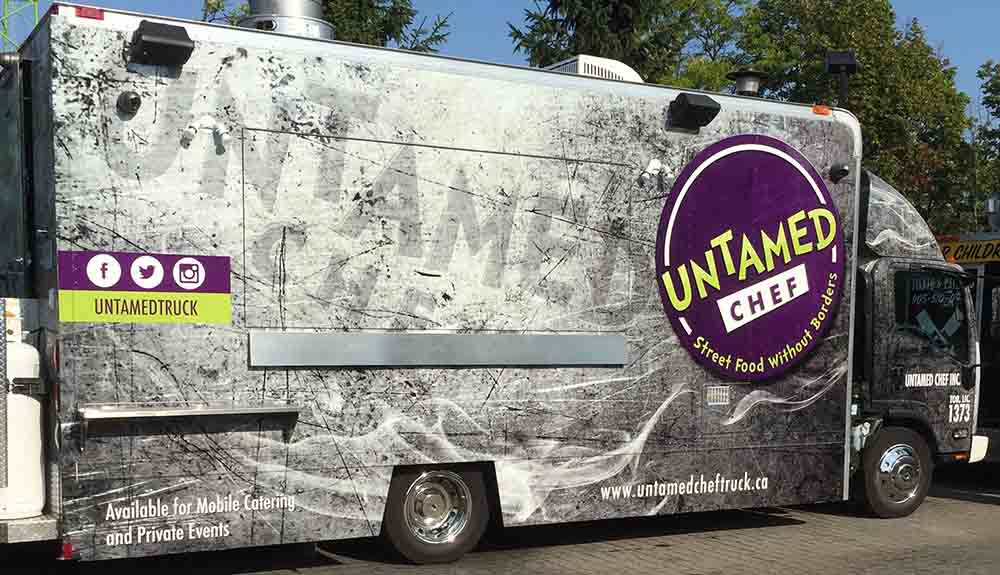 Mississauga: Untamed Chef
There's nothing run-of-the-mill about the menu at Untamed Chef. Think cheeseburger spring rolls, avocado fries, tacos stuffed with tater tots and sandwiches loaded with brisket and fried chicken—all unique riffs on familiar favourites. The family-owned and -operated business's tagline is "street food without borders," and it makes true on its promise.
Must try: The Peoples Chicken Sandwich (smoked-cornflake fried chicken, double-smoked bacon, Monterey Jack cheese, signature sauce, fried onions and jalapenos)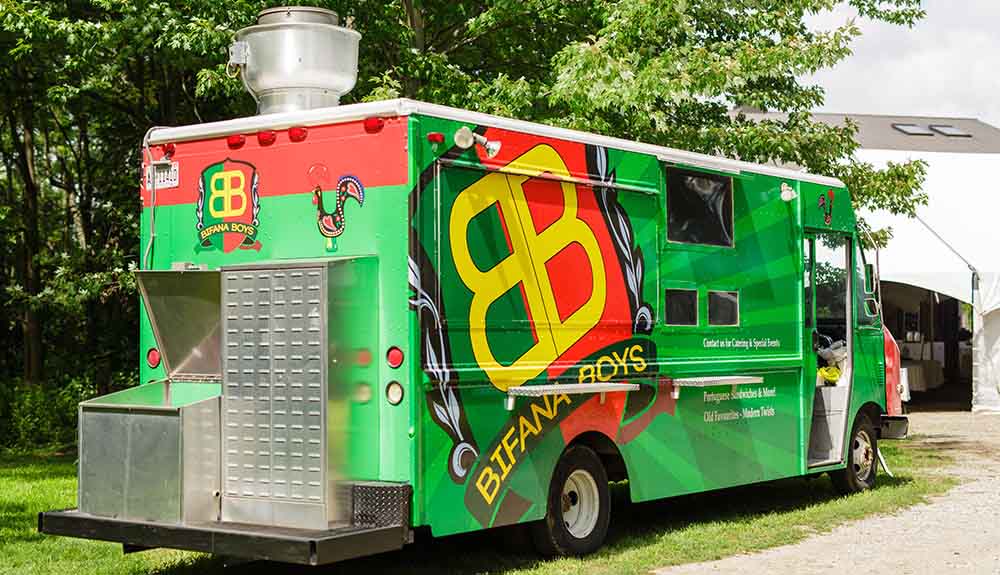 London: Bifana Boys
With notes of piri piri and chourico mixed with those of chimichurri and hickory sticks, it's all about Portuguese fusion food at this roaming kitchen. The classic bifana—a pork steak sandwich—gets top billing, along with their legendary Angry Fries, which are tossed in a piri piri spice rub then topped off with garlic aïoli, piri piri ketchup and banana peppers.
Must try: Bifana (marinated pork loin topped with caramelized onions, yellow mustard and house-made aïoli, all on a toasted Portuguese bun)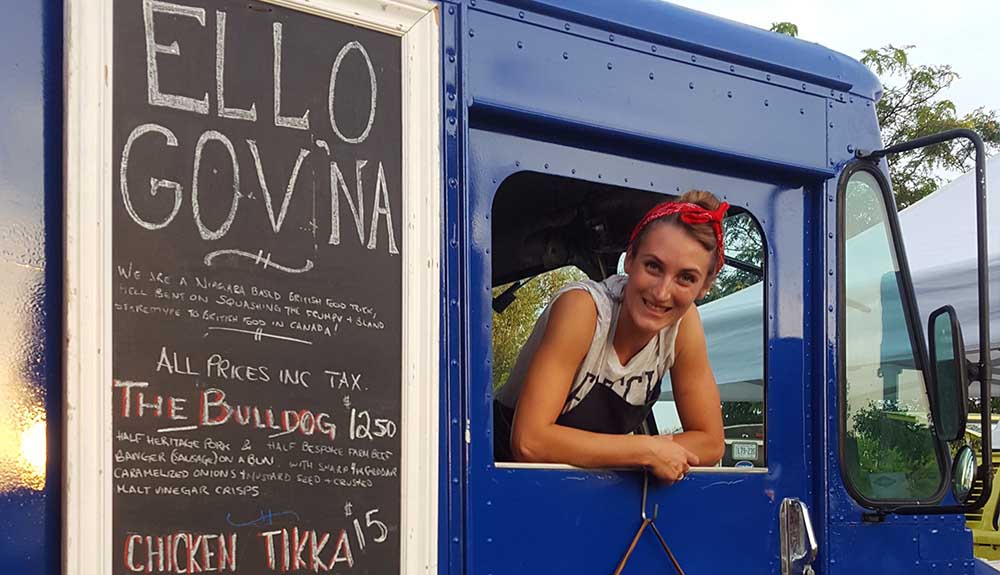 Niagara: Ello Gov'na
Resolute on refreshing the stereotype that British food is bland and uncreative, this food truck (cutely nicknamed Pippa Middletruck) describes its menu as "traditional with modern flair." That means reinventing the classics with a dash of global fusion in menu offerings like a spicy Chinese Scotch egg and Roast Beef (medium rare roast beef on a Yorkshire pudding flatbread with horseradish aioli, arugula and onion jam).
Must try: Chicken tikka on naan bread with raita and Niagara peach chutney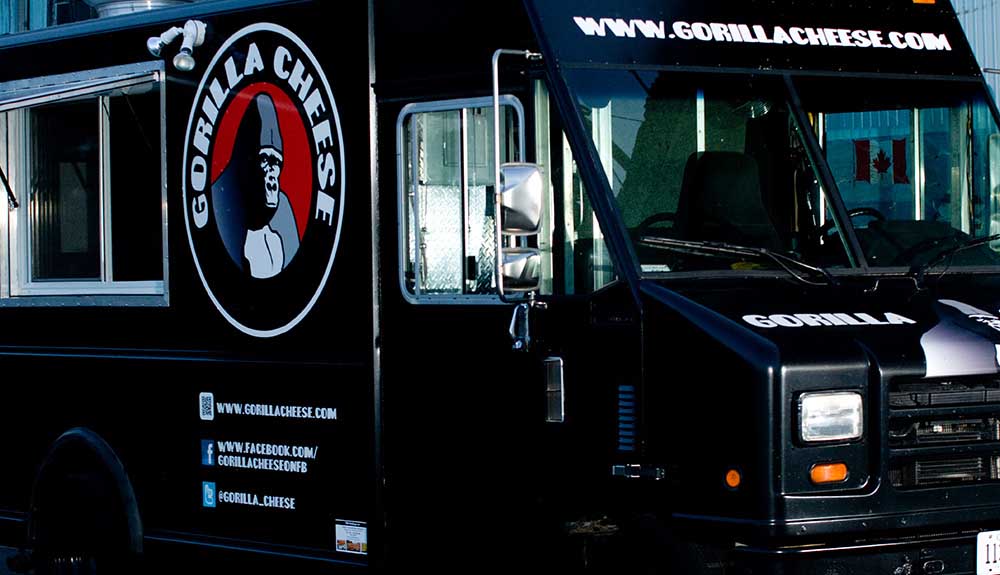 Hamilton: Gorilla Cheese
If the humble grilled cheese sandwich was your go-to childhood snack, you'll want to line up for one of the gourmet versions rustled up by Gorilla Cheese. Crafted on bread from a local bakery with cheddar and mozzarella from Simcoe-based Jensen Cheese, the sammies include add-ons that range from corned beef and cremini mushrooms to Doritos.
Must try: The Lumberjack (medium-aged cheddar, bacon, Granny Smith apple and maple syrup)
Kitchener: Poor Bhoy's
Inspired by Celtic and British dishes, this mobile eatery's curbside menu includes deep-fried potato-wrapped meatballs covered in Guinness gravy, shepherd's pie made with a secret family recipe, and burgers topped with black pudding or corned beef. The truck is named The Tartan Warrior, and is also available to cater private and corporate events.
Must try: Blarney Stone Burger (quarter-pound beef burger, corned beef, braised cabbage, red onions and Swiss cheese)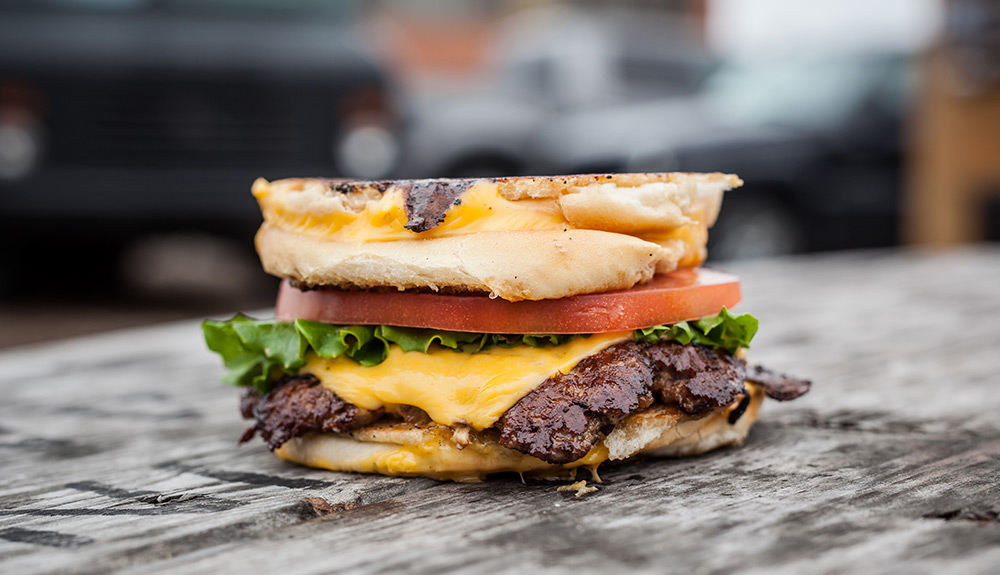 Sarnia: Burger Rebellion
Burgers are serious business at Burger Rebellion, which serves quarter-pound patties made with Canadian Angus beef, and a delicious vegetarian version nestling a lentil and chickpea patty. Also on offer are nostalgic faves of old-fashioned floats and a jumbo hot dog. Even the house-made spiraled potato Rebel Chips have a fan following of their own.
Must try: The Interrogator (a cheeseburger served between grilled cheese sandwiches)
Pickering: The Apple Fritter Factory
A delight for those with a sweet tooth, this truck brings your favourite carnival-inspired desserts to you. So save room for funnel cakes, deep-fried candy bars, and old-school fritters made with traditional Pennsylvania Dutch batter and local apples. If savoury is more your style, don't miss out on an order of deep-fried pickles.
Must try: Apple fritters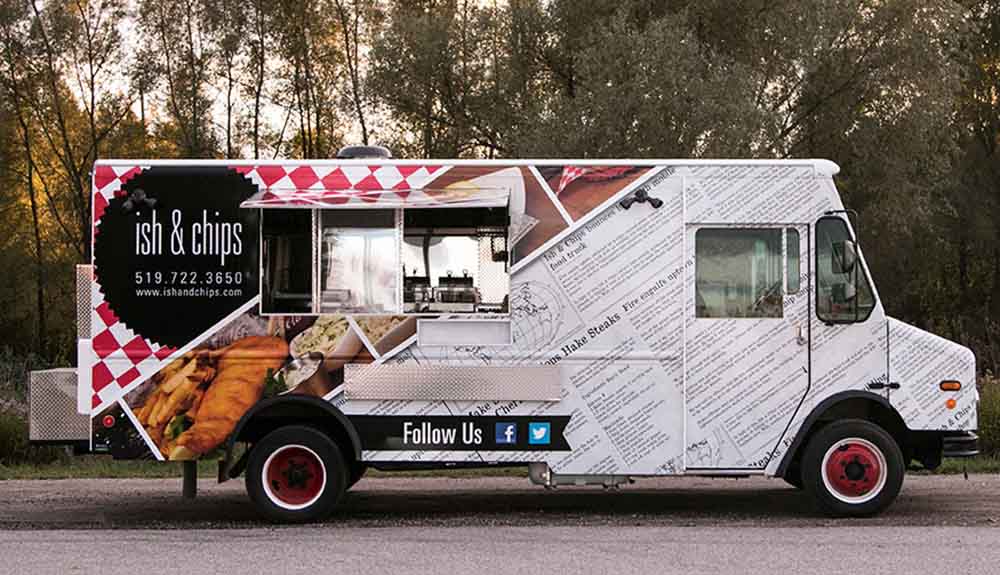 Waterloo: Ish & Chips
This truck was originally a brick-and-mortar operation until it was lost in a fire in 2012. Now, fans of the restaurant can get their fix of traditional British fish and chips straight from the truck's hot fryer, alongside other snacks that include loaded gyro wraps, falafel, fish tacos and poutine made with fresh hand-cut fries.
Must try: Haddock and chips
Newmarket: Bonfire Catering
It's not just any pizza: this is wood-fired pizza on wheels! Think blistered, chewy, thin-crust pies topped with bacon jam, pulled pork and prosciutto. While hot on the food truck circuit for a few years, Bonfire is now a 100 per cent catering company—a great alternative food option for a summer bash, wedding or corporate event you're hosting.
Must try: Hot Mexican (house-made chorizo with hot peppers)
2017 Food Truck Festival Lineup
Here's where to find meals on wheels this summer:
Food Truck Thursdays (May until October)
Field Trip (June 3 and 4)
Burlington Food Truck Festival (July 22 and 23)
Toronto Food Truck Festival (August 4 to 7)
Pickering Food Truck Festival (August 11 to 13)
Richmond Hill Food Truck Festival (September 2 and 3)