6 of the Most Luxurious Airlines and Their Awesome Flights
A heavenly upgrade from the emergency exit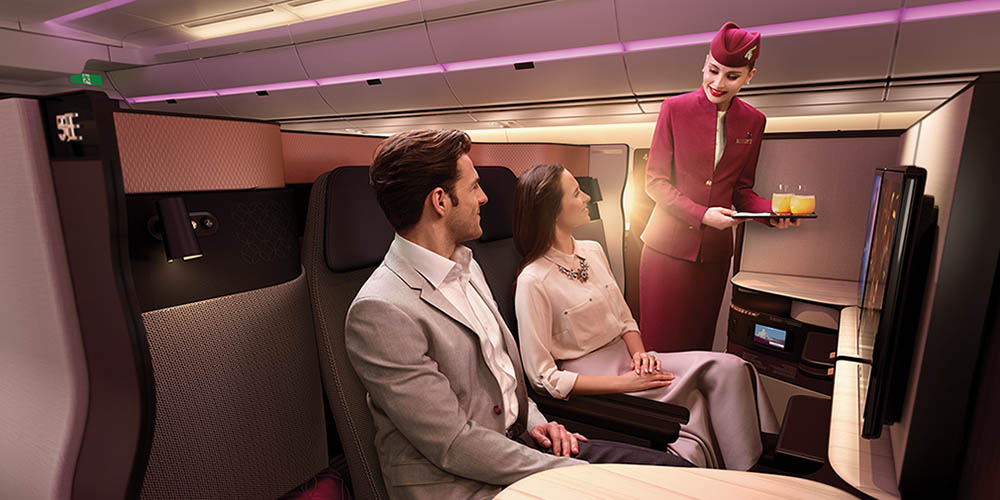 Being sandwiched between two passengers who hog the armrests the entire journey is the reality of air travel for most, but for the one per cent, flying is a luxurious experience from start to finish. Think meals prepared by Michelin-starred chefs, separate living room and bedroom suites equipped with memory-foam mattresses, bars and lounges you can sit at with other guests, and even showers and spas.
Read on to discover six of the most luxe airlines and their first-class passenger perks.
Singapore Airlines
The suites on Singapore Airlines look more spacious than some Manhattan apartments. Each is accessed through a private sliding door with windows and blinds for added privacy. Inside, the suite offers a space large enough to accommodate a separate bed for sleeping, in addition to a large seat for working, eating or relaxing—that are the creation of French luxury yacht designer Jean-Jacques Coste. Each suite is designed to accommodate one person, but if passengers are travelling with company, adjacent suites can be transformed into a double room for more space.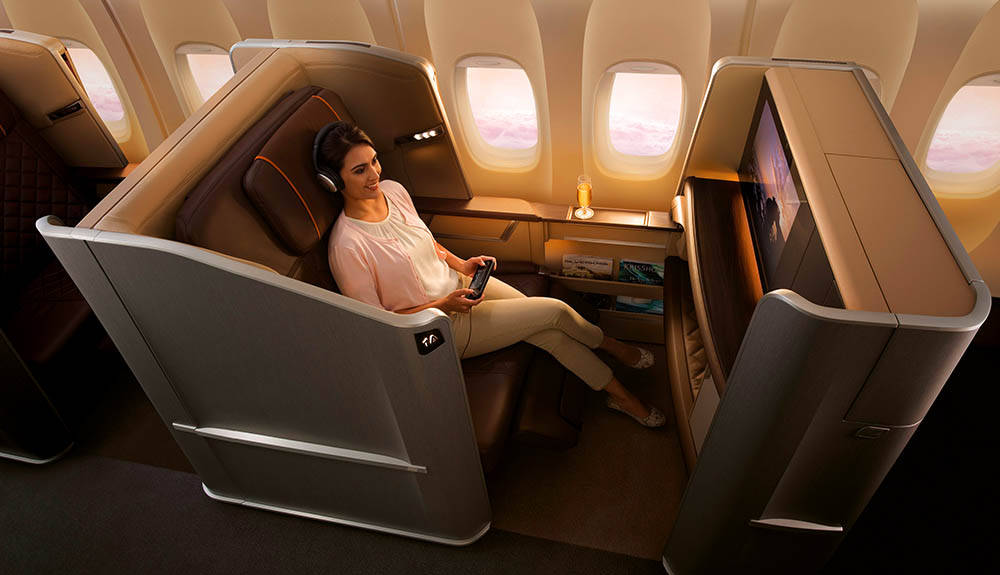 Don't miss: Pre-ordered meals via the "Book the Cook" system, which allows passengers to reserve their main course, inspired by Michelin-starred chefs, up to 24 hours before their flight. Think lobster thermidor en route from Melbourne or sous-vide herbed lamb loin after takeoff from L.A.
Qatar Airways
Stepping into Qatar Airways' first-class cabin is like being embraced in the coziest hug ever. (It's an expensive hug; tickets start at around several thousand dollars one-way.) While one can stay tucked inside of their private pod, watching movies for the duration of the flight, more outgoing guests may choose to visit The Lounge, a sleek lounge space decorated with delicate light fixtures with attractive gold detailing, to hobnob with their fellow high-flyers. After a drink or two, they can retire to bed, which is topped with sheets by Frette, the Italian purveyors of luxury linens, and a fluffy down duvet.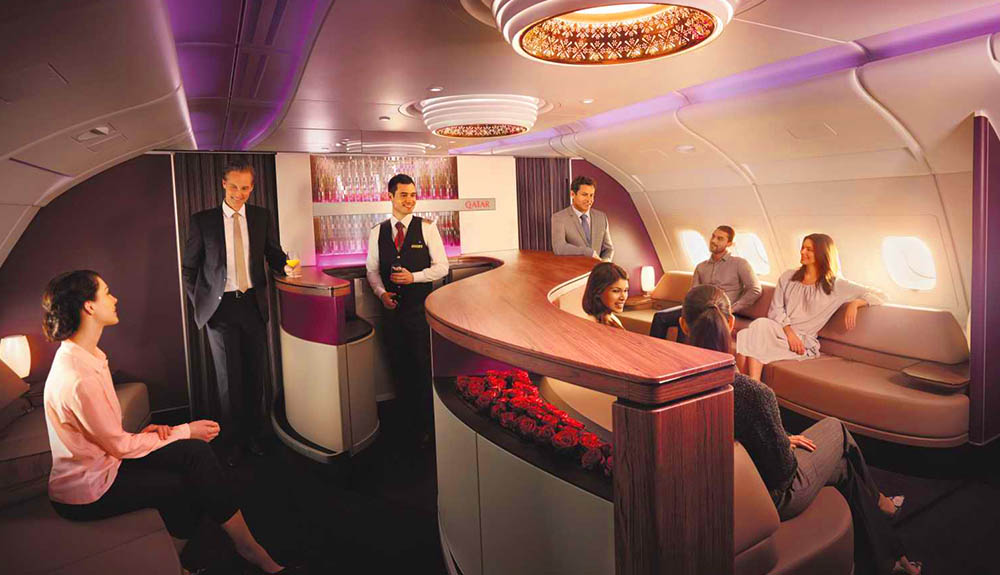 Don't miss: Your very own set of sleepwear by The White Company—along with matching slippers—and amenity kits by Italy's Castello Monte Vibiano Vecchio, tucked inside leather bags designed by Bric's (also Italian made). And yes, you get to keep it all.
Emirates
Emirates' definition of luxury is unparalleled. Each A380 aircraft is equipped with an onboard Shower Spa for first-class passengers stocked with skincare products by the prestigious Maison Bulgari. The decor inside the spa as well as the suites is warm, inviting and modern. Passengers' soft leather seats transform into a bed long enough for most to stretch out in nicely. An impressive feature for guests who get the middle suite (on the new Boeing 777 jets): virtual windows that project real-time footage of the plane's exterior view onto the window screens. FOMO doesn't exist in first class.
A first-class flight for two from New York City to Dubai will set you back, on average, $50,000 CAD (though prices are subject to change).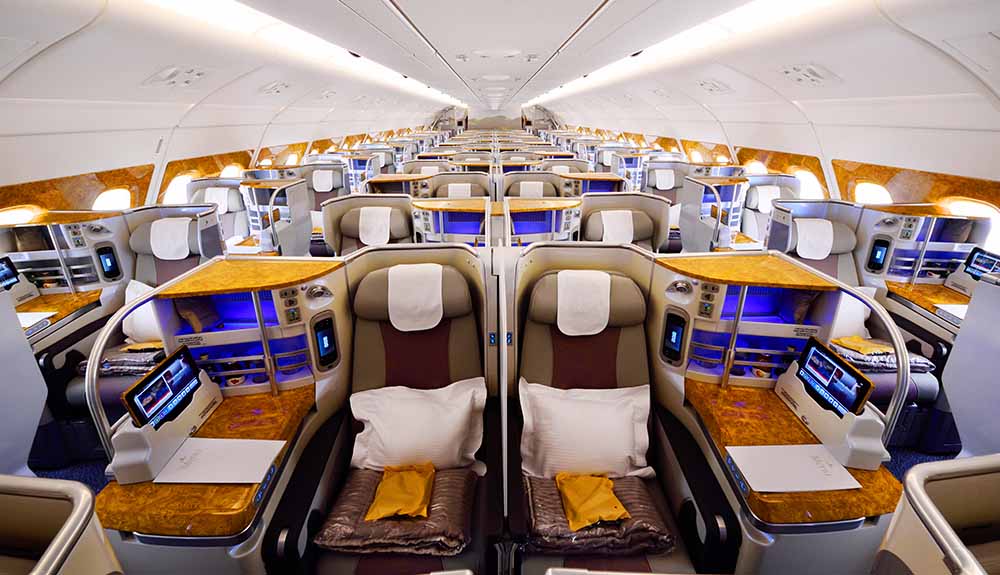 Don't miss: "Zero gravity" seats (exclusive on its new Boeing 777 jets), a feature that can be switched on or off, and gives guests a feeling of weightlessness while flying—inspired by NASA, of course.
Air France
Flying first class, or La Première, with Air France is just as elegant as one might expect. La Première guests are privy to a handful of Parisian perks, especially come bedtime. An orange leather beauty kit filled with high-end Carita Beauty Institute Paris products (think rich moisturizing creams, lip balms, anti-fatigue eye masks), pyjamas, a high-quality cotton bathrobe (yes, please), and cozy slippers and socks give the impression of being in a five-star hotel. Thanks to the memory-foam mattresses, guests can get adequate shut-eye.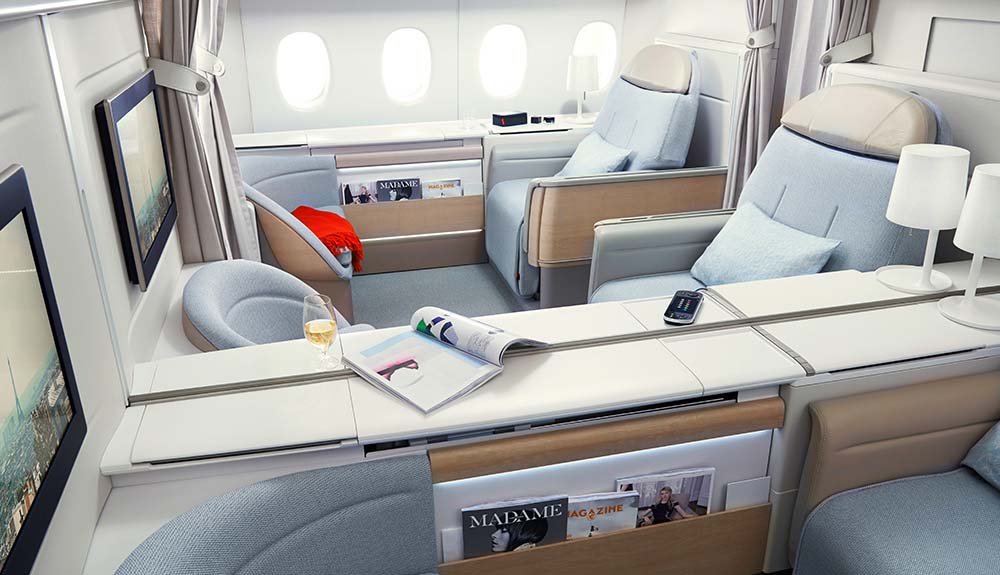 Don't miss: The first-class lounge in Charles de Gaulle Airport in Paris, which has several spaces to explore including a private sit-down dining room; a private spa for manicures, massages or facials; and a luxe bar. Once you're on board, a dish of caviar is served with a glass of champagne before takeoff, followed by a menu featuring items inspired by Michelin-starred chef Guy Martin.
Qantas Airways
Foodies and wine lovers with deep pockets should consider flying first class with Australia's Qantas Airways. At mealtime, guests can choose between an eight-course tasting menu or pick and choose from the à la carte menu, both of which are designed by renowned Australian chef Neil Perry. All meals are made to order by the cabin crew during the flight and can be complemented by top-shelf wine and champagne options suggested by a crew member who is also a certified sommelier.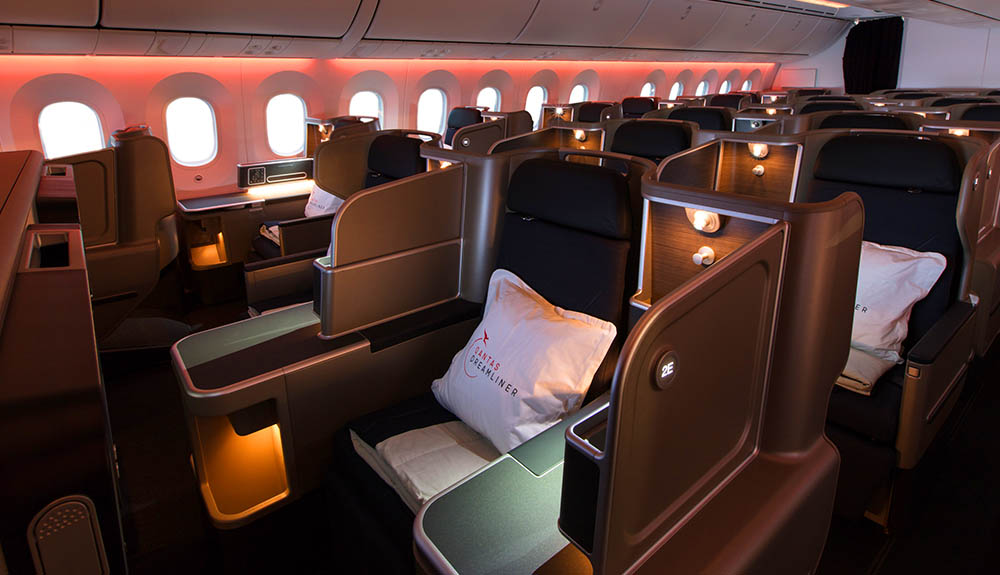 Don't miss: Each first-class chair (which also transforms into a bed) can swivel, making it easy for guests to reposition their seats to more comfortably reach the ottoman and enjoy a more streamlined view of the television screen. (Kicking your feet up: optional, but recommended.)
Etihad Airlines
Ranking first for World's Best First Class Airlines 2017, Etihad Airlines' first-class services won't disappoint. The airline uses "First Apartment" to refer to its top tier, a variety of self-contained units on its A380 planes—six of which can be connected for family or colleagues travelling together. Each apartment has an oversized leather armchair, a separate bedroom that is divided with privacy screens, as well as a closet (in case you want to unpack a few things before you land) and space to move around—in-flight yoga, perhaps?
Don't miss: If you've always dreamed of getting sudsy at 40,000 feet, make sure to visit the shower inside the first-class washrooms.
More travel tips to pack in your carry-on
Get expert advice on out how you can arrive fresh after a long flight or learn about these jet-lag cures.
Thinking of a vacation? Plan your next trip with CAA Travel (you deserve it).