A Beginner's Guide to Train Travel in Canada
These three Canadian rail tours will make for an unforgettable trip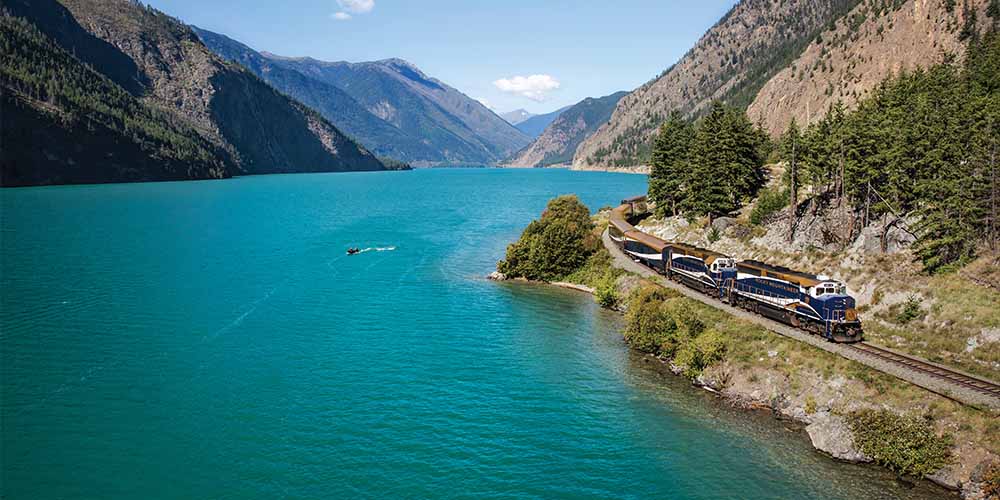 Taking the train is a great way to discover Canada's stunning landscapes, notable towns and extensive history at a slower pace.
Here are three incredible Canadian tours to consider for your next trip and some helpful tips to keep in mind before you hop aboard.
What to know before you go
Adopt a minimalist packing plan.
Travel with a small carry-on, layerable clothing and a tote or backpack for such necessities as a water bottle, snacks, hand sanitizer, sunscreen, electronics and charging cords, a hat, mitts and scarf.
Download boarding passes, tickets, itineraries, travel insurance and other necessities to your mobile device's digital wallet or an app like Dropbox, so your documents are accessible offline.
From rainforest to gold rush
This three-day tour on the Rocky Mountaineer showcases British Columbia's lush coastal forests and the snow-capped mountains of Whistler.
Pass through the rolling hills of the Fraser River Valley and see the majestic Canadian Rockies before arriving in the iconic Jasper National Park.
Bring your binoculars to spot elk, caribou, eagles, bighorn sheep and bears.
Parks Canada's Keeping the Wild in Wildlife guide offers tips on how to safely enjoy and help protect wildlife you'll see along the way.
Experience the ocean
After experiencing the historic sites of Montreal, this overnight trip by Via Rail travels east along the St. Lawrence River through Quebec and New Brunswick to Halifax.
Take in the memorable eastern landscapes between Maritime history lessons and on-board wine tastings.
Explore welcoming cities and picturesque villages, and enjoy breathtaking views of majestic cliffs, peaceful islands, grand lakes and salmon-filled rivers.
Explore the canyon
Day trippers on this rail loop by Agawa Canyon Train Tours will revel in the Canadian Shield landscape that inspired Canada's Group of Seven artists.
Learn about the Ojibwa, fur traders, explorers and local flora while on board.
Explore the impressive Agawa Canyon Park, which features stunning waterfalls, spectacular hardwood forests and unforgettable lookouts over the world's oldest mountain range.
With so many sites to see, where will your next Canadian rail tour take you?
Pack your bags
Visit caasco.com/plantravel to speak to an experienced CAA Travel Consultant who can help you find the perfect rail travel tour and itinerary. Plus, they can make sure you have the right travel insurance coverage to protect your trip.
See the winter 2022 issue of CAA Magazine for international rail travel tours.
Image credit: Rocky Mountaineer