How to Host a Christmas Cookie Exchange
Looking to start a new holiday tradition? Follow these simple party tips.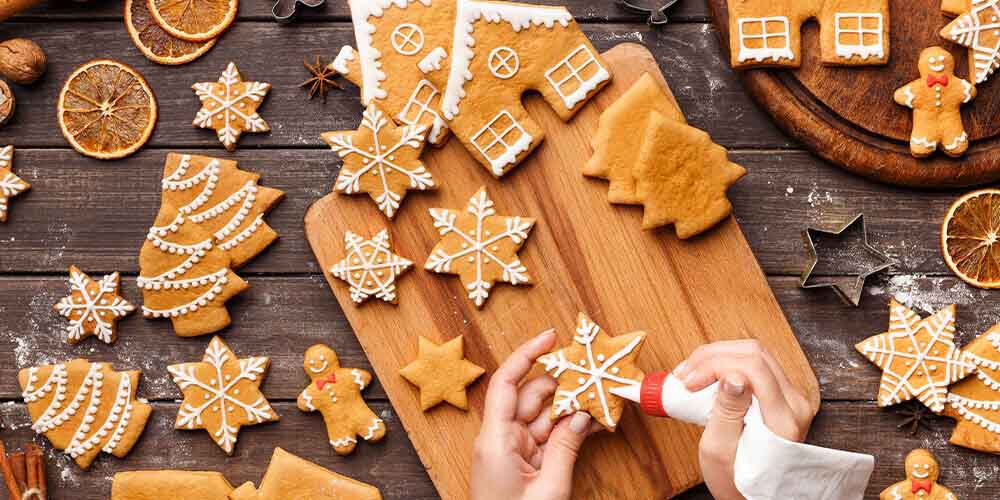 Before the holiday season ramps us with parties, potlucks and of course, turkey, you'll need to build up a stash of cookies for gifts and entertaining. To ensure variety without having to bake 10 different kinds yourself, try hosting a cookie exchange with friends and family. Here's a step-by-step guide for first-time hosts.
Create a guest list and send invitations
Invite between five and 10 cookie enthusiasts for a manageable group and a good variety of recipes. You're more likely to get rapid, real-time responses if you use Evite, Facebook Events or another online platform to send out invitations. This also makes tracking attendance easier. Send invitations three to four weeks in advance to give ample RSVP time.
Plan for a variety of Christmas cookies
Ask each person to bring at least a dozen cookies for the exchange, plus an extra dozen for sampling during the soiree. To avoid overlap, use Google Sheets or a similar program so guests can share the type of cookie they'll be bringing. You can also use this same document for guests to list any allergies or food restrictions they might have. And if you're really in the mood to delegate, you can make a sheet for everyone to sign up to help with decorations, snacks and cleanup.
Help inexperienced bakers with recipe inspiration
While some may have a cherished family recipe for sugar cookies, others who are new to Christmas baking may appreciate some guidance. Offer up some online resources for ideas, like links to recipe sites or cookie roundups, or a go-to from your own recipe box.
Create a party menu that goes beyond cookies
For an afternoon affair, put out a spread of coffee, tea, hot chocolate and sparkling water. For an evening event, pair the cookies with festive drinks, such as homemade eggnog or mulled wine. Either time of day calls for something savoury. Keep it simple and prepare a few easy, make-ahead cocktail party snacks.
Get down to business with a Christmas cookie swap area
Set up a table that will act as a packing station for everyone to assemble their share of each other's cookies. Use place cards and trays for each type of cookie—and list ingredients to help people navigate food sensitivities and preferences—and stack takeaway boxes or decorative tins next to them. Provide ribbons or twine, as well as sticky labels, scissors, markers, pens and tissue paper for everyone to create gift-worthy packages.
Share everyone's recipes
Ask everyone to share their recipes ahead of time (or link them in your shared spreadsheet) so you can share them with guests. If you're feeling ambitious, you can assemble them into a book to give to each guest on the day.
Need bakeware and hosting essentials?
You're in luck! CAA Members save an extra 5% at thinkkitchen and Stokes.
Image credit: iStock.com/Milkos