Cozy and Comforting Colours for 2021
Pick the perfect palette for your home from calming shades to pops of colour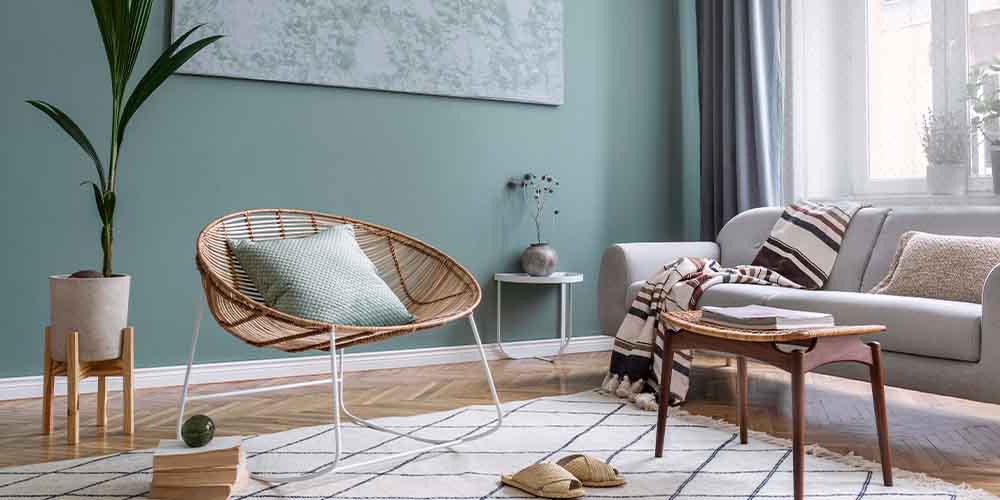 With everyone spending more time at home this year, there's never been a better reason to paint the walls and accessorize with colours we love. With discounts on everything from Dulux Paints, to plants and vibrant home accessories, CAA Members can beautify their homes without breaking the bank.
Our home is a lot more than a place to hang our hat. It's our office, our gym, our favourite restaurant and even spa, says Mitsu Dhawan, brand manager at Dulux Paints. "Colour can play a major role in defining areas and creating the desired mood," Dhawan says. "It's important to consider how you want to feel in a space.
When choosing a paint colour, consider the following points:
Calming colours
Pops of colour
Finishing touches
Calming colours
Dhawan suggests a soft, comforting colour for the living room such as Big Cypress, which is like "a warm hug for your home." In the office, she suggests something cool and refreshing like Misty Aqua. "It's a colour that inspires productivity and organization."
Colours that inspire us to be more mindful, or that are reassuring, nostalgic and grounding in their effect are what people are seeking out the most, Dhawan says. "The trendy colours for the coming year are reflective of our need to slow down the pace and create a more mindful experience that boosts emotional and mental wellbeing through comforting interiors that provide respite and moments of calm."
Pops of colour
Accent walls remain a popular choice for those seeking a pop of colour, or a subtle departure from plain white walls. Transcend is an oatmeal hue that is sure to be a popular choice among those seeking out solace and serenity. The greenish grey Silver Leaf is another soothing choice for walls, as is Winter Peach, a coral pink shade that is feminine and whimsical. And for something vibrant, an expression of individuality, consider Mediterranean Blue, which is as calming as it is invigorating.
Earth tones
"When the world experiences uncertainty and challenging times, we tend to naturally gravitate toward earthy, natural and organic colours that provide a personal retreat from the world outside our door," Dhawan says.
Finishing touches
Colour has always had the power to change a mood and lift the spirits. It's also a quick and easy way to update your decor. Make the most of your CAA offers and sprinkle a teal blue lamp shade, a mustard yellow throw or this colourful aztec inspired rug from Well.ca into your decor, where CAA Members earn 5% in CAA Dollars®.
"As we navigate the current normal, we crave moments of calm and comfort, as well as a sense of stability, embracing of beauty, innovation and opportunity that comes from living with wellness at the forefront," Dhawan says.
Get more with CAA
CAA Members save 50% on regular priced Dulux Paints, as well as earning 3% in CAA Dollars® until December 31, 2020. CAA Members can also save 10% on accessories from Dulux Paints.
Plus, learn how to create a gallery wall and how to incorporate wallpaper in your home.
Image Credit: iStock.com/FollowTheFlow