Get Your Grill Ready for Summer
Our three-step guide to barbecue heaven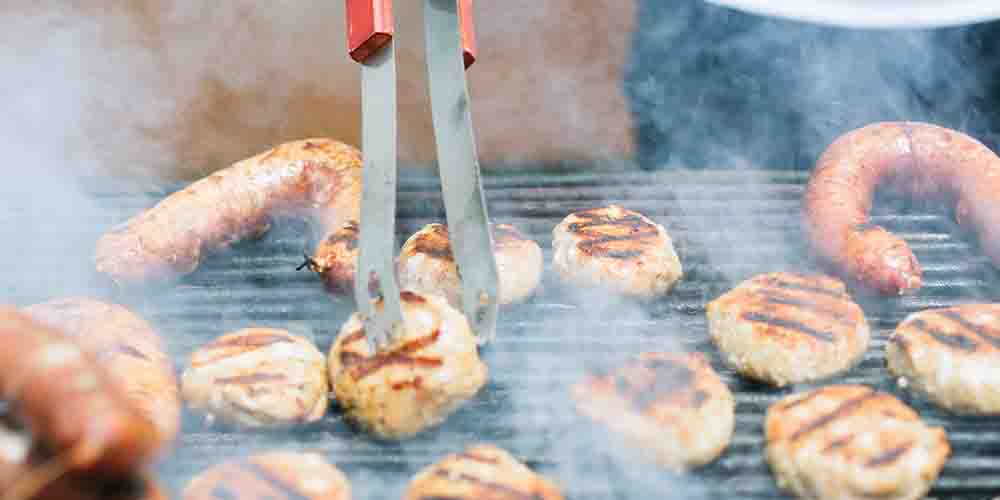 The weather is getting warmer, our backyards have been spruced up, our gardens are ready and there's only one thing left to do: get grilling. Before you stock up on groceries and plan your menu, read on for how to clean your barbecue, which accessories you should stock up on and how to make a homemade marinade.
Step 1: Clean your barbecue
Turn up the heat, close the hood and let any leftover debris burn off. Once done, disconnect the gas tank, make sure all the dials are off and let it cool a bit. While the grates are still warm, scrub away any food and grime. Use a pumice stone (or a chemical-free cleaning block) that conforms to the shape of the surface being worked. Stubborn build-up? A durable wooden scraper with grooves that mold around thengrate's bars does the trick.
Next, set aside the grates, lift off the burner protectors and soak them in a bucket of hot soapy water to loosen up any gunk. With a coarse dish scrubber—and some muscle—rub off all the grease and filth. Clean the burner tubes nestled underneath the V-shaped protectors with a soft bristle brush and wipe them down with a damp sponge. Sweep away trash collected at the bottom of the grill. Wash the grease collection tray with soap and water. For stubborn stains, use a bristle-free grill brush. Wipe down the grill's exterior and leave all loose parts to dry completely (which will prevent rusting in the future) before putting the grill back together.
You're now ready to grill, but before laying down that first piece of food, season the heated grates with an oil-soaked paper towel. For additional maintenance after grilling, stick a halved onion onto a long-handled fork and scrub the grates with the cut side down. The onion's natural enzymes help break down grease and form a protective layer on the metal.
Step 2: Invest in a few key cooking tools and accessories
There are endless gadgets out there, but these five are worth the money (and drawer space).
Thermometer: Skip the guesswork and invest in a thermometer. For a hands-off approach, there are Bluetooth-activated options that will send you an alert when your meat is properly cooked.
Meat Claws: Lifting, carving, pulling—your paws will be kept safe from the flames with a pair of heat-resistant meat claws. Use them to easily transfer big cuts of meat from the grill, shred slow-cooked pork or brisket and even toss salads.
Smoker Box: Infuse a hint of smokiness into your meal without having to invest in a stand-alone smoker. You can make your own, or fill a smoker box with wood chips, placing it on the grill and igniting the gas. Then close the grill's lid and heat from the wood chips will produce natural smoke that'll enhance a variety of foods straight on the grill, including nuts (placed on a baking sheet) and oysters.
Grill Gloves: We've all tried to get by with oven mitts, but they're just not the same. Look for grill gloves that are neoprene coated and lined with cotton as well as greaseproof and heat resistant to keep hands cool while tending to the barbecue or handling hot food.
Cast Iron Plancha: If a crisp sear is what you're after, a plancha is what you need. A griddle-like plate that fits easily on any type of gas grill, a plancha prevents flare-ups caused by smaller ingredients falling through the grates. Pescatarians will love the caramelization it delivers on seafood.
Step 3: Make a homemade marinade
No offence to store bought, but nothing beats homemade. As a basic rule, every marinade should have an acid-to-oil ratio of 1:3, no matter what quantity you need. You can eyeball the rest of the ingredients based on your taste buds.
For a base marinade, combine olive oil, cider vinegar, parsley and garlic. Here are ways to switch it up:
For chicken or pork, add chili flakes, ginger and honey
For beef, add Worcestershire sauce, fresh horseradish and brown sugar
For veggies or tofu add scallions, soy and maple syrup
Bonus tip, try reverse marinating. Grill your choice of meat, fish or tofu, then toss it with the marinade just before serving. The result? Multilayered, bold notes of the marinade's individual ingredients that add zing to every bite.
Get more with CAA
Need a new grill or grill accessories? Shop online to earn 2% in CAA Dollars from Rona or Home Depot. Go to caasco.com/earnmore to access these offers.
Read more great stories in the summer 2020 issue of CAA Magazine.
Image credit: PIXEL STORIES/Stocksy United