Simple Solutions to Maximize your Balcony
We look at easy ways to decorate small outdoor spaces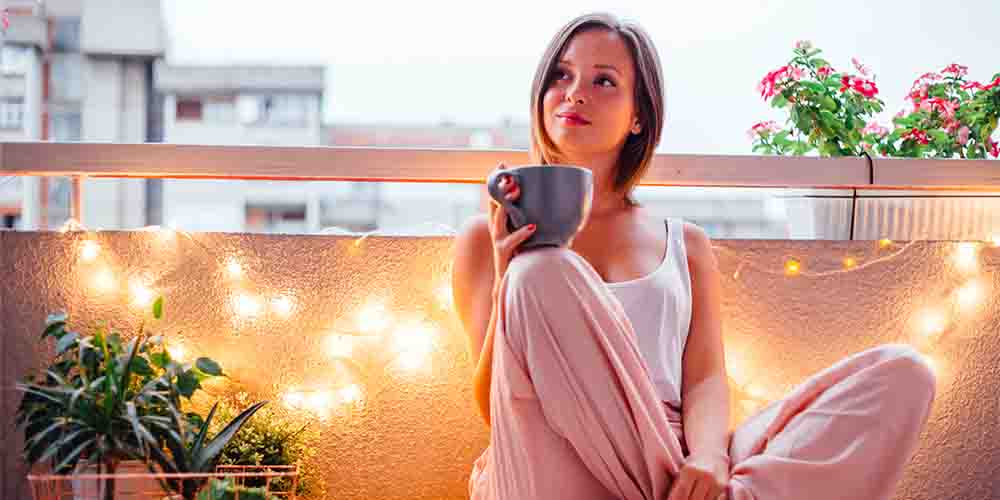 There's a reason so many condo and apartment dwellers yearn to make the most of their balconies—being able to step outside, get a breath of fresh air and feel the sunlight on your face is the next best thing to hanging out in a backyard. Here are a few simple ways to elevate and maximize these precious square feet and make it a true extension of your home.
Different ways to give flooring a new life
There are lots of options for sprucing up a concrete floor. If you're the creative type—and a condo owner—paint the concrete in a solid hue or use a stencil for maximum impact. If you're looking for a quick fix—or you're a renter—cover it with interlocking deck tiles that snap together. An even simpler solution is to throw a machine-washable outdoor rug over the area.
The best ways to maximize wall space
Make use of walls by installing planters, sconces or mirrors. To create a mood, hang string lights and set up portable waterproof speakers; you can find both at The Source, where CAA Members save up to 20% on regular-priced items online and in-store.
For some sun protection—and privacy—a billowy fabric canopy or outdoor curtains are a great way to get a little shade and stay protected from UV rays. If you opt for curtains, you can use a traditional rod or use a tension rod; just make sure you choose one that's made for outdoor use so it doesn't rust. If you don't want to drill holes, look for hooks with adhesive strips on the back that you could rest the rod on top of. If you go this low-maintenance route, just line up hooks on the wall, press the adhesive side down, hold for a minute and let rest for at least 30 minutes.
How to accessorize your space
Backyards are often chock-full of greenery such as colourful and aromatic shrubs and flowers. You can creaate an urban oasis by bringing in various-sized planters filled with beautiful blooms as well as hanging flower boxes on railings. Choose flowers based on whether your balcony gets mostly shade or mostly sun. For more shaded, cool spaces, plant impatiens, hostas, hydrangeas, ferns, coleus and begonias. Plants that thrive in hot, sunny spaces include geraniums, marigolds, mandevillas, snapdragons, lilies and sunflowers. You can find planters, seeds and garden tools from Rona online and Well.ca, all while earning CAA Dollars (see below for offer details).
To save on space, choose furniture pieces that do double duty. For example, an ottoman that offers storage and seating. Plus, when you put a pretty tray overtop, you'll have a spot for your morning coffee.
Make sure to choose furniture that is also water-resistant. Seating and tables made from synthetic wicker—waterproof, resilient polypropylene—will stand up to the elements. Teak, cedar and redwood are good choices for those who opt to invest in wood furniture. Whichever you choose, water-repellent covers are a good idea for year-round protection.
If you're not keen on buying new furniture, get creative with items you may already have. Create a super-relaxing area by stacking some old crates and wood pallets. Your little nook is the perfect spot to get a little "me time"—just add a soft throw, some comfy pillows and candles—bonus if they double as insect repellent—and you're set.
Get more with CAA
When you're ready to update your balcony, take advantage of these CAA Rewards offers to earn CAA Dollars:
Need tools to get everything set up? Save 10% on retail priced tools at participating NAPA Auto Parts locations
Looking for a summer read to enjoy on your balcony? Earn up to 5% in CAA Dollars from Indigo.
Earn 5% in CAA Dollars from Well.ca when you order online.
Earn 4% in CAA Dollars from Simons when you order balcony décor items online.
Earn 2% in CAA Dollars from Rona and Home Depot on patio furniture, container garden supplies and more when you order online.
Image credit: petrunjela/iStock.com