How to Get the Movie Experience at Home
Recreate the movie-viewing experience at home with CAA Rewards partners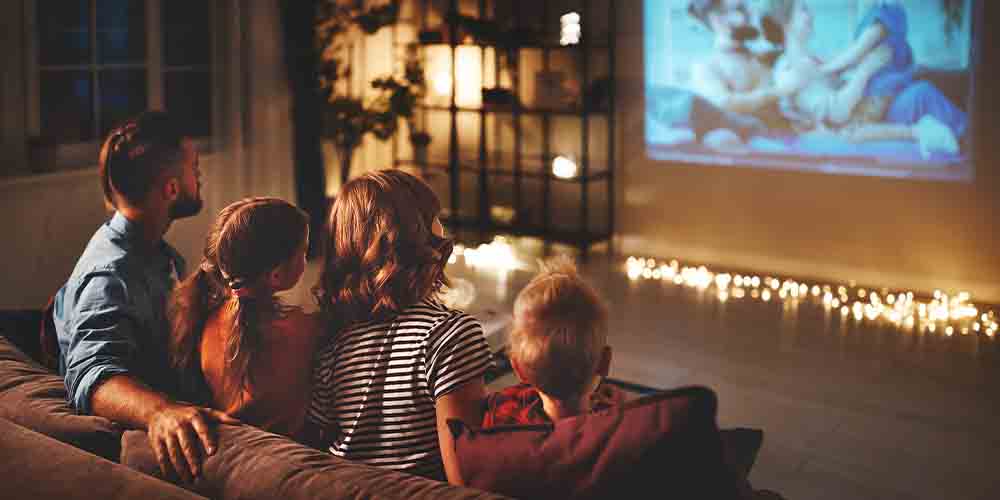 Here's how to create your own home theatre, and use your CAA Membership to get discounts on everything from the big screen itself to plush furniture to that all-important popcorn maker.
Step 1: Consider a new TV or projector
Step 2: Complement that big screen with a comfy couch
Step 3: Get that concession stand mood with a popcorn maker
Step 1: consider a new TV or projector
No one wants to watch a blockbuster on a tiny screen. So go big, or go home. The question here is whether to splurge on the largest television your budget can afford, or opt for a projector and screen. Both have their pros and cons. Some things to consider include sound and picture quality, installation, price and convenience. The Source—where CAA Members can save up to 20%—has plenty of options, and a savvy sales team to guide you to the right choice for your home theatre. Televisions tend to offer a better picture quality and greater functionality. If you're considering a projector, the APEMAN Mini Portable 3500 Lumen Video Projector with an Elunevision screen comes highly rated. Plus, don't forget all the accessories such as a high-quality HDMI cable to transmit audio video signal from device to device with crystal clear quality.
Step 2: complement that big screen with a comfy couch
As long as you have a massive screen, and somewhere comfortable to sit, you're off to the races. Or the battlefields. Or space. Or wherever else your films take you. A sectional sofa is always a good idea, and this one from Bouclair—where CAA Members save 5%—is as comfortable as it is stylish. Put your feet up on an upholstered ottoman that doubles as storage for all those cozy blankets and extra pillows. For a more authentic cinema experience, consider blackout curtains to make that thriller even scarier.
Step 3: get that concession stand mood with a popcorn maker
One of the best things about going to the movies are the Twizzlers, Reese's Pieces and M&M's. Keep a stash of goodies in a cupboard, and consider a mini fridge filled with beer, wine and grab-and-go snacks. Make your own popcorn and customize it with your favourite toppings and seasonings. This mini popcorn machine from Stokes—where CAA Members save 5%—has a retro feel, and is super easy to use. The right snacks make a good movie great.
After you've set up your home theatre, it's time to enjoy that cinematic experience. You can easily rent a movie from Cineplex, which has more a library of more than 8,000 titles, from new releases to classic films.
Image credit: iStock.com/evgenyatamanenko