How to Keep Your Pet Protected in Cold Weather
Here's how to keep your beloved pet safe in freezing temperatures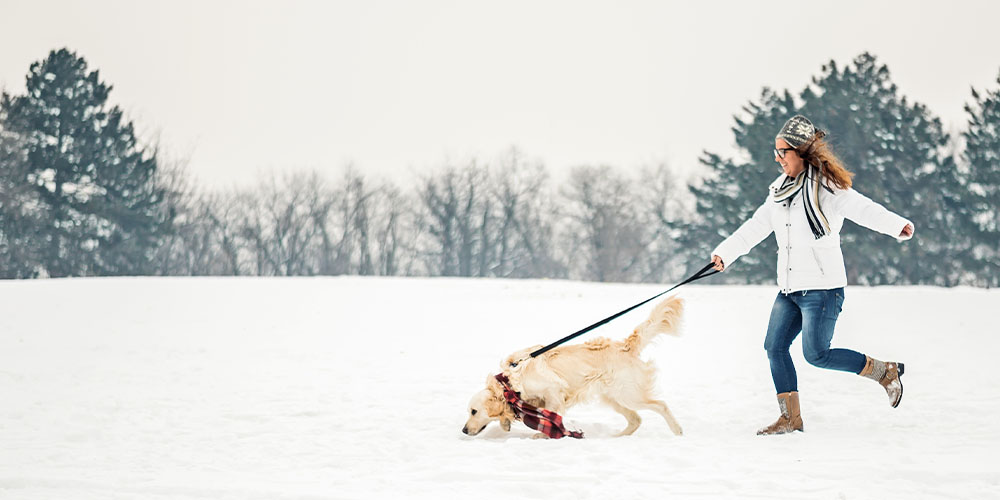 No matter how cold it is, your pet may still need some time outside. Here are eight tips to keep your furry friends safe this winter.
Dress for the cold
When it comes to your pet's natural coat, "save the buzz cut for summer," says Hannah Sotropa, assistant manager of communications at the Toronto Humane Society. A little extra hair will provide your pet with additional warmth. The bellies of long-haired breeds can be trimmed to minimize clinging ice and salt.
Short-haired breeds may need winter jackets and boots. If your pet refuses to wear boots, petroleum jelly or paw protectants can help protect and shield their paw pads from ice, salt and chemicals.
After your walk, wash or wipe your pet's paws and underside and dry thoroughly.
Limit outdoor time
If you're going out for a walk, choose a route that is close to home. You'll be able to return home quickly if your animal is not tolerating the conditions well, says Sotropa.
If your pet is taking frequent breaks, lifting its paws or shivering, that is your cue to head home to warm up.
Take care on walks
Keep your dog leashed during snowstorms, away from puddles and off icy ponds, as it may be too thin to support their weight.
Watch for frostbite
Cold-related issues can occur at any temperature below freezing, says Sotropa.
Signs of frostbite include:
feet are cracked, bleeding, swollen or hardened
edges of ears have become crusted
skin has turned red, black or blue
paw pads or toenails are being licked or chewed
cries, growls or snaps from your pet when you attempt to touch them
"Hypothermia occurs when a pet cannot maintain core body temperature at normal levels and can be fatal without emergency help," she adds.
Spend time indoors
"Pets who do more than zip outside to poop and pee need appropriate protection from frigid conditions," says Sotropa. Even if your furry friend normally likes to spend lots of time outside, bring them in on chilly days.
Never leave an unsupervised pet in a vehicle in the winter. If you can't bring them in with you, they will be much safer at home.
Be a responsible homeowner
Use pet-safe ice melt and clean up any antifreeze spills from your car. At this time of year, stray animals often seek warmth under vehicles, so knock on the hood of your car before taking off—you may save a life.
Mind senior pets
Older pets may have a tougher time staying comfortable during the winter. "Senior cats and dogs may not be able to move as quickly or stay moving due to arthritis, vision and general health," says Sotropa.
So, take extra care and time with senior pets in the winter.
Be prepared
Keep an emergency pet kit in your home in case of a power outage or storm. Include the following for each pet:
a 72-hour supply of food and water, along with two bowls
blankets and towels
a carrier or crate
an extra collar, leash, harness and muzzle if necessary
copies of your pet's medical records
medications
a pet first aid kit
ID tags and microchip number
contact information for your vet, including an emergency number
Take care
Your pets are part of the family and CAA understands they need to be protected, too. Get peace of mind that they're covered with pet insurance, offered through CAA's partnership with Pets Plus Us. The proper coverage may help with the cost of veterinary care and medical expenses for your dog or cat, including medications, emergency care and even surgery. CAA Members enjoy exclusive discounts on pet insurance policies. To get a quote today, visit caasco.com/insurance/pet.
Image credit: StefaNikolic/iStock
©2022 All rights reserved. Pets Plus Us Pet Insurance policies are underwritten by Northbridge General Insurance Corporation and distributed by PTZ Insurance Services Ltd. Pets Plus Us Pet Insurance is available in all provinces and territories. Pets Plus Us®, Pets Plus Us & Design and related words and logos are trademarks and the property of PTZ Insurance Services Ltd.