Toronto Hosts the Acclaimed Harry Potter and the Cursed Child Play
Experience the magic of the wizarding world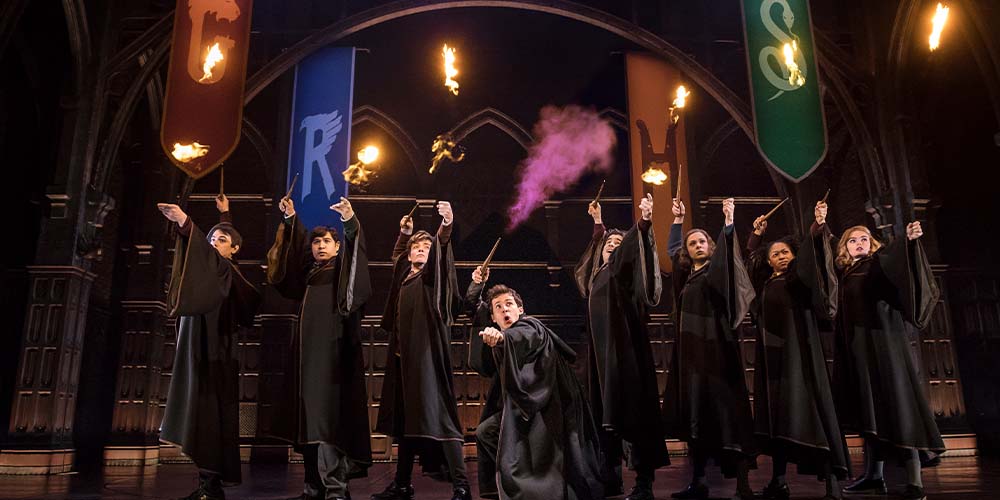 Harry Potter and the Cursed Child, the stage-only sequel to the beloved series, is now showing in Canada! To get you excited for this fantastic new adventure, here are five fun things to look out for at the performance.
Step into the magic
From the moment you enter Toronto's CAA Ed Mirvish Theatre, you'll be completely immersed in all the wonders of the wizarding world.
The theatre recently underwent an extensive renovation, including floor-to-ceiling customizations throughout the lobby and auditorium.
The space has been completely reinvented, from its custom light fixtures and trims to the cleverly named Witchcraft paint and wallpaper with notable Hogwarts emblems.
The seating area has been downsized too for a more intimate experience that ensures each guest has a perfect view of the show's many illusions.
An all-Canadian cast
As the only production of Harry Potter and the Cursed Child in Canada, it's only fitting that the entire cast is from the Great White North as well.
Canadian actors Sara Farb and Fiona Reid were both in the Broadway production in New York City and are reprising their roles in Toronto.
A second scar
You may know about Harry's lightning-bolt scar, but look closely at his hand during the performance to see another.
It reads, "I must not tell lies." This is from the cruel punishment he suffered during detention with Dolores Umbridge in Harry Potter and the Order of the Phoenix.
Watch the clocks
The play is full of time-turning twists, so watch the decorative clocks that frame the stage.
As time turns back, the hands on these clocks will move with it!
On the platform
Sharp-eared fans will notice some familiar dialogue when Ginny and Harry take their kids onto Platform 9¾.
At the station, Ginny echoes the exact words her mother, Mrs. Weasley, told Harry in Harry Potter and the Philosopher's Stone.
"All you have to do is walk straight at the wall between platforms 9 and 10," Ginny tells Albus.
Completing the nostalgic line, Harry adds, "Best do it at a bit of a run if you're nervous."
Keep these fun tidbits in mind while enjoying Harry Potter and the Cursed Child for the ultimate experience.
Image credit: Matthew Murphy
Member-exclusive benefits
Don't miss out on this epic performance—get your tickets today at mirvish.com. As a CAA Member, enjoy special perks, like complimentary coffee and coat check at all Mirvish theatres, as well as 15 percent off concessions at the CAA Ed Mirvish Theatre. Visit mirvish.com/caa for more information.