How CAA is Giving Back to Communities during the Pandemic
With vaccine hubs and emergency flights, CAA counters Covid-19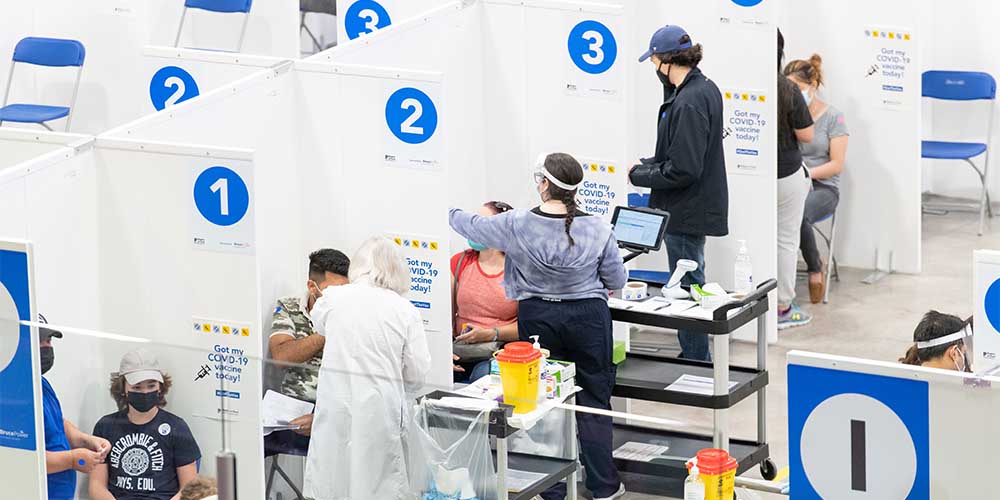 Under normal circumstances, the CAA Centre in Brampton, Ont., is filled with young hockey players shooting pucks on four NHL-sized rinks.
But this summer, shots of another kind dominated the 5,000-seat arena. Over 18 days in June, the CAA Centre functioned as a Covid-19 vaccination hub, where health officials administered some 50,000 doses of vaccine.
The drive was part of a wide-ranging CAA effort over the last six months to help Canadians grapple with Covid-19. And it was an extension of CAA's century-plus history of helping to make communities safer, says Teresa Di Felice, assistant vice president of government and community relations with CAA Club Group, which covers Ontario and Manitoba.
"For CAA, giving back to the community is why this organization was started," Di Felice says. "It's ingrained in what we do."
Despite the negative impact of Covid-19 on its business, CAA continued to make charitable donations, supporting organizations like SickKids, the Canadian Cancer Society, Black Youth Helpline and OSPCA, Di Felice says.
Helping to combat Covid-19
Alongside helping to convert the CAA Centre, the organization donated $10,000 to the vaccination drive, which helped secure vaccines for the centre. CAA also provided free roadside assistance to healthcare workers and emergency services personnel across Ontario and Manitoba—even if they weren't CAA Members. From April to September of this year, that resulted in about 700 free service calls.
Special delivery
To help combat Covid-19, CAA also got creative. CAA Club Group President and CEO Jay Woo, a commercial pilot, helped fly personal protective equipment and fire safety gear to Kashechewan, Ont., a First Nations community on James Bay. At the time, the population of about 1,800—which does not have a summer road connection to the south—was in the grip of an outbreak and desperately short of supplies.
Making Members a priority
Throughout 2020 and 2021, CAA also lent a helping hand to its Members, says Rhonda English, chief marketing officer at CAA Club Group. The organization allowed a two-month deferral of Membership renewal fees in 2020, while CAA Insurance Company provided a rate reduction on both auto and home insurance policies. This pandemic rate relief resulted in over $130 million in savings to policyholders. That's all part of a corporate philosophy that emphasizes community well-being over profits, she says.
"There are a lot of things that make CAA unique, such as not being driven by shareholder returns," English says. "We've always been obsessed with doing the right thing. Wherever we can, we step up and help."
Image credit: Nick Menzie