Hazards Your Pet May Encounter in Autumn
Protect your four-legged friends from seasonal poisons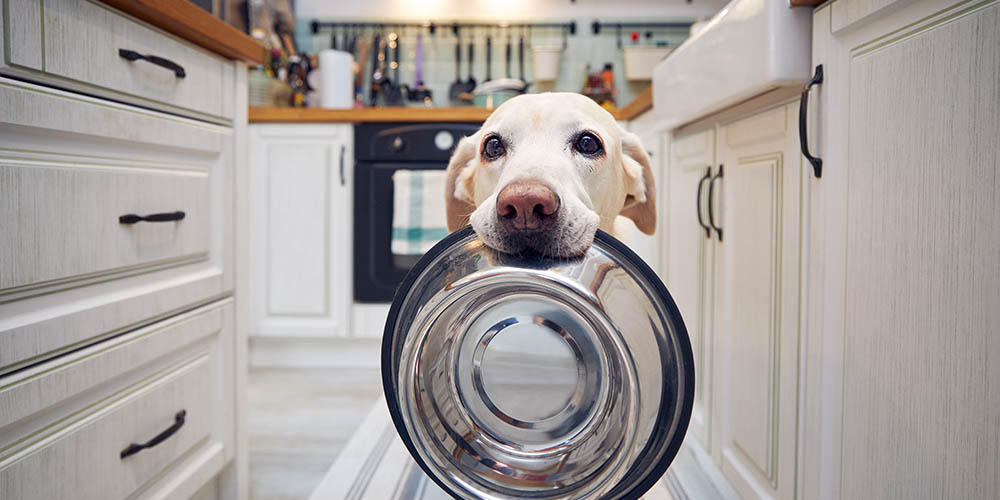 It's that time of year when the leaves change colour, there's a chill in the air and families gather for the holidays.
As you prepare for this festive time, it's important to know of potential dangers to your pet.
Unfit foods
When there's a table full of culinary delights, there are likely adorable beggars nearby.
While you may want to give your pet a holiday treat, offering them human food can result in a trip to the vet.
Greasy foods like turkey, bacon and gravy can cause vomiting and diarrhea for your dog or cat.
If your pet eats something inedible, like a corn cob, string from a turkey or bones from poultry, it may cause choking and bowel obstructions.
Also watch out for desserts with the sweetener xylitol as it can result in liver damage, and raisins can cause kidney failure.
Tempting treats
Keep your Halloween stash for trick-or-treaters away from your pets.
Chocolate, especially dark varieties, contain theobromine, which is toxic to both dogs and cats. If they eat it, it can lead to pancreatitis, arrhythmia, seizures and death.
If you suspect your pet has eaten chocolate, contact your veterinarian right away, and look out for symptoms of diarrhea, vomiting and hyperactivity.
Around the home
Winterizing your house, garage and cottage are part of home ownership, but it's also important to pet-proof the exterior of your property.
Lock your green bin so your pet can't get at food scraps.
If you have a separate compost area, fence it off. Decomposing organic matter contains molds that if eaten by your dog or cat can cause agitation, hyper-responsiveness, panting, drooling, vomiting and neurological issues.
Store household chemicals, like cleaning products, paint thinners and antifreeze, in tightly sealed containers and keep them out of reach.
Know the signs of pet poisoning from insecticides and rodenticides, which include weakness, vomiting, loss of appetite, bleeding from the mouth and nose, bruising, loss of coordination, tremors and convulsions.
While outside
Be wary if your dog or cat eats even a small portion of a mushroom while outdoors.
Wild mushrooms are common and some can cause gastrointestinal problems, organ failure or even death.
Immediately bring your pet—and any remaining portion of the mushroom—to the vet for examination and treatment.
Watch out for these common pet poisons and supervise your four-legged friends when outdoors this fall to ensure they're safe and healthy all season long.
Keep your pets safe
Have peace of mind that your pet will receive the medical care they need if they're poisoned with pet insurance from CAA's partner, Pets Plus Us. The proper coverage may help with the cost of veterinary care and medical expenses for your dog or cat, including medications, emergency care and even surgery.Enrolling in a Pets Plus Us plan also gives you access to the Pet Poison Helpline®, a 24/7 animal poison control service you can call for help anytime you need it. CAA Members enjoy exclusive discounts on pet insurance policies. To get a quote today, visit caasco.com/insurance/pet.
Image credit: Chalabala/iStock
The information herein is summarized. All Pet Insurance plans have limitations and exclusions. Specific products, features, coverage limits, rates, and discounts may vary by province, eligibility, and are subject to change. Medical Conditions that are noted, symptomatic or diagnosed prior to enrollment, or during a waiting period are pre-existing to Coverage and not eligible for reimbursement. This advertisement is an outline only, the actual policy issued terms and conditions will prevail. ©2022 All rights reserved. Pets Plus Us Pet Insurance policies are underwritten by Northbridge General Insurance Corporation, distributed by PTZ Insurance Services Ltd. and Société d'Assurances Collectives (Sodaco) Inc. in Quebec. Pets Plus Us Pet Insurance is available in all provinces and territories. Pets Plus Us®, Pets Plus Us & Design and related words and logos are trademarks and the property of PTZ Insurance Services Ltd.