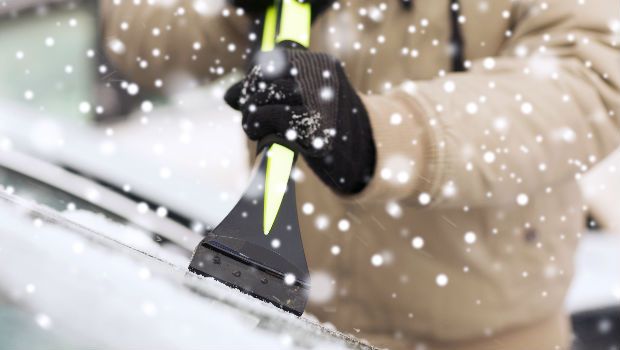 The first snowfall is a day people either love or hate. Kids love to put on their snowsuits and make snow angels. While for drivers it's nothing but chaos. Some motorists are ready for winter driving and others simply panic.
To make sure you aren't one of those drivers, here's a checklist of what to do to prepare your car for safe winter driving.
Fill up on antifreeze. It's crucial to have antifreeze because it stops the water in your car's engine cooling system from freezing. Antifreeze lowers the engine's freezing point meaning the water won't freeze under cold winter temperatures. Plus it helps make your engine run smoothly.
Check and replace car battery (if needed). Winter takes a toll on car batteries and your engine requires more power from the battery to start in colder temperatures. So make sure all battery connections (like cables, fasteners and posts) are clean, tight and in good condition. It's a good idea to have your electrical system tested and check the battery using a voltmeter.
Inspect wiper blades and headlights (replace if needed).  Visibility is key in the winter. And in order to see clearly make sure your headlights are working and clear of debris. Also ensure your wiper blades are functioning properly. If your blades streak, skip, split or squeak replace them immediately. Also check to make sure the blade frame isn't bent or broken, detached from the car, if it's flexible and if the rubber is secure on the frame.
Tip: You should change your wipers every six months to a year.
Have extra windshield washer fluid. Make sure to load up on winter-appropriate windshield washer fluid to keep your window clean. Again, you need to see the roads clearly. Keep extra containers in your trunk in case you need to suddenly refill the tank and don't have time to visit a store.
Get winter tires and check tread. Your tires need traction and grip to deal with icy and snowy roads. Get winter tires and check the tread pattern to reduce aquaplaning and increase your safety. Click here for more tips on winter tires.
Tip: Inspect your spare tire so you can use it if needed.
Keep a shovel and ice scraper handy. Having an ice scraper, a small shovel and snow brush in your car at all times helps because you never know when a snowfall might hit.
Pack an emergency roadside kit . If something does happen while on the road, an emergency roadside kit is equipped with essentials you need to stay safe until help arrives. Make sure to grab a kit with a flashlight, warning devices (e.g., flares, reflective vests/strips),  a first aid kit, blankets, jumper cables  and glove warmers.