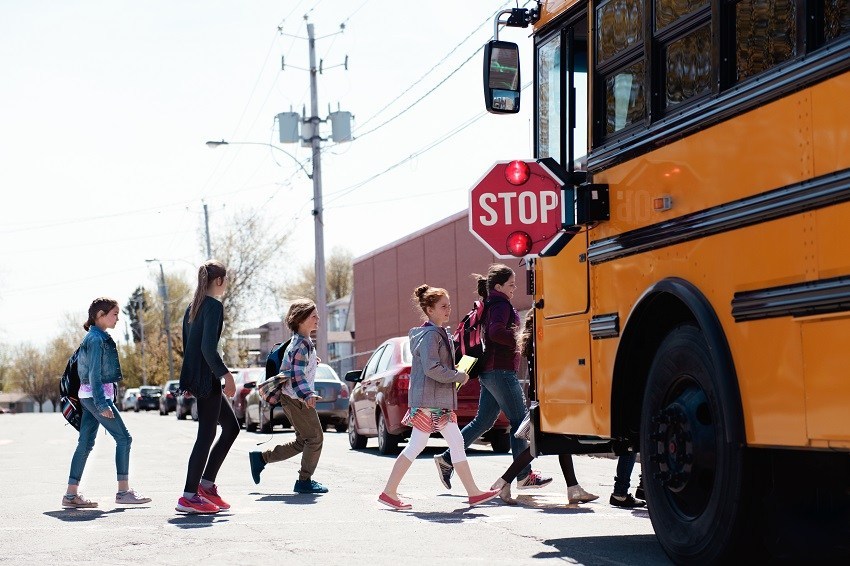 School Buses are one of the safest modes of travel. The easily-recognizable yellow and black school bus is one of the safest modes of transportation on the road in Ontario today. Did you know that approximately 18,000 school buses travel two million kilometers, carrying more than 830,000 kids in Ontario every school day? And we can thank our professional school bus drivers for providing 300 million safe rides each school year!
But, while rare, accidents, injuries and fatalities can still happen. They are most likely to occur outside the school bus as students are boarding and exiting the bus or crossing the street, and when children and/or motorists aren't paying attention to, or don't know, the school bus safety rules and guidelines.
Stay Safe: Know the Rules of School Bus Safety.
Motorists, parents, caregivers and students should know how to keep children safe on and around school buses. By following these simple guidelines we can all ensure the safety and wellbeing of everyone on the road.
Rules for Safely Boarding And Exiting The School Bus:
Be at the bus stop on time or early.
Never run across the street to catch the bus.
Wait in a safe place that is well back from the road. If you can touch the bus you are in the "Danger Zone" and the bus driver cannot see you. Move back.
Never cross the road behind the bus. Always cross in front of the bus.
Wait until the traffic and the bus come to a full stop before crossing the street.
Enter and exit the bus in single file. Don't push or shove.
If you drop something in the Danger Zone, do not stop to pick it up. Ask an adult for help.
Rules for Safe School Bus Riding:
Stay seated.
Face forward at all times.
Keep your bags, feet, arms and bodies out of the aisles.
Never distract the bus driver and always follow their instructions.
Keep all of your body parts, including arms, hands and head inside the bus.
Never throw anything out the bus window.
No pushing, fighting or shouting.
Talk to Your Kids About School Bus Safety.
Parents should make sure that their children are aware of these guidelines. Parents are responsible for their children until they step on the bus and immediately after they exit bus.
Rules for motorists: It's the Law.
On a road without a median, drivers travelling in both directions must stop for a stopped school bus with flashing red lights.
On a road without a median, drivers coming in the opposite direction are not required to stop.
Stop at least 20 metres behind the bus.
Do not move forward until the red lights have stopped flashing or the bus begins to move.
The penalty for not stopping for a school bus is a fine of up to $2,000 and six demerit points for a first offense. The penalty for each following offence is $1,000 to $4,000, six demerit points and possible jail time of up to six months.
Keep Children Safe by Reporting Unsafe Drivers. 
If you witness a driver who doesn't stop for a school bus, safely pull over and record everything you can remember about the incident, such as:
Location, date and time.
Make, model, colour and licence plate.
Licence plate of the school bus.
Size of the bus (small or large).
Status of the bus (stopped or moving).
Red flashing lights (on or off).
Whether there were children boarding or exiting the bus.
Whether the offending driver passed from the front or from behind the bus.
Immediately contact police by phone or in person and provide as much information as you can, including the names of any witnesses or photographs.
CAA's School Safety Patrol Program.
In addition to bus safety guidelines and laws, safety patrol programs exist to further educate and involve individuals on the importance of bus safety. One such program is the CAA School Safety Patrol Program, which has more than 20,000 school safety patrollers ensuring the safe arrival and departure of their classmates at schools across South Central Ontario. The CAA School Safety Patrol program has been keeping students safe in school zones and on school buses since 1929.
Through being personally being involved in these programs children get a better understanding of bus safety and play their part in ensuring the ongoing safety of fellow bus passengers. Learn more about CAA's School Safety Patrol Program.
Facts and information in this article are based on info from the School Bus Safety Resource guide from the Ontario Ministry of Transportation.