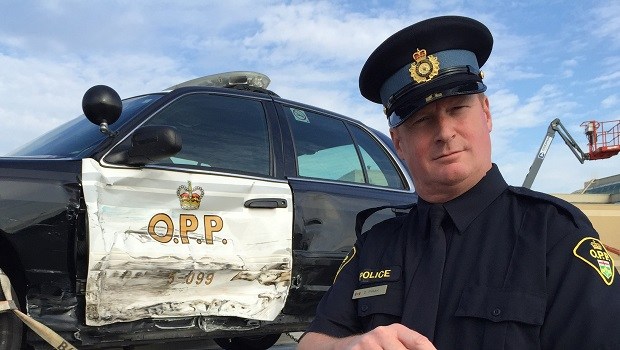 It started out just like any other day on the job for OPP Constable Daniel Pyrah. What he didn't know was that on November 29, 2010, his life would be changed forever.
The officer from the Port Credit OPP Detachment was parked in his Chevy Tahoe on the shoulder of Highway 407 at the off ramp to Dixie Road. It was 8:45 in the morning.
"I remember it like it was yesterday. It was a beautiful, sunny day," said Constable Pyrah. "It all happened so fast, I didn't even see it coming."
Out of nowhere in the blink of an eye, the officer was rear ended by a truck and his vehicle was pushed 150 feet forward.
"I recall looking into my side view mirror and seeing the driver behind me with blood pouring down his face. I called into our Communication Centre and requested two ambulances. Then I just put my head back and waited to die."
Constable Pyrah was in shock and thought to himself this was how it was going to end.
When the ambulance and fire trucks arrived, the officer couldn't feel his legs. He had to be extricated from the vehicle and taken on emergency run to hospital on a backboard wearing neck brace.
"They told me I was lucky to be alive because I was in a bigger vehicle and had my seatbelt on."
Looking back to the fateful day, the officer with 17 years of service under his belt still gets choked up when he thinks about his children visiting him in the hospital.
"To see the look on my daughter's face as I lie in the hospital bed, it still gets to me to this day," said Pyrah.
The collision has had lingering effects on his life. He has recurring nightmares about the accident, has two blown out discs in his lower back and suffers from constant back pain. He can only stand or sit for 20 minutes at a time and takes prescription drugs to help him sleep.
"I'm now on desk duty. I didn't sign up for this back in 1999 when I joined the force. I can never go back on the road again. I'll never be same."
Pyrah hopes his life altering story will have drivers thinking twice when behind the wheel.
"If you see an emergency vehicle or a tow truck working on the side of the road, please give us a lane to do our job safely. We want the same things you do. We want to go home at the end of the day and see our families. Please slow down and move over. Help us save a life."
Last year, the OPP laid a total of 2,031 charges under Ontario's Move Over law. The only year that saw a higher number was in 2008 when more than 2,800 charges were laid.
Meanwhile, in 2015, the law was changed to include tow trucks parked on the roadside with their amber lights flashing. The law includes a fine range of $400 to $2,000 and three demerit points. For more information about the Slow Down, Move Over Legislation, click here.