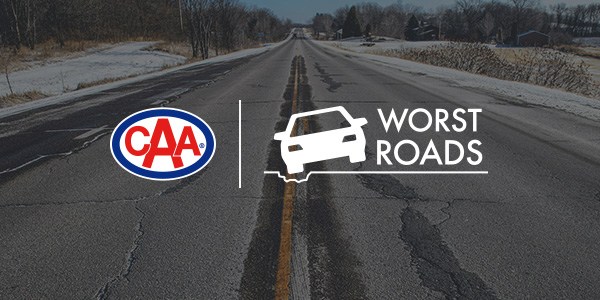 CAA's Worst Roads list for 2016 has been revealed and County Road 49 in Prince Edward County has bumped last year's winner Algonquin Boulevard West in Timmins to second place. This is the first time that County Road 49 has appeared on CAA's provincial Top 10 list. With over 2,500 roads nominated across the province, three of the Top 10 roads are from the Greater Toronto and Hamilton Area (GTHA). However, for the first time in the history of CAA Worst Roads, roads in the City of Toronto did not place in the Top 5, highlighting the need for road improvements across Ontario.  Dufferin Street in Toronto, which held the number one position on the provincial list for several years has continued its descent on the top 10  list, ranking at number nine this year.
"The results of CAA's Worst Roads campaign show that more dedicated funds are needed from existing sources to address our growing infrastructure challenges," said Raymond Chan, Government Relations Specialist, CAA South Central Ontario (CAA SCO). "With a record number of roads from across Ontario nominated this year, the results highlight the growing need for infrastructure investment and prioritization in communities across the province."
The Ontario Road Builders' Association (ORBA) is in agreement. "This year's Worst Roads Campaign once again solidified that although much work has been done across the province to maintain and repair Ontario's roads, greater investments are needed to tackle the staggering municipal infrastructure deficit in Ontario," explained ORBA's Executive Director, Geoff Wilkinson. "An efficient transportation system is essential for a vibrant economy and good quality of life – connecting our communities and enabling businesses to get their goods to market."
Ontario's Top 10 Worst Roads for 2016:
1. County Road 49, Prince Edward County
2. Algonquin Boulevard W., Timmins
3. Balmoral Street, Thunder Bay
4. Algonquin Boulevard E., Timmins
5. Queenston Street, St. Catharines
6. Burlington Street, Hamilton
7. Lorne Street, Sudbury
8. Bayview Avenue, Toronto
9. Dufferin Street, Toronto
10. Riverside Drive, Timmins (tied for 10th)
10. Water Street, Thunder Bay (tied for 10th)
CAA's Worst Roads by Region:
North Region—Algonquin Boulevard W., Timmins
Halton-Peel-York-Durham—Cedar Street N., Uxbridge
Niagara Region—Queenston Street, St. Catharines
Eastern Region—County Road 49, Prince Edward County
Central Region—St. Johns Road, Innisfil
Western Region—Franklin Boulevard, Cambridge
South West Region—Waterworks Road, Sarnia


For complete Top 5 lists of the worst roads by region including Toronto, Hamilton and Ottawa, visit caaworstroads.com.