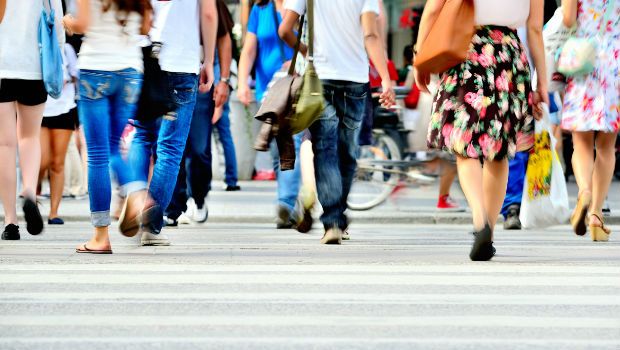 Warmer, sunnier weather means the streets and sidewalks will see a steady increase in foot traffic. Whether you're walking to a local store to grab an ice cream or taking your dog for a walk, it's important to keep in mind your safety as a pedestrian.
Who is the most vulnerable pedestrian?
The Ministry of Transportation notes that one in five fatalities on Ontario roads are pedestrians. Seniors are amongst the most vulnerable group of pedestrians, with individuals aged 60 or over being more than twice as likely to be killed than the general population.
Most pedestrian fatalities occur in densely populated areas. Last year, 41 pedestrians lost their lives, representing approximately 55% of all traffic fatalities in the City of Toronto. To date (June 2019), 64% of the pedestrian fatalities have involved senior-aged pedestrians.
Police Constable Giancarlo Marrelli of Toronto Police, Traffic Services advises: "Road safety is a shared responsibility. It's important for everyone who uses our roadways – motorists and pedestrians alike – to be informed and take responsibility to ensure safety for all, including senior pedestrians who are unfortunately over-represented in our fatalities."
Road and pedestrian safety is everyone's responsibility. Motorists must look out for pedestrians and pedestrians need to be cautious on and off the roadway.
Police Constable Marrelli has advice for pedestrians, drivers and cyclists.
For pedestrians
Always be aware of your surroundings, avoid distractions and be alert while crossing the street.
Follow signals and cross at designated locations or crosswalks.
Cross on a fresh light and, at large intersections, you may use the centre median if you are unable to complete your cross before the light changes.
Stop, look and listen – ensure all traffic has come to a complete stop before crossing the road.
Make eye contact with motorists who want to turn – never assume that drivers can see you or know your intentions.
Wear reflective clothing or accessories at night to make yourself more visible.
For drivers and cyclists
Always look for pedestrians crossing the road at intersections.
Be aware of blind spots when making your turns at intersections.
Avoid distractions inside and outside of your vehicle.
Watch your speed in school zones and residential areas and be prepared for the unexpected.
Be cautious around stopped transit vehicles and be courteous to vulnerable pedestrians.
Communication (eye contact, indicate turns, etc.) between all road users is important to keep everyone safe.
CAA is working with the Government of Ontario and community partners to make conditions safer for everyone on our roads. Visit us at caasco.com/pedestrian for tips and to learn more.