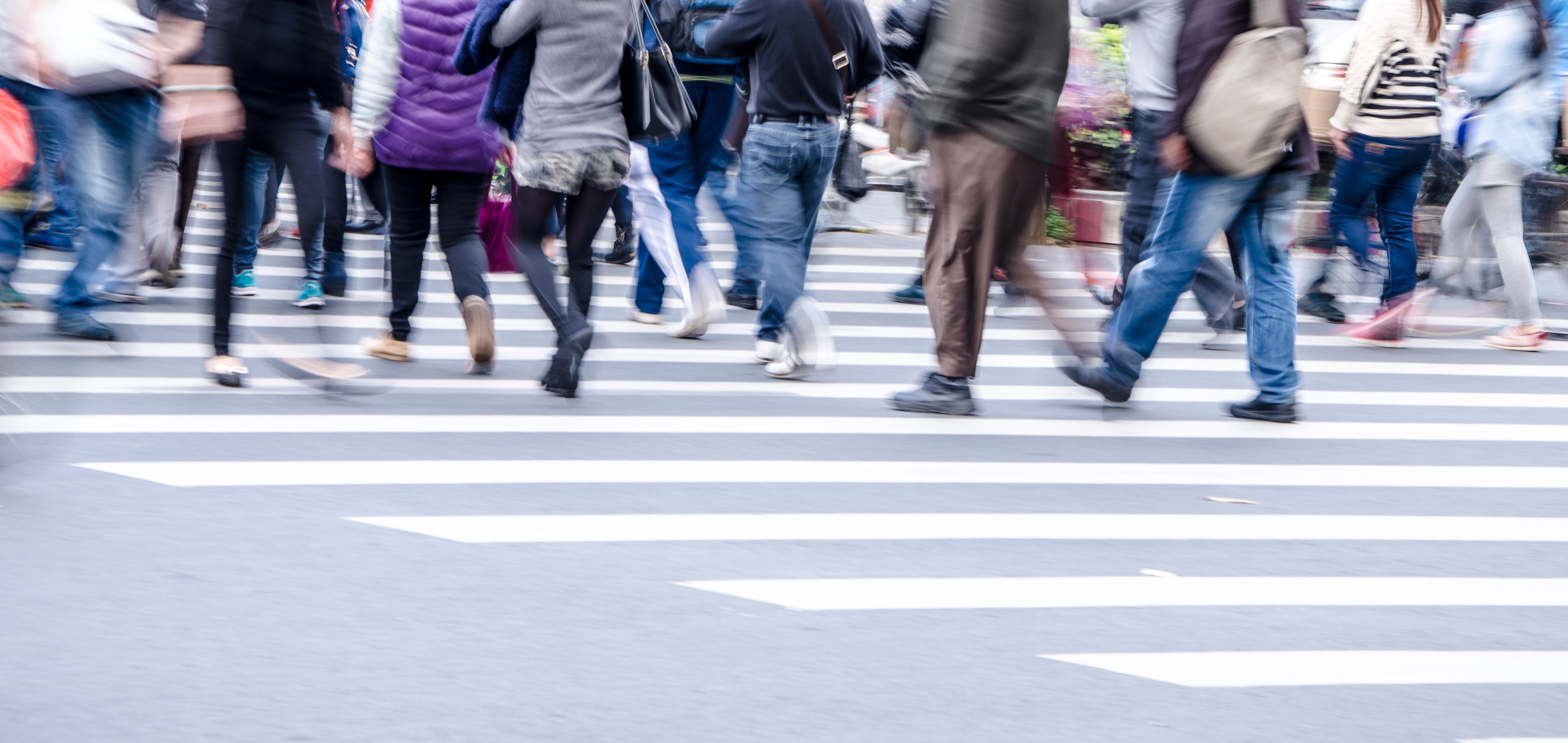 When clocks fall back in early November, pedestrian incidents rise. The weather changes, days get shorter and visibility decreases. That's why CAA and its road safety partners would like to remind both drivers and pedestrians that road safety is everyone's responsibility – and great care and caution should be practiced.
Joanne Banfield is all too familiar when things go wrong; as part of the Trauma Program, the Office for Injury Prevention at Sunnybrook Health Sciences Centre in Toronto works to prevent traumatic injuries and injury-related mortality through community education, collaboration, research and innovation.
When it comes to pedestrian safety, Banfield cautions everyone to "cross the street as if your life depends on it." She advises: "Visibility is key. Just as motorists turn on their lights and cyclists use reflectors or lights, we encourage all pedestrians, where possible and whether running or walking, to wear reflective clothing to help increase their visibility."
The most common trauma injuries reported for pedestrians who were involved in collisions include head injuries, broken bones, hip and pelvic injuries and internal organ damage. Banfield notes they have seen an increase in major injuries in recent years.
How do pedestrian incidents occur? Banfield explains that distraction and inattention for both drivers and pedestrians, including cell phone use, are most often to blame, as well as people rushing to get to their destinations. Also, pedestrians that wear dark clothing cause a decrease in their visibility on the roadway and the addition of hats, scarves and heavier clothing can often create a "mummified" effect, limiting the individuals' movement.
She notes that particularly high-risk locations for pedestrians include intersections and densely populated areas, while most incidents occur 1-1.5 km from the individual's home, as people often become complacent in more familiar territory.
If you're walking:
Wear reflective clothing or accessories at night to make yourself more visible. Help drivers in their responsibility to look out for other road users.
Always be aware of your surroundings, avoid distractions and be alert while crossing the street.
Follow signals and cross at designated locations or crosswalks.
Stop, look and listen – ensure all traffic has come to a complete stop before crossing the road.
Make eye contact with motorists – never assume that drivers can see you or know your intentions.
If you're driving:
Always look for pedestrians crossing the road – statistics indicate the need for better attention at intersections.
Be aware of blind spots when making your turns at intersections.
Avoid distractions inside and outside of your vehicle.
Many school zones and residential roads have reduced speed limits. Obey them.
Local streets and school zones will have different types of traffic, as well as children outdoors playing, riding bikes, skateboarding, etc. Be prepared for the unexpected.
Be cautious around stopped transit vehicles and be courteous to pedestrians with different mobility needs that may require more time.
Banfield also reminds all road users of the current rules at pedestrian crossovers and school crossings in Ontario. As of January 2016, drivers and cyclists must stop and yield the whole roadway at pedestrian crossovers, school crossings and other locations where there is a crossing guard on duty.
Just as road safety requires the efforts of all users, other important efforts are ongoing throughout the province, including public education and road engineering and infrastructure advancements, as well as new rule, bylaw and enforcement changes. CAA is working with the Government of Ontario and community partners to make conditions safer for everyone on our roads.
Visit caasco.com/pedestrian for more pedestrian safety tips.