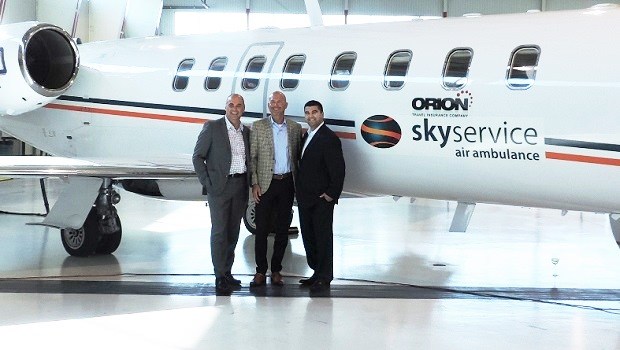 You fly off to enjoy that long-awaited dream vacation only to return home in an air ambulance. Taking advantage of travel insurance is not something anyone plans on using, but if you do, rest assured you're taken care of.
That message resonated clear to those who attended a special repatriation event on July 13, 2016 in the Skyservice Hangar at Pearson International Airport. Hosted by CAA's insurance provider Orion Travel Insurance, Skyservice Air Ambulance and CAA's Travel Insurance claims provider Active Care Management, guests were given an opportunity to not only learn more about this benefit offered to customers as part of their insurance coverage, but they also had the opportunity to get an up-close look at a Skyservice Air Ambulance, used to bring clients home if a medical emergency happens while travelling.
What does this mean for those who purchase travel insurance coverage? For starters, it demonstrates the lengths CAA goes to see you get home safely. "We ensure our clients and our Members receive first-class care," says CAA Division Insurance President Matthew Turack. "We are moving into a new class of travel insurance. It's a VIP Member experience providing the best quality of service and safety."
It also means protection and security for those in time of need. And what better way to illustrate the safety of this hospital-to-hospital service than with a tour of a Skyservice air ambulance. The Canadian-based company uses a Bombardier Learjet 45XR to fly a critical care medical team usually consisting of a doctor, nurse and respiratory therapist to the client. The critical care team prepares the appropriate medical equipment including resuscitation and ventricular assist devices, ventilators, and necessary medications. They also communicate with hospital and medical personnel to monitor the client's condition. Once the critical care team arrives at the hospital, they assess the patient and speak with medical staff and family members to prepare them for a safe in-flight journey home.
Safety is of the upmost importance to Skyservice Air Ambulance President Sam Cimone whose team goes to great lengths to ensure a positive client experience. Safety of the crew, plane and client are paramount. "This is a different kind of quality of air medicine," he explains. "If aviation is safer, the mission is safer. We never take a patient if it means bringing down their level of care."
CAA Travel Insurance claims provider Active Care Management's Executive Vice President David Rivelis agrees, "How do we make sure that somebody who is away from home feels comfortable, knows that they are safe, knows that we have their back, knows that we will navigate them back to the closest clinic/facility."  It is important to Active Care Management to not only assess the medical situation, but also ease any anxiety the client may be experiencing. Making that human connection by empathizing and understanding the stress is key to turning a negative situation into a positive flight home.
Perhaps one of the most compelling moments of the evening was Mr. Cimone describing a client's relief in time of need. "As a patient once said, he explains, "'When you see the medical team at the hospital, I knew I was home.'"
To learn more about the repatriation benefit CAA offers customers as part of their travel medical insurance coverage, please call 1-800-437-8541 or visit us here.