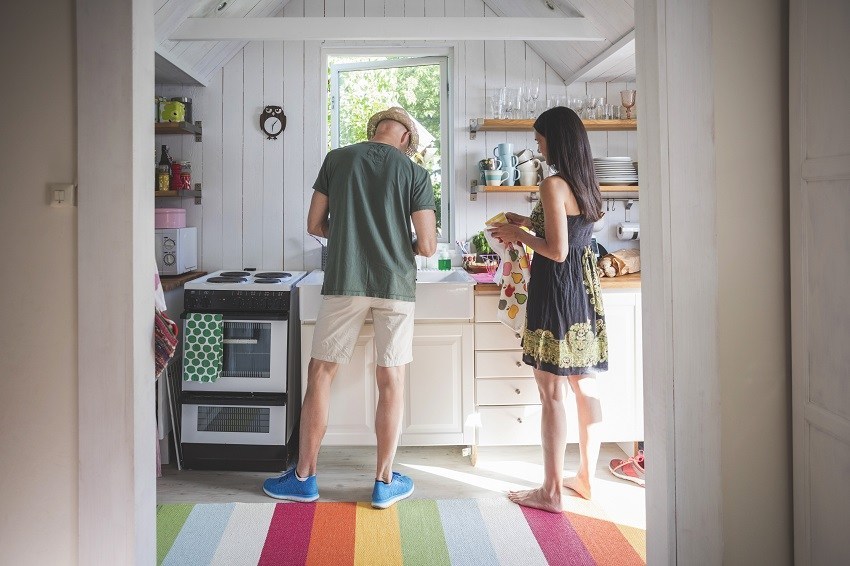 Every year, thousands of Ontarians head to cottage country to enjoy the great outdoors.
On the May 24th weekend, from the Kawarthas, to Muskoka to Parry Sound, Ontario highways are teeming with cars full of people heading out of Toronto to reopen their second homes for the season. If you're among them, hopefully, you took the necessary precautions at the end of the previous cottage season and won't find any major surprises or unwanted visitors waiting for you when you arrive. You'll still have your work cut out for you, though.
Time to make a checklist. Here are most of the major tasks you should take care of before you can enjoy the beauty of a Northern Ontario summer.
Be prepared.
Make sure to take care of everything that needs doing before you go. Everything will be easier if you arrive well prepared and don't forget anything at home.
If you must phone to turn on services like electricity, do this before you leave. Preferably a few days before, to avoid last-minute issues. Make sure you have your keys, your tool kit and your cleaning supplies. There's usually quite a lot of cleaning to be done on opening weekend. Be prepared!
Don't forget batteries and chargers, your cell phone booster, your emergency kit, food and extra water if there is any risk of problems with your water system.
Inspection.
Your initial inspection should begin with a walk around your property and the exterior of your cottage. As you arrive, check for frayed or downed power lines or fallen trees that may hinder phone or internet communication. If you encounter problems, call your local phone or utility company so that they can address these issues.
Take a look at the roof. Are there sagging areas or spots with weather damage? Are all the shingles intact and are the outdoor fixtures still securely in-place? Look at your foundation for cracks and check for signs of winter damage on windows, doors and walls.
If your cottage is made of wood or if you have a deck or balcony, check for signs of rotting wood or loose nails. If any stairs are loose (concrete or otherwise), be sure to fix them before inviting your friends over for a barbecue. Also, if you've left your dock in the water over the winter months, be sure to check for signs of damage.
Water.
Assuming you turned your water off during winter, be sure to check your water intake system and replace the filters before turning it back on. Check the pipes for loose connections and replace any visibly corroded pieces. Turn on your hot water tank and then open one of your hot water faucets. Trace the flow of the water from your hot water tank to the faucet from which the water is pouring out to ensure that there are no leaks. If you've used any chemicals to help protect the lines, be sure to thoroughly flush the lines before drinking any water from the tap.
Animal Visitors.
Inspect all areas that you haven't already for signs of animal visitors. If you find mouse droppings or other signs of intruders, thoroughly clean affected areas and inspect any food you may have stored away in your absence. Check chimneys for bird nests and open the closets and cupboards to check for signs of damage.
Should you find someone still living in your house, you'll need to get them out as they can cause major issues. Mice, for example, can transmit disease and chew through electrical wires.
Some recommend trying your own methods before calling animal control. These might include tabasco sauce, high-frequency electronic repellants and snap traps for mice; loud noises and bright lights for raccoons and squirrels; and sealing off access for bats. Note that raccoon kits and baby bats need to reach a certain age before they can venture out, so some also suggest that, if you are able, you might be temporarily patient with your new squatters. Though if you think there is any danger of rabies or distemper, call animal control immediately.
The Appliances.
Before turning on any appliances, be sure to check for signs of corrosion or frayed/damaged wiring. Check all connections to ensure that they are securely fastened, especially if you have gas or propane appliances installed. Inspect the bathroom and check for signs of problems with the sink, toilet and shower. Don't forget to examine the caulking in these areas as well to determine if it is peeling or damaged and in need of replacing.
Cleaning and Fine Tuning.
And get scrubbing! The first visit to the cottage is often an exercise in cleaning. Be sure to thoroughly scrub areas such as the kitchen and dining area and clean all cupboards and storage areas. Replace batteries in smoke and carbon monoxide detectors and, if they are now older than ten years, be sure to replace the entire unit (five for carbon monoxide detectors).
Clear the eaves troughs of leaves and litter and remove any branches lying broken around the yard. Completely clean out the fire pit area before you use it, making sure to properly dispose of any materials that cannot organically decompose.
CAA Cottage Insurance1 can provide inclusive policies for your cottage which offer many unique aspects of coverage. There are packages available to meet all your needs, whether you visit the cottage only for a few months during the year or enjoy your retreat all year round.
If you took the necessary precautions last fall, a few days of cleaning should be all that's required. The summer is here and, after a little hard work, it's time to enjoy your valuable investment.
For more info or to purchase cottage insurance, give us a call at: 1-877-665-1222.
1 Property Insurance is underwritten by CAA Insurance Company.