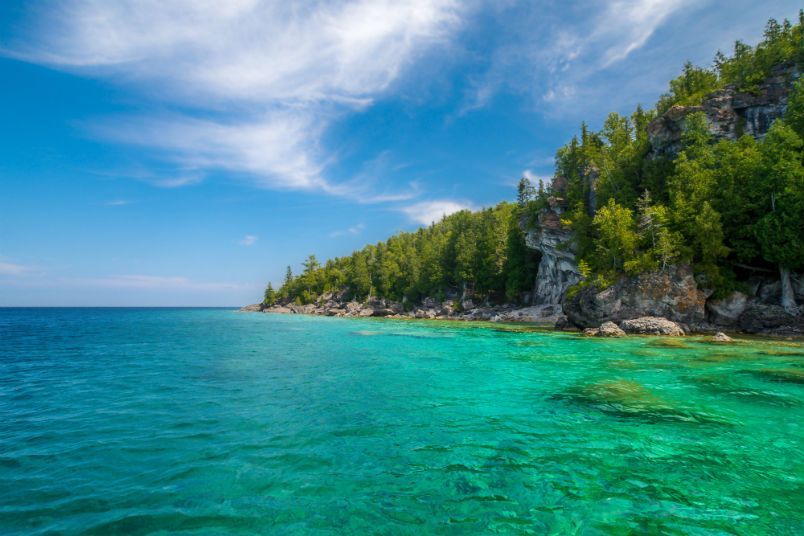 Ontario has more than 250,000 lakes and about one fifth of the world's fresh water. The province also touches four of the five Great Lakes: Lake Huron, Lake Ontario, Lake Erie and Lake Superior.
So, of course, we have a lot of waterfront and beach areas. These places, whether small towns or big cities, offer a welcome respite for a few hours or a full vacation. Wander, bike, swim, fish, go boating and watch the sun set over the landscape.
Here are seven Ontario waterfront cities and towns, all within a few hours of Toronto, where you can enjoy some time off and take advantage of the natural wonders the province has to offer.
Where the Beach Is Just the Beginning – Wasaga Beach.
Wasaga Beach features the world's longest freshwater beach over 14 km of sandy shores along Georgian Bay, where visitors can relax, swim, boat, get sporty and enjoy breathtaking sunsets and mountain views. The beaches are divided into eight sections with a range of facilities, including boat launches, picnic shelters and accessible washrooms. There is a wide selection of accommodations from campgrounds and cottages to inns and resorts. You'll also find activities to please every family member; make your own wine, visit a farmers market, play mini golf, go hiking and biking!
Play along the Sand Dunes – Picton.
Sandbanks, in Picton, is one of the largest beaches in Ontario and also boasts the world's largest fresh water sandbar and dune system (so, if you like sand! They have lots of it!). Visitors flock to the park during summer to windsurf, sail, canoe and swim off one of three sandy beaches: Outlet Beach, Sandbanks Beach and Dunes Beach. The park offers hiking and biking trails boasting an array of wildlife and flora. Also, look out for suggestions from locals which advise visiting the sand dunes at sunset for great views and photo opportunities. Sandbanks offers more than 500 campsites as well as roofed accommodations. Book one of these in advance or find other great accommodations in Picton.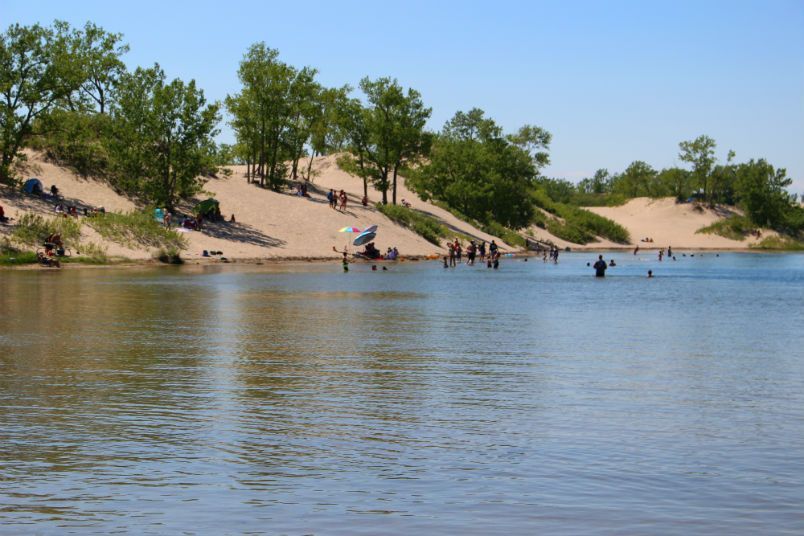 Find Endless Things to Do – Kingston.
The Kingston Waterfront runs along Lake Ontario and is one of the city's greatest attractions, offering gorgeous views. There are myriad activities on offer, including bus tours, boat cruises around the 1000 Islands and free rides on the Wolfe Island Ferry. Take out a canoe, kayak or sailboat (rentals available nearby), or walk or bike the 8 km waterfront pathway, which is part of the 900 km Waterfront Trail that runs from Quebec to Niagara Falls. Enjoy a picnic or take a seat at one of the many restaurants and cafes. You'll find people windsurfing, swimming, fishing and waterskiing on the lake. Sights along the Waterfront Pathway include the Kingston Penitentiary and Museum, Bellevue House National Historic Site, Pump House Steam Museum, Marine Museum of the Great Lakes and Fort Frontenac.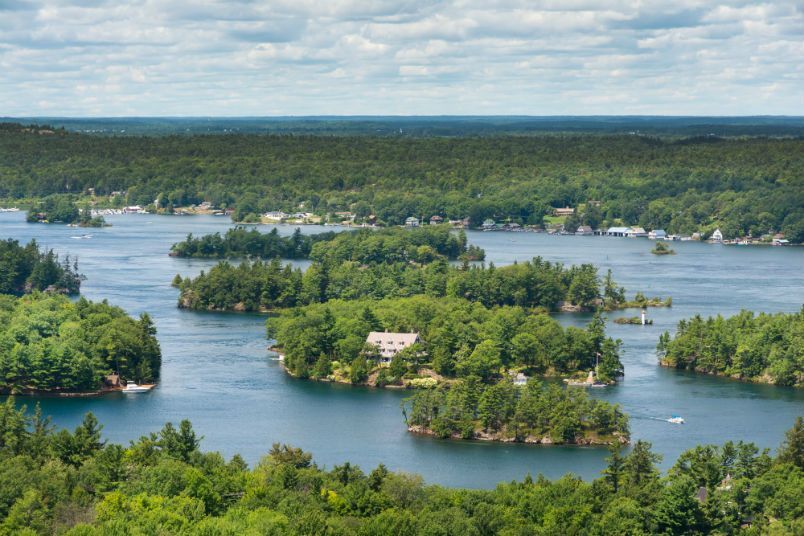 See Breathtaking Views – Gananoque.
Gananoque, about three hours from Toronto in the 1000 Islands, is renowned as one of Ontario's most picturesque waterfront communities, with just over 5,000 year-round residents. The town offers plenty of accommodations and restaurants, shops and activities. Enjoy a boat cruise along the St. Lawrence River, around the islands to historic Boldt Castle on Heart Island in New York State. Available outdoor activities include kayaking, scuba diving, swimming, nature walks and cycling along the 37 km 1000 Islands Bike Path. The St. Lawrence is also known for its great fishing. When in town, be sure to visit the 1000 Islands Charity Casino. The Gananoque River also runs through the town, providing more water views. If you visit Gananoque in July, you can attend the Rotary Family Ribfest and River Rat Rally.
The World's Longest Urban Lakefront – Toronto.
Did you know that Toronto's is one of the longest urban lakefronts in the world? All the way from the Rouge River in the east to Etobicoke Creek in the west, the shoreline spans 46 km of beaches, parks, marinas and concert venues. Beaches like Cherry and Woodbine in the east and Sunnyside in the west offer swimming and fun for the whole family, including windsurfing, kayaking, volleyball and picnicking, while manmade Sugar Beach is an urban beach on the water's edge right downtown! The Toronto Waterfront also offers lakeside patios, boat cruises, festival and events. Tour the Music Garden "a reflection in landscape of Bach's Suite No. 1 in G Major for unaccompanied cello, BWV 1007," designed by cellist Yo Yo Ma and landscape designer Julie Moir Messervy, in collaboration with the City of Toronto's Parks and Recreation department (479 Queen's Quay West). Or hop a ferry over to the Toronto Islands. You could spend entire days here.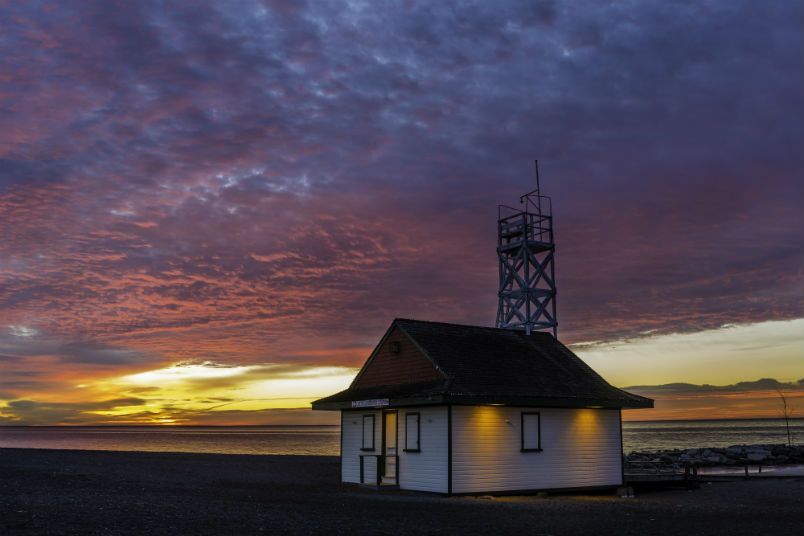 We have the Prettiest Sights – Goderich.
The Port of Goderich, about 2.5 hours west of Toronto, is known as the "Prettiest Town in Canada." It sits on the bluffs overlooking the shores of Lake Huron and offers gorgeous natural scenery alongside many heritage sites on surrounding trails. You'll find tree-lined streets and a number of parks, plus museums and sites dedicated to the area's history. Goderich's downtown core features many places to eat and shop, and there are three lovely beaches: Main Beach, St. Christopher's Beach and Rotary Cove Beach, with a boardwalk spanning 1.5 km along the beachfront. Stay at a cottage, campground, hotel or B&B and enjoy one of the town's celebrated sunsets.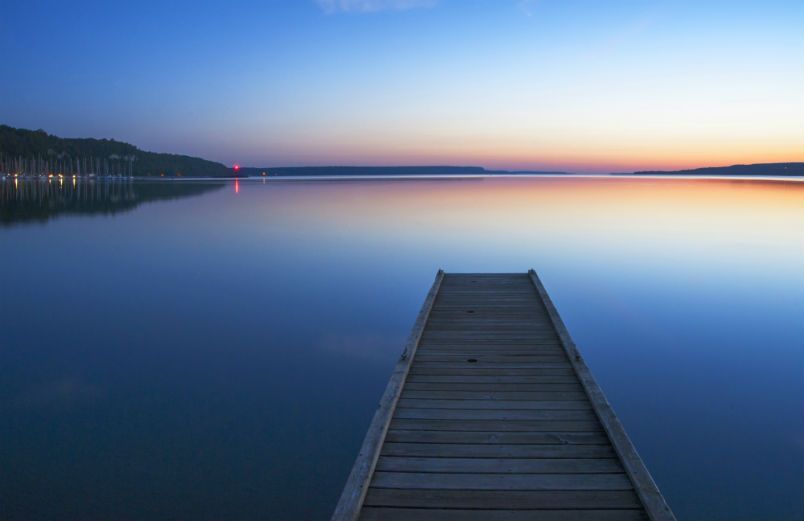 Visit Ontario's Most Beautiful Village – Elora.
Goderich may be Canada's prettiest town, but Elora is "Ontario's most beautiful village." That's what Group of Seven artist A.J. Casson reportedly called it. Elora is located in Wellington County, about an hour and a half west of Toronto. It's famous for the Elora Gorge and the 80-foot limestone cliffs descending into the Irvine and Grand Rivers. This old-world village is replete with spectacular scenery and charm. You'll find galleries, shops, artists' studios and restaurants, as well as plenty of opportunities for sport and adventure. The Gorge and its Conservation Area are on the edge of town, where you can go canoeing, paddle boating, hiking, fishing, swimming, kayaking and tubing. Pack a picnic, stay at a campground, or set yourself up at one of the sweet accommodations in the village.