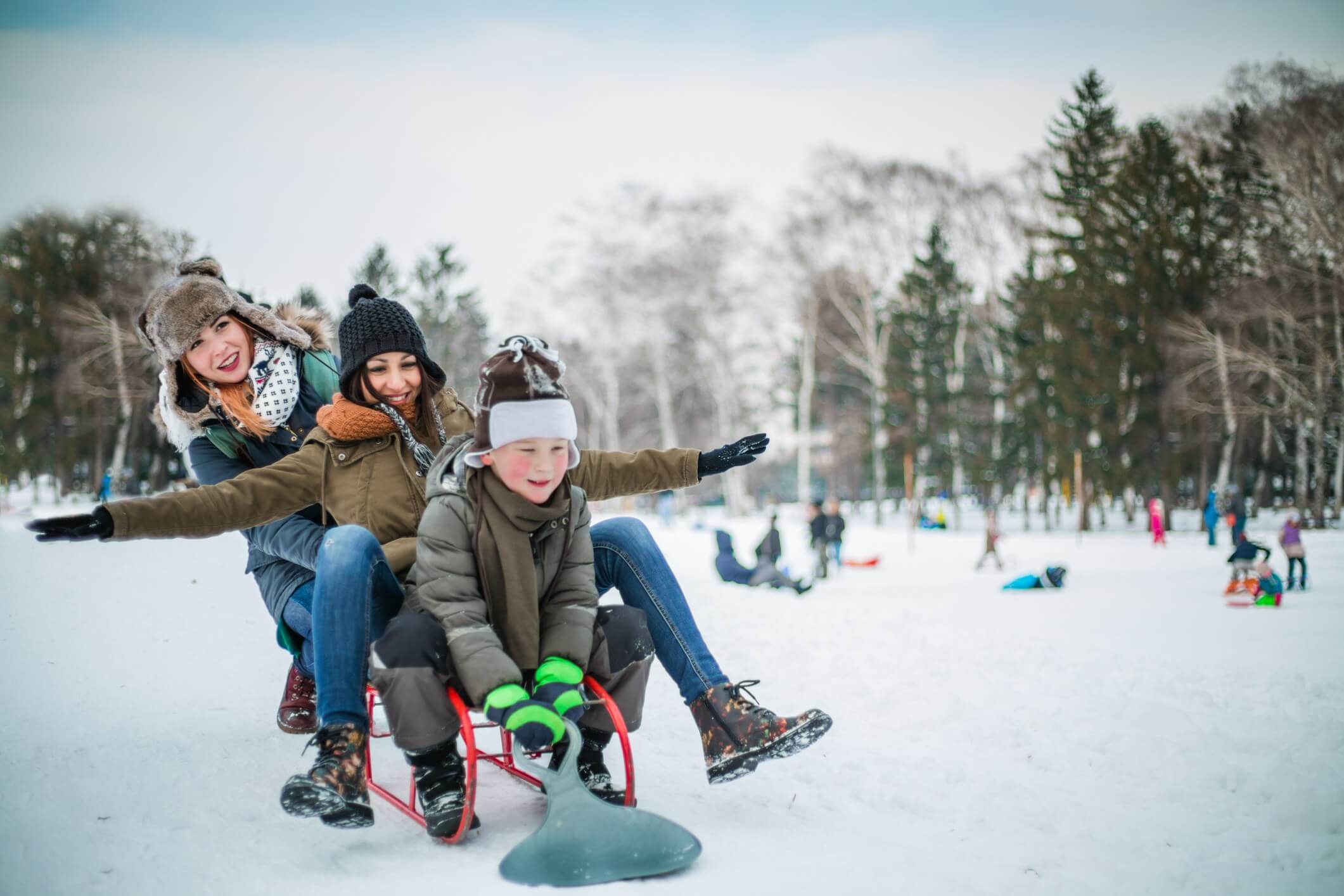 What better way to embrace all that the Great White North has to offer this winter than with a frosty festival in Ontario?  Winter festivals make a great road trip adventure for the whole family and these five celebrations throughout the province are sure to inspire some winter magic. So put on your warmest parka and boots and get ready to play outside with your friends and family this season.
Fire and Ice Festival in Bracebridge.
Date: Saturday January 27, 2018.
Downtown Bracebridge is getting ready for their annual one-day Fire and Ice Festival. There are interactive ice displays, skating trails, snow tubing and a road hockey tournament where you can sign up as a team. You can also enjoy snowshoeing, fat biking, outdoor bowling, crafts, and fun carnival activities for all ages. The fire feature of this unique festival includes fire pits throughout downtown Bracebridge and a fire artist. There will also be an Ojibway storyteller with traditional stories being told through the day and into the evening. Come nightfall stay for the interactive drum circle followed by fireworks. The fire and ice after party starts at 9:00 p.m. at LIV Muskoka Nightclub and goes into the wee hours of the night.
Winter Festival of Lights in Niagara Falls.
Dates: On now until January 31, 2018.
Niagara Falls is a stunning destination all year round but in the winter when sections of the falls freeze over and the snow glistens, it is magical. Don't forget your hat, scarf, and mittens as you check out the 8-kilometre long illumination route that winds through Niagara Parks and surrounding areas. Start at Queen Victoria Park and you can drive along and get out at each spot to take photos and breathe in the cool crisp air. The glorious illuminations include moose, deer and bison in three dimensional displays, the world's biggest Canadian-American flag Noah's Ark, the lit up Skylon Tower and over fifty trees that are wrapped in every colour of the rainbow. The festival's website has a comprehensive route map to keep you organized. If you choose to stay overnight there are plenty of hotels to choose from with a view of the falls.
Winter Carnival in Gravenhurst.
Dates: February 15 to 19, 2018.
Gravenhurst is about a two and a half hour drive from Toronto and located in Ontario's Muskoka region. If you have always wanted to participate in a polar bear dip in the lake, your dreams can come true in Gravenhurst at their annual winter carnival. There are also puddle jumps, kids events, demolition derby, live entertainment and even a bed race where you and a team can either build a bed or borrow one and race along Muskoka Road for endless fun. Registration and waiver forms for this and the polar bear dip are available on their website.

Check out Rick Mercer's hilarious feature from the 2015 Gravenhurst Winter Carnival.
Winterfest in Barrie.
Dates: February 3 and 4, 2018.
Get ready for Barrie's annual Winterfest including a chilling ice maze, snow and ice sculptures, lumberjack shows, snowshoeing and curling. You can also enjoy family entertainment, tube slides, and a cozy bonfire warming zone. Toronto Kite Fliers will be there to showcase their colourful kites with a totally unique winter display high up in the air over the bay. The outdoor fun takes place at Heritage Park and Memorial Square and there is plenty of parking within walking distance of the event. Barrie is about a 45 minute drive from Toronto without traffic. Keep in mind this area is known to get a lot of snow so check out our Winter Ready Guide for tips and advice on safe winter road tripping and more.
Winterlude in Ottawa-Gatineau.
Dates: February 2 to 19, 2018.
Our nation's capital is famous for many things including their popular Winterlude festival. Since 1979, this winter event has been taking place in the Ottawa-Gatineau region to celebrate Canada's diverse culture and chilly weather. There is so much to see and do so plan to spend a few days checking out the events. There are impressive ice carvings in Confederation Park, a massive snowy playground called Snowflake Kingdom with super slides and a kiddie zone, tobogganing, an aerial acrobatics show and a snowmania event that will take you back to the ice age. Winterlude is set against the world's largest skating rink, the Rideau Canal Skateway. So bring your own skates or rent them there and be prepared to spend time outdoors taking in everything winter has to offer. Top off your day with a truly Canadian beaver tail pastry near the rink.
However you choose to celebrate winter, drive safely, dress warmly and have a blast!