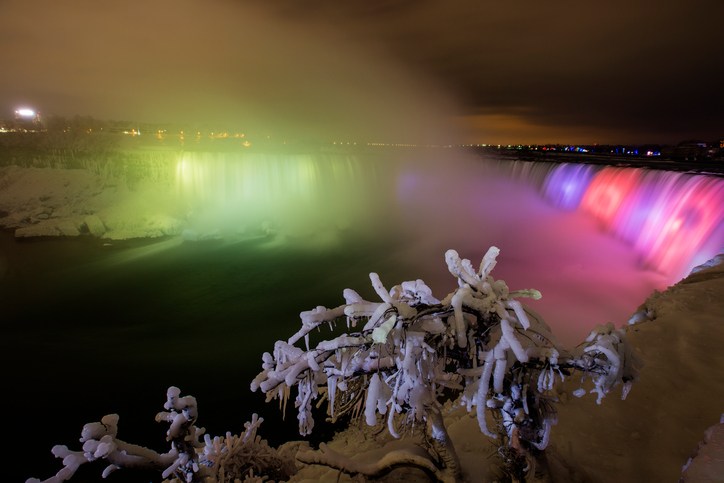 Spring is just around the corner, but in the meantime don't let a little snow and ice stop you from getting outside and enjoying nature. Just dress warmly, bring a hot thermos of cider and have your camera ready to capture the beauty of winter waterfalls in Ontario. These five waterfalls are slightly off the beaten path and all accessible for a road trip.
Albion Falls.
Hamilton is a great destination for a day road trip, only an hour and a half from Toronto and home to some spectacular waterfalls such Albion Falls. Albion Falls is one of the biggest waterfalls in the Hamilton area at just over 19 metres high and 18 metres wide. Water flows here all year round and cascade down into the Niagara Escarpment in Red Hill Valley. Known for it's true beauty, this two-tiered waterfall has a rippling affect as it flows and makes for some great photo opportunities. After the falls, continue on in nature and head out on a self-guided day hike through Bruce Trail Conservancy.
Borer's Falls.
If you want to stay in Hamilton longer, just head over to the Borer's Falls also in town. In the winter these icy falls are gorgeous due to the ribbon effect at 15 metres high. They are located right in the Borer's Falls Conservation Area. Look out for pretty sedimentary rocks around the falls that add to their beauty.  The observation platform is a great spot for photos to capture the ice that forms in winter as they flow into Borer's Creek and then over to the escarpment. There are several walking trails nearby where you can see if you can spot the endangered Red Mulberry tree.
Inglis Falls.
There are three waterfalls surrounding the city of Owen Sound, one of them being the stunning and more popular Inglis Falls. This picture perfect waterfall becomes a frozen cascade of ice during winter months. There is a big gorge at the bottom of the falls caused by the rushing powerful water. Head to the viewing platform to see the 18 metres high cascade of water that eventually meets the edge of the Niagara Escarpment. Located in Grey County, there are several hiking trails here and if there is enough snow you can go on a snowshoe hike. There are also opportunities for bird watching, looking for geological potholes and searching for the historical remains of the old mill from years ago.
High Falls.
With year round access and being conveniently located inside Pigeon River Provincial Park, High Falls in Thunder Bay is the perfect destination for a winter road trip. Get ready for scenic views of Lake Superior and bring your hiking shoes for the many nearby trails.  Hike along the Pigeon River for views of the gorge and visit an old chimney site. You can also search for the historical carved metal art sculptures in the park and learn about Canadian history dating back to 7000 BC. These appropriately named falls are quite high, 28 meters to be exact and actually form part of the Canada-U.S.A. border between Ontario and Minnesota. Back in the day this river was a waterway for transportation and trade.
Crystal Falls.
If you are taking a weekend road trip to Sault Ste. Marie, be sure to add Crystal Falls to your list of must-see attractions. It's a medium sized waterfall and not hard to find as it's located in Hiawatha Highlands Park. Once you make your way to the top of the waterfall, there is a bridge that connects the Voyageur Trail, should you be in the mood for a winter hike. There are several drops within the falls and water flows into various generating stations. The Hiawatha Highlands Conservation area includes hundreds of hectares of forests, rushing streams, lakes, bird and mammal species and of course, spectacular waterfalls such as Crystal Falls – the perfect destination to get back to nature.
Of course if your mission is gigantic mainstream falls and fun tourist attractions, take a road trip to the famous and popular Niagara Falls.
Do you have a favourite Ontario waterfall?  Let us know on Facebook and Twitter.