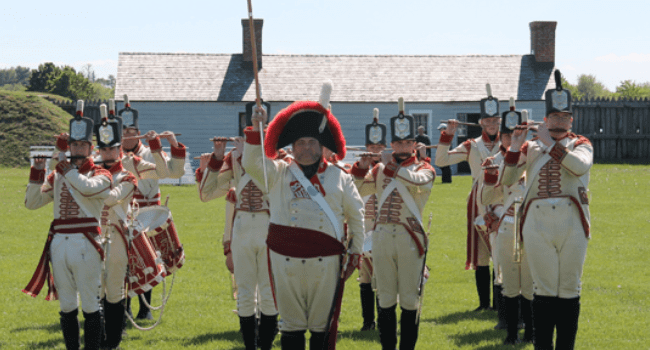 Ontario is packed with unique and interesting historical sites and with the warmer weather soon-to-be upon us, these five destinations are gearing up for a busy season of learning and fun. So bring your curiosity and get ready to take a road trip with an eye for the history of our great province and country!
St. Marie Among the Hurons.
Opening Date: May 5, 2018.
How about a scenic drive to Midland to learn about the Huron Wendat Nation and their life on the land west of Lake Simcoe and east of Georgian Bay? They were divided into four main tribes – Bear Tribe, Cord Tribe, Rock Tribe, and Deer Tribe, and were part of the Iroquoian family. As farmers, the Huron Wendat grew vegetables including squash, beans, and corn, and unleavened corn bread was often cooked under hot ashes. They called their land Wendake, which means the land apart. St. Marie Among the Hurons is an ideal place to learn about the history of this area and check out the reconstructed buildings built to resemble what it was like to live during those times.
Fort Henry.
Opening Date: May 19, 2018.
Kingston is an Ontario destination packed with a rich cultural history dating back hundreds of years. In fact, Kingston, located on the eastern end of Lake Ontario, was Canada's first capital city until it was relocated in 1844. The heritage buildings were constructed with limestone giving Kingston the nickname the "limestone city" that is still used today. When in Kingston you definitely need to visit Fort Henry for a history lesson. The original Fort dates back to the War of 1812. The restoration happened between 1832 and 1837 to protect the Naval dockyard and the entrance to the Rideau Canal. In 1938 the famous fort re-opened as a museum and these days guests can check out the Garrison Parade, a Victorian school, and even learn how to fire a rifle. You can also watch a spectacular sunset ceremony on Wednesdays at 7:30 p.m. that features military music from the 1860's and Fort Henry Guard Drums for an historical night you won't forget.
Black Creek Pioneer Village.
Opening Date: April 28, 2018.
If you want to learn about the history of life in Toronto, Black Creek Pioneer Village is a good place to start. The mission of this Toronto based historical site is to tell meaningful stories while encouraging guests to make connections between the mid-1800's in south central Ontario and life today. This working village is packed with historical activities including individual discovery stations where guests learn what it was like to wear a corset or balance on stilts. Come up with your best historical questions for the talented history actors or watch them in short performances as they recreate the past. When it's warmer out, make time to stop by the green herb garden and check out common herbs grown by settlers. There is also an apple orchard and a typical house garden resembling the 1860's.
Fort George National Historic Site.
Opening Date: April 1, 2018, weekends only and May 1, 2018, daily.
Fort George National Historic Site in Niagara-on-the-Lake is a scenic road trip past the grassy shores of the Niagara River. This huge complex has been reconstructed to resemble buildings and barracks dating back to the Battle of Fort George. During the War of 1812 it was destroyed, but some original 1796 stones remain. For an authentic historical experience, chat with interpreters dressed in period clothing and hear music played by the 41st Fife and Drum Corps dating back over 200 years ago. This 18th and 19th century music includes the pre-dawn bugle wakeup call and the opening notes signifying the soldiers' routines. You can also observe an exhilarating musket demonstration or even load and fire one yourself, if you dare.
Dundurn National Historic Site.
Opening Date: Open year-round Tuesday to Sunday.
Dundurn National Historic Site in Hamilton was built in the 1830's and is the former site of a fortified military encampment dating back to 1813 founded by the British. Guests can tour the Italianate-style villa consisting of 40 rooms that was once where Sir Allan Napier MacNab (Premier of the United Canadas) lived with his family in 1854. Also known as Dundurn Castle, it's an informative place to learn about historical affluent lifestyles and her Royal Highness The Duchess of Cornwall. Just in time for a spring road trip, May is museum month at Dundurn and on May 5 and 6 there is free admission to Dundurn Castle, The Hamilton Military Museum, and the historic Kitchen Garden. So you can fulfill all your historical dreams in Hamilton in one day.
These five Ontario sites make an excellent road trip adventure with a history lesson that the whole family can enjoy.
Photo courtesy of Parks Canada: Kurt Bickell.