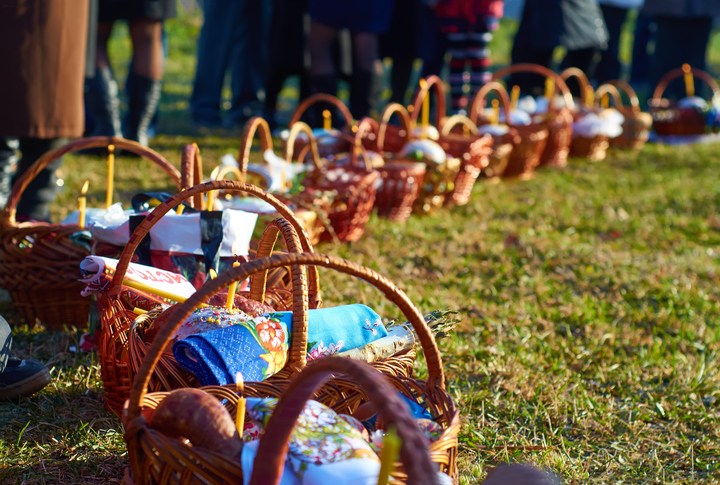 Easter is coming!  This means that spring is in the air (even if you do still need a jacket) and that there will be a myriad of opportunities for kids to go egg hunting and to eat way more candy than most parents might be comfortable with.
There are egg hunts all over Toronto and Ontario that weekend, so if you feel like hopping in the car and heading out to somewhere fun and away from downtown Toronto, we're listing a few events that look like they're offering a bit more than the mere search for eggs, like a new or educational experience or an activity-packed party.
Easter in the Village, Blue Mountain.
March 30 to April 2, 2018
Head to the gorgeous setting of Blue Mountain Village where the Easter party spans the full four days of the weekend and is packed with super fun-sounding activities – including Easter egg dives and scavenger hunts. There are also Taffy in the Snow events, Horse and Wagon Rides, "Bamtastic Drumming" and "Interactive Groove Dancing."
Easter at the Toronto Zoo, Toronto.
March 30 to April 2, 2018
The Toronto Zoo is a great adventure pretty much anytime, but it should be even more amazing with the Easter Bunny in the house so be sure to take video! Kids can also have their photo taken with the bunny or a Hatchimal on Sunday and Monday at the Courtyard Stage. Visitors can also learn about egg-eating animals through 'Egg-cellent' Enrichment, which is a twist on Animal Enrichment, an education program that runs year round, and which involves elevating the animals' environment through natural experiences that mimic their wild environment. For Easter, the program will focus on eggs and egg-eating animals.
Easter Weekend at Niagara Falls, Niagara Falls.
March 30 to April 2, 2018
Celebrate in Niagara Falls  this season with Easter egg hunts around town, including Fireman's Park, Warner Ranch, and the Annual Bunny Trail. Clifton Hill is running extended hours, and while some of the attractions are closed due to the holiday falling earlier in the year than usual, you can still head to places like Dinosaur Adventure Golf. Meanwhile, the Niagara Falls Butterfly Conservatory is currently showing the Wild Ontario Exhibit through to April 29. The exhibit showcases various Ontario-specific mammals, amphibians, birds, fish, and reptiles; and explores Ontario's different Ecozones. Also, the Skylon Tower will light up in Easter yellow, while the nightly Niagara Falls illuminations will show an array of colours.
For more on what's happening visit the Niagara Falls Clifton Hill website, which includes times and locations.
Deerhurst Resort Max & Ruby Live Easter Weekend, Deerhurst, Muskoka.
March 30 to April 1, 2018
If your little kid loves watching Max & Ruby on Treehouse, consider booking a stay at Deerhurst Resort. There will be a Max & Ruby Musical Playdate and that you can meet the famous bunny siblings at a Meet & Greet Dinner when you book the Magic of Maple Easter Weekend Package. You'll also enjoy Muskoka's maple syrup season, including a sugar shack experience with complimentary activities including a giant indoor play zone, an Easter egg hunt, outdoor campfires arts and crafts, and live music.
Brooks Farms Combo Easter & Maple Sugar Festival, Mt. Albert.
March 24, March 25, March 30, March 31 and April 1, 2018
This double event at Brooks Farms includes an Easter egg hunt, maple sugar tours and tastings, a scavenger hunt, train or wagon ride, an "Animated Singing Chicken & Fox Show". But wait, there's more! The fun continues with Easter basket decorating and bunny ear colouring and barnyard playland activities.
The Maple Sugar Festival includes a pirate ship, bouncing ponies, sandbox, duck races, another singing chicken, and an "animal mystery game". Plus there's a Meet & Greet with the Easter Bunny – who seems to be in an awful lot of places at the same time over Easter. Be sure to wear boots, Brooks Farms is quite muddy this time of year.
Easter Festival at Springridge Farm, Milton.
March 30, March 31 and April 1, 2018
This sounds like another great adventure for the whole family – Easter at Springridge Farm. Activities include an Egg Hunt with the Easter Bunny, a professional puppet show, Peter Rabbit's Eggcellent Easter Show, bunny face painting, wagon rides and you guessed it – another Singing Chicken Show. The Springridge Farm BBQ Barn will be open as well for hotdogs, sausages, and the Little Farmer Lunch combo for kids. Good Friday is expected to be crowded so arrive early if you can.
Plan on attending one of these Easter festivals or heading out of town with the family?
CAA Members get great car rental discounts and benefits. Be sure to explore what's available while you're planning your Easter getaway.
Happy Easter to all!