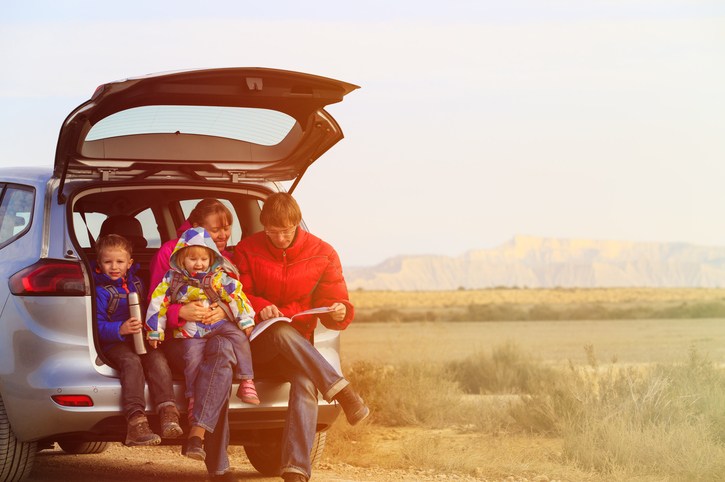 Sometimes you're itching to get out of town, but budget or time constraints mean you can't go anywhere far or for too long.
What does that mean? Day trip!
In Toronto we're lucky to have an array of great nearby destinations with options for folks of all ages and tastes – discerning theatre goer, hyperactive toddler – and in pretty much all weather. This is key, particularly in spring, as we never know what we're going to get weather-wise around here. One day it's sunny and warm, the next it's snowing in April.
We've got you covered with both indoor and outdoor excursions you can take in one day. Each of these destinations is within 200 kilometres of the GTA. So, whether Toronto is your home or you're just visiting, one or all of them should be just what you're looking for.
McMichael Canadian Art Collection, Kleinburg.
46 kilometres from Toronto.
Art lover? Scenic Kleinburg is home to specialty shops and restaurants, as well as the McMichael Canadian Art Collection – a totally Canadian experience if there ever was one. The permanent collection consists of over 6,000 artworks by Tom Thomson, the Group of Seven and their contemporaries; and First Nations, Métis, Inuit and contemporary artists. The 100-acres of outdoor forested grounds feature a network of outdoor trails where you'll find installations and a sculpture garden. These grounds are also home to the McMichael Cemetery where six Group of Seven members are buried, as well as the Tom Thompson Shack, which was the artist's home until his 1917 death by drowning at age 39.
Rattlesnake Point, Milton.
65 kilometres from Toronto.
For a more outdoorsy experience, Rattlesnake Point is beautiful in any season – a fantastic place for a picnic, a walk, or rock climbing. Catch the view at Buffalo Crag Lookout Point, watch the turkey vultures fly around, visit the thousand-year-old cedar trees, and hike the Nassagaweya Canyon Trail. And should you have more than one day to spend, there are 17 campsites. While you're unlikely to run into an actual rattlesnake at Rattlesnake Point, just be sure to be aware of your surroundings.
Cambridge Butterfly Conservatory, Cambridge.
101 kilometres from Toronto.
This one is downright magical, and perfect for kids. There are thousands of butterflies fluttering around the Cambridge Butterfly Conservatory, which is open year round and also houses birds, live insects, and anthropods. Plus there are exhibitions and programs, including scavenger hunts, delicious bug eating events, Mother's Day brunch, and more (check the website or call to find out what's happening). There is a café onsite, and picnics tables outdoors. They also offer an Insect Petting Zoo (which might not be everyone's cup of tea, but if you're into that sort of thing it's obviously one of the coolest things ever).
Spa Day the Millcroft Inn & Spa, Alton.
80 kilometres from Toronto.
If you would prefer some pampering, try an indulgent experience at the Millcroft Inn & Spa. The award-winning spa features 17 treatment areas, four hydrotherapy rooms, a fitness centre, indoor and outdoor pools, a sauna, steam room, and a fully licensed Spa Café. Treatments combine age-old healing practices from around the world with the latest health and wellness therapies. And as if that's not enticing enough, the outdoor hot springs and polar plunge pools are open year round.
Experience the Millcroft Inn and Spa.
St. Jacobs Village and Farmers' Market, St. Jacobs.
121 kilometres from Toronto.
In a more exploratory mood? St. Jacobs is one of Ontario's earliest settled communities. Here you'll find boutiques, a craft brewery, an antiques market, and more. The village also houses the Mennonite Story Visitor Centre, where you can learn about the history and culture of the local Mennonite community (who you'll see travelling the roads by horse and carriage). The St. Jacob's Farmers Market is Canada's largest year-round farmers' market, featuring local foods, baked goods, meats, cheese, and more tasty foodstuffs, as well as crafts and housewares.
Stratford Festival, Stratford. 
149 kilometres from Toronto.
Looking for a cultural experience? The Stratford Festival is an internationally renowned theatre festival and a quintessentially Ontario experience. From April-October you'll see top-notch productions of Shakespeare's plays, as well as a wide variety of musicals and more, starring some of the best actors around (seriously). This year's lineup includes the Bard's Coriolanus, The Tempest, and Julius Caesar. And in an exploration of diversity, women have been cast in some traditionally male starring roles, including Seana McKenna as Caesar (!). Non-Shakespeare offerings this year include To Kill a Mockingbird, and The Rocky Horror Show (dressing up is encouraged, projectiles are discouraged). The town is charming, and there are cute local restaurants, as well as the Avon River by which to enjoy a picnic.
So whether you're driving your own vehicle or taking advantage of one of our CAA Rewards® rental partners, be sure to pop into a CAA Store before you head out to get FREE maps or tour books of the area you're day trippin' to.  And enjoy your excursion!