There are plenty of thrilling options for all-terrain vehicle (ATV) trail riding in Ontario. Whether you have your own ATV and are an experienced rider or want to rent one for the first time, there is an Ontario trail suited to your skill level. Exploring Ontario's backcountry can be done in all seasons, as there are also snowmobile trips for a winter wonderland expedition. A helpful resource is the Ontario Federation of ATV Clubs, a non-profit, volunteer-driven association that provides informative resources to club members. For a listing of ATV events in Ontario, check out this complete guide by Northern Ontario Tourism. For tips and essential things to know before you head out, Ontario Travel has a complete list, including regulations, permits, registration and an informative safety guide.
Muskoka.
Muskoka has several rugged and fun ATV trail tour areas and groups to choose from, including Lake of Bays, Baxter Severn, and Back Country Tours.  There are ATV rental companies in the area and a trail network that welcomes visitors to explore on their own or sign up for a tour.  Back Country Tours has ATV rentals, snowmobile rentals, and several tours to choose from. ATV rentals include helmet, trail pass, map and unlimited mileage through the wilderness forests and back woods of Muskoka. Trails range from beginner to expert, and you can even have your ATV delivered right to your cottage or resort. They have full or multiple day rentals and you can choose between "some mud," "more mud," and "extreme mud" – so dress for your preferred level of dirtiness.
Peterborough & the Kawarthas.
If you want to travel where cars can't drive, you will love the ATV trails in Peterborough and the Kawarthas. Winding trails go through the woods on both flat and easy terrain and tougher steep hills through the mud. There are 120 km of maintained trails where you can explore hidden natural gems all day long, such as the wetlands of Blairton. For more information on riding ATVs in this region, check out the Kawartha ATV Association and learn all about wildlife viewing and the scenic routes that can take you there.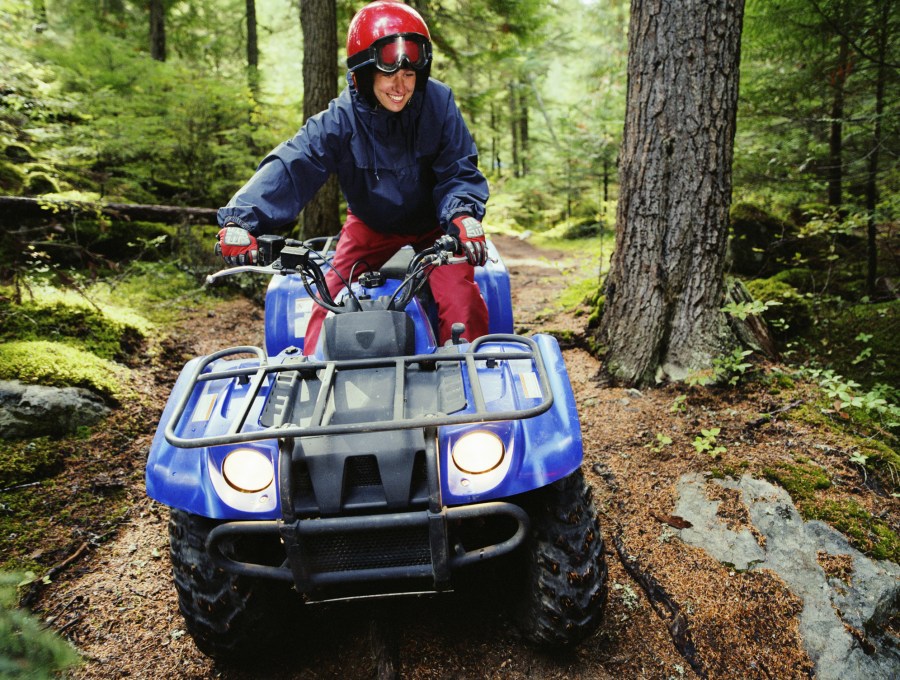 Elliot Lake.
For some of the best ATV trails in Ontario, consider a road trip to Elliot Lake. The region is known for having thousands of lakes, unspoiled wilderness, and outdoor options to get back to nature. Elliot Lake is located about six hours from Toronto via the Trans-Canada highway. This part of Northern Ontario is home to over 300 km of trails where you can ride in the wilderness. The trails have been designed for all riders' skill levels, from beginning to experienced, so there is something for everyone. Just choose which package is right for you. You can choose to rent equipment or sign up for a complete package that includes trail guides and accommodations. Visitors will need to purchase a pass and map available from the the Elliot Lake Welcome Centre.
Georgian Bay.
Bear Claw Tours is located 7 km east of Parry Sound and has many packages to choose from depending on your wants. Located in the Georgian Bay region, they boast an ultimate adventure experience and provide all the equipment if needed. There are half-day guided tours that take you along the Canadian Shield for picture-perfect views. There are adults-only packages (ages 16 and up), and they also have family packages available for youth to ride along as passengers. They provide helmets, boots, gloves, and even snacks along the way. Each tour is three to four hours, so be prepared to spend quality time on the rugged trails.
Halliburton.
Haliburton ATV (HATVA) covers the regions of Haliburton, Kawartha, Madawaska, Peterborough and Muskoka. They are a not-for-profit organization that helps ATV owners find exceptional trails to ride on and experience. They do not rent ATVs so you must have your own. In HATVA's trail areas, there are over 1,700 km of ATV trails to choose from, making them one of the largest organizations of their kind in Canada and the biggest in Ontario. The trails are mapped, signed, and allow you to ride from destination to destination along the tracks while stopping at hotels and restaurants of your choosing. To ride in HATVA areas, you will need the HATVA trail pass the and then the whole area is yours to explore aboard your ATV. The club works with the Haliburton Country Snowmobile Association to help maintain trails during the winter months – don't forget to dress warmly once the snow starts falling, and always drive safely!
These great destination tips should help you enjoy thrilling (and possibly dirty!) rides in Ontario's great outdoors, and maybe even in your local area. So what are you waiting for?