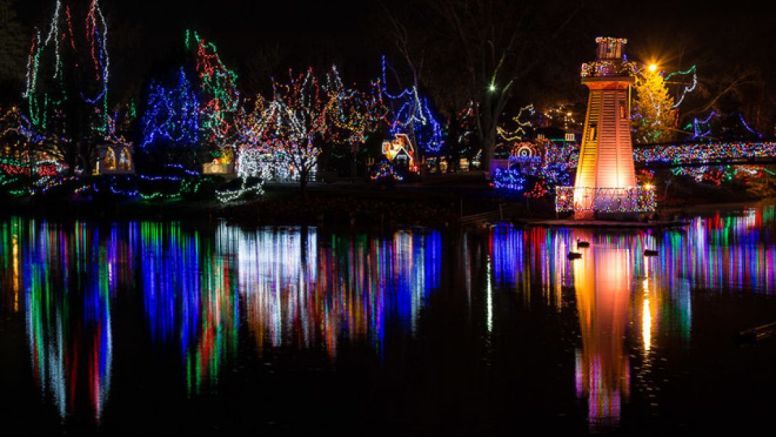 Now that it's the most wonderful time of the year, spectacular holiday lights displays are here to entice you to bundle up, brave the cold and welcome the season.
You won't have to travel far in south central Ontario to find glittering and festive light celebrations that you can stroll through, drive by or experience indoors. If you plan to take in more than one, we've compiled a whole list of communities that are hosting festive lights extravaganzas that will be sure to delight your entire family!
Big or small, here are some of the best Holiday Lights Celebrations you need to see this season.
Christmas Panorama, River of Lights – Simcoe.
December 1 to January 6, 2019
Celebrating its 60th year, the Christmas Panorama River of Lights in Simcoe has the distinction of being Ontario's oldest festival of lights. Held in the community's downtown parks, take a stroll through a winter wonderland of light displays or step aboard a horse-drawn trolley travelling from park to park. The lights (magically) turn on every night between 5:30 p.m. to 11:00 p.m.
For those who prefer to enjoy the view from the warmth and comfort of your vehicle, take in the 'Lights of the County Tour' by planning your own route with the help of an online map, marking the charming houses and festive displays of Norfolk County.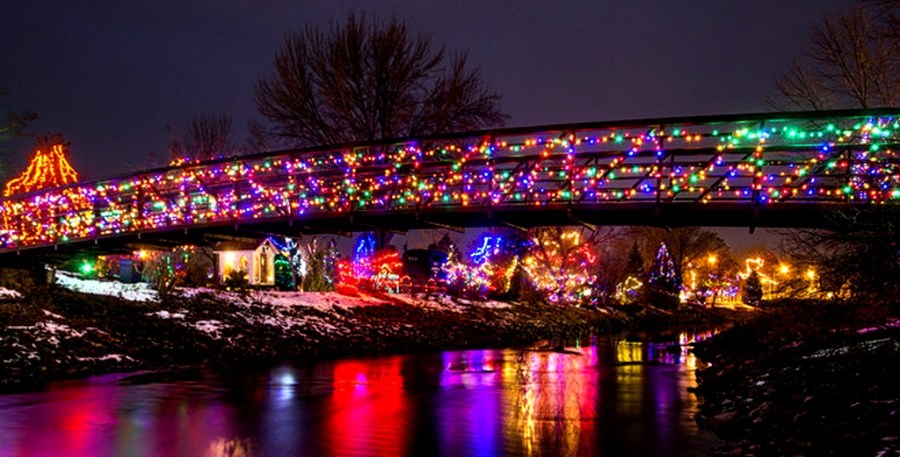 The Festival of Northern Lights – Owen Sound.
November 17 to January 6, 2019
With more than 400 colourful displays along 25 kilometers of local trails, the city of Owen Sound is illuminated into a holiday haven for The Festival of Northern Lights. Bundle up and take in the sights at the boat harbour along the Sydenham River. You can also take a horse-drawn sleigh ride, enjoy delicious seasonal treats or grab a mug of hot apple cider while you look up in awe at Owen Sound's majestic Christmas tree, situated at the local Farmers' Market Building.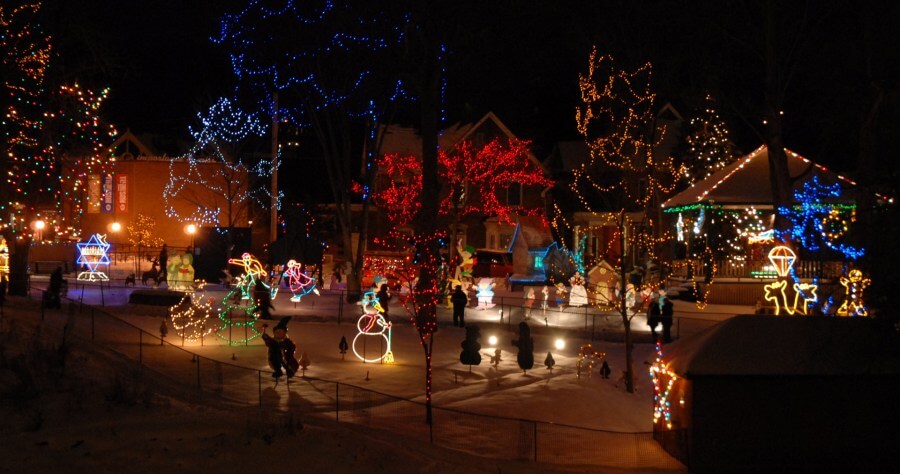 Christmas Glow – Barrie.
November 24 to January 6, 2019
No freezing wind chills or soggy mittens here! For those who want to take in the spirit of the season but would rather not have to brave the cold, check out Canada's biggest INDOOR Christmas lights display at Christmas Glow in Barrie.
Hosted inside the Bradford Garden Centre, Christmas Glow has got everything you love about the Christmas season all under one roof. Stay toasty warm as you stroll through the 125,000 square foot centre under the twinkle of half a million lights and displays. Let the kids burn off some pre-Chrismas energy in the holiday-themed playgrounds and interactive exhibits like the giant LED swings at the Magic Castle. There will be live music, a Christmas Market and of course, visits from Santa. And before you head home you can even pick your own Christmas tree at the Holly Jolly Tree Lot. Tickets available online.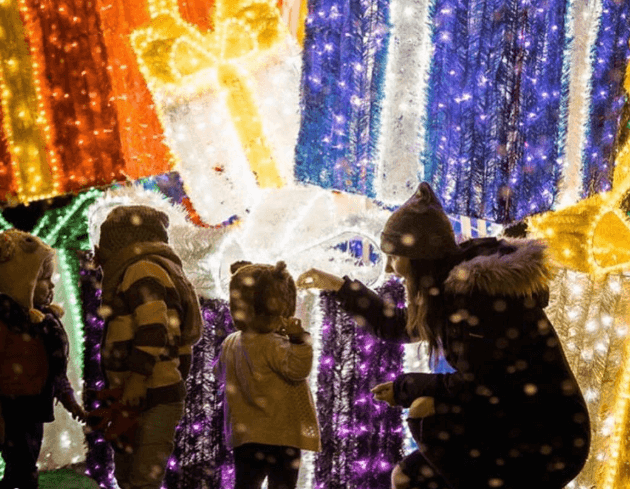 Gift of Lights – Kitchener.
November 16 to January 5, 2019
Gift of Lights is a family-friendly, drive-thru holiday lights extravaganza held at Bingemans family resort. What's unique about this event is that visitors can enjoy this holiday favourite of animated and static Christmas lights from inside the comfort of their own vehicles. To add to the ambiance and accompany the festive scenery, everyone is encouraged to tune in to holiday classics on 'Gift of Lights Radio' at 100.1 FM.  A 'Walk Only' night is set for December 2 so revelers can see all the displays up close. Channeling the spirit of the season, a portion of the ticket sales will go to the local Grand River Hospital.  Tickets available online.
See amazing drone footage of the Gift of Lights display! 

Toronto Christmas Market – Toronto.
November 15 to December 23, 2019
The Toronto Christmas Market is held yearly in the historic Distillery District. Though technically not a holiday lights display, we include the Market on this list because the overall Christmas décor and scenery is unmatched anywhere in the city.
Back by popular demand is the 100 ft. light tunnel where you can warm up with some hot cocoa or cider after you shop the plethora of vendors along the way. Enjoy carolers, piping hot roasted chestnuts, and shopping for the perfect gift under the twinkling, romantic (and some say magical) holiday lights. We guarantee you'll leave feeling more of the Christmas spirit than you did when you arrived.
There is an admission fee on weekends, starting at 5:00 p.m. on Fridays. Tickets are available online and children under 2 are always FREE.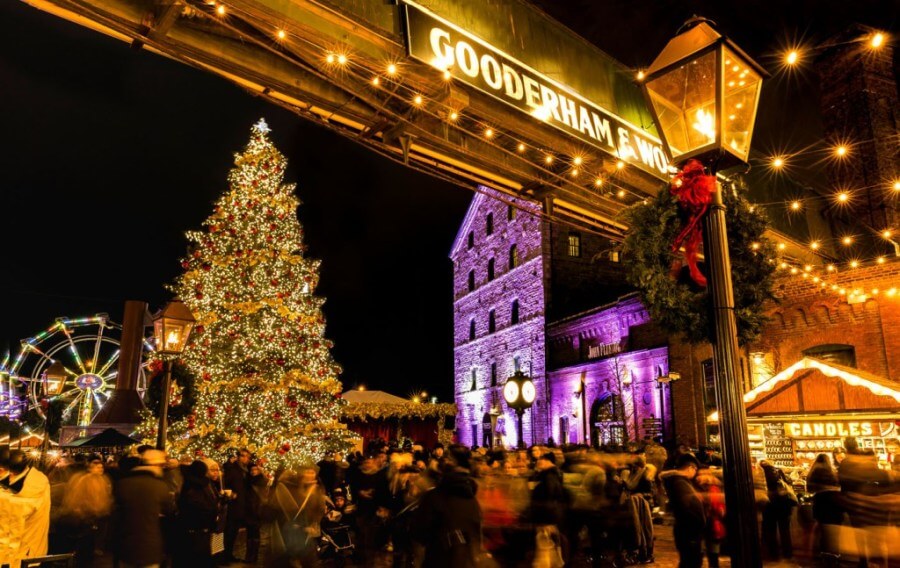 The Winter Festival of Lights at Niagara Falls – Niagara.
November 18 to January 31, 2019
Everything gets transformed into illuminated winter wonderlands for the Winter Festival of Lights. It's a real feast for the eyes so be prepared to "ooh" and "ahh" a lot. Welcoming millions of visitors each year, this Niagara event lights the way through 8 km of local parks, the Dufferin Islands and surrounding tourist districts. There will also be fireworks on Christmas Eve and New Year's Day but of course, the pièce de résistance is seeing the falls lit up in holiday colours. Breathtaking!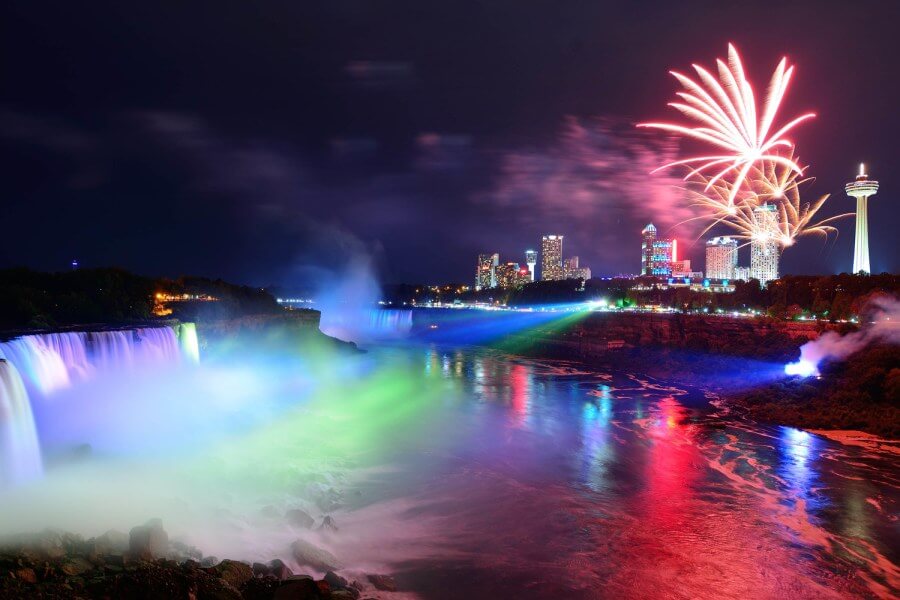 The Brantford Lights at Glenhyrst – Brantford.
November 30 to January 1, 2019
The lights always shine bright for this Brantford tradition. Covering the beautifully landscaped sixteen-acre park on the banks of the Grand River, the Glenhyrst Art Gallery turns into a cornucopia of everything Christmas. Visitors are welcome nightly from 6:00 p.m. to 9:00 p.m. and Santa Claus will take time out his busy schedule to be on duty every Thursday before Christmas from 6:30 p.m. to 8:00 p.m. The Golden Teapot Tearoom will also be open from Wednesday to Sunday evenings from 6:30 p.m. to 8:30 p.m. for chilly merrymakers to Warm Up and Fill Up with a Twilight Tea!
The event is free but donations for the local food bank are greatly appreciated.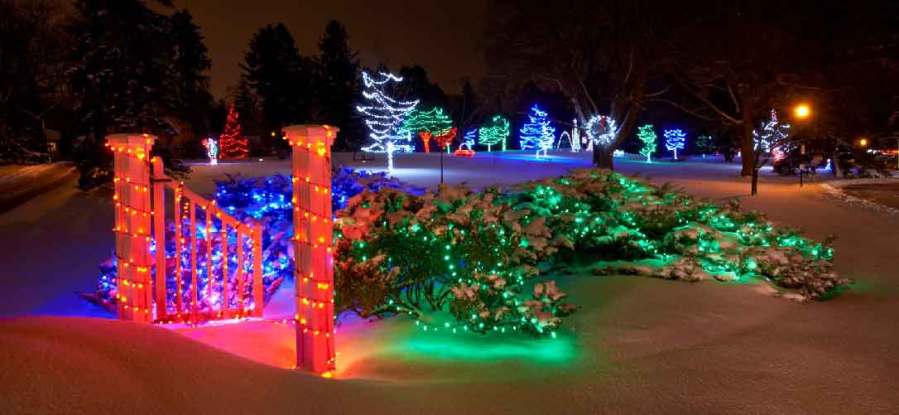 Christmas Lights Across Canada – Parliament Hill, Ottawa.
December 5 to January 7, 2019
Last (but never least) the 34th edition of Christmas Lights Across Canada will kick off with an official illumination ceremony on December 5 at 7:00 p.m. From that night on, the Magical Winter Lightscapes multimedia show will be projected on our beautiful Parliament Hill buildings.
If you can't make it to Ottawa before the holidays, on December 31 you can herald in the New Year on the hill with more multimedia shows and a pyrotechnics display. Canada's capital region is well worth the drive for its family-friendly lodging, events and beautiful surroundings where people of all ages really get into the holiday spirit.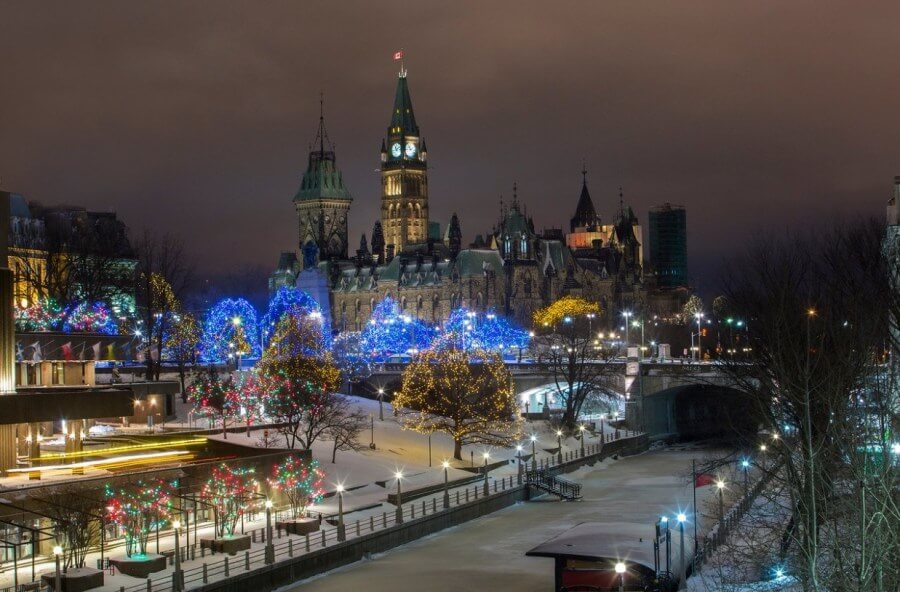 Merry Christmas and Happy Holidays to one and all! 
Photo Accreditation.
Special thanks to: Christmas Panorama, River of Lights – Simcoe,  The Festival of Northern Lights – Owen Sound, Christmas Glow – Barrie,  The Winter Festival of Lights at Niagara Falls – Niagara, The Brantford Lights at Glenhyrst – Brantford, Capital Hill, The Capital Experience for the use of photos featuring their events.