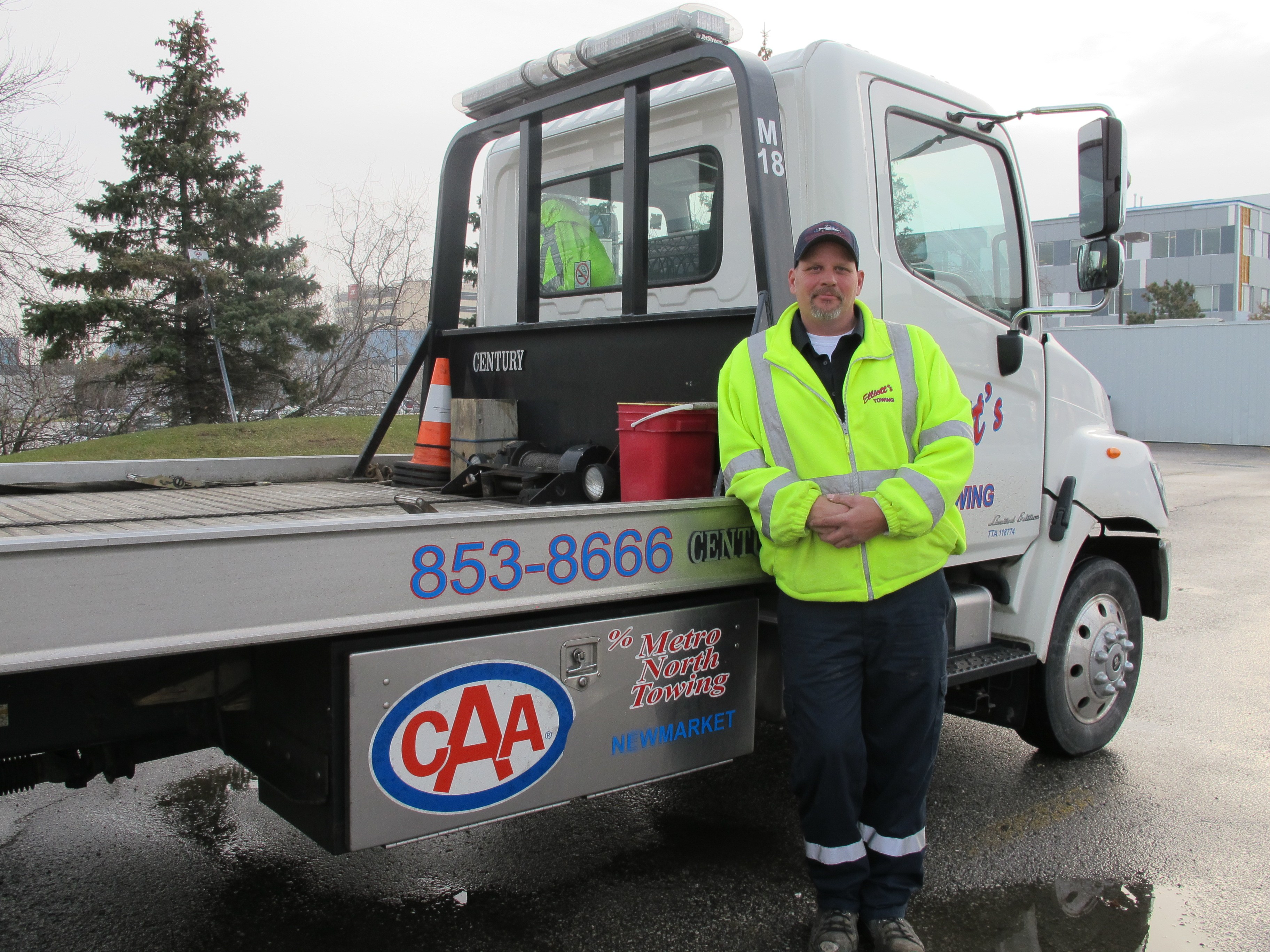 Over the holidays, it may just be Steve Astles who comes to your rescue. "I don't mind working this time of year. I love helping people get where they're going and if I can make someone's Christmas a little nicer than it's all worth it," said the 42-year-old tow truck driver.
Steve has been with CAA and Elliott's Towing for a little over 13 months.
The rookie tow truck driver and father of two loves his job. "There's no better feeling than seeing someone's smiling face when I help them out at the side of the road," said Steve. "And becoming a tow truck driver was one of many things to do on my bucket list, and now I can cross it off."
Steve is usually in his truck and on the road by 7 a.m. "The first call comes in pretty quickly. And then it's call after call until quitting time. There's not a lot of down time in this job, especially during the winter months. Last winter, I had the busiest day ever. I responded to 18 different calls in one shift."
While he has only been a tow truck driver for a short period of time, Steve has seen his share of bad driving habits.
"My biggest pet peeve is when drivers only clear a small patch of snow off their windshield. You know the drivers I'm talking about. You've seen them on the roads.''
This time of year, drivers may be a little rusty or even out of practice when it comes to driving on snow covered roads and that's why they need winter driving reminders. Steve has this advice for drivers, "Slow down in the snow. It's not a race. Leave lots of space between you and everyone else on the road."
The friendly and outgoing tow truck driver also makes this plea to drivers, "Really be aware of your surroundings and give tow truck drivers extra room to do their jobs." He adds, "it would be really nice if we were treated the same as emergency workers."
"One day, I was on a gas call and this car comes barreling down the road, hugging the curb. There's no way he didn't see me. I had my beacons on and pylons out. He didn't slow down or move over."
Despite some of the day-to-day challenges, Steve says he wouldn't give it up being a tow truck driver.
"I love everything about it."