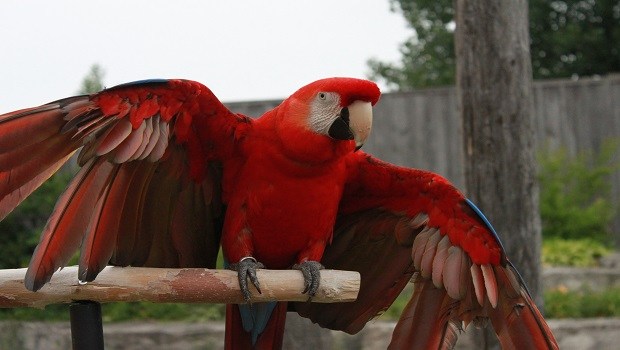 Before I left the concrete jungle of Toronto and headed off to African Lion Safari in Hamilton, I had no idea what to expect as I had never ventured out there before. To my amazement, I discovered a serene kingdom for animal lovers of all ages. While the lions may be the main attraction, there are so many other wonderful animals to enjoy. For starters, I was introduced to an incredibly smart bird, or rather an Amazon parrot called Fernando who sang 'OH Canada' so beautifully that I found my hand firmly planted against my chest. I was proud to be Canadian and deeply proud of this beautiful little creature that had me enthralled with its various tricks and sweet voice. What a great introduction to African Lion Safari.
Reluctant to leave Parrot Paradise, I quickly got over my crush and hopped in my car and ventured through the vast open land where I was greeted by giraffe, zebra, rhinoceros and oryx. While some kept their distance, others were keen to introduce themselves. At one stage, I was able to experience an up close encounter with a gentle giraffe who was curious to see if there was any fresh foliage in my vehicle. Ironically, a couple of hours earlier, I had consumed two shots of wheatgrass juice. I'm trying to change my eating habits, opting for the au naturel route.
At 12:30 pm, a herd of Asian elephants came walking down the road – trunk to tail. It was beyond cute. Once at Recreational Lake, they took to the water for their daily swim which is approximately 20 minutes long. It was amazing to see young and old frolic in the water. They looked happy and revitalized. This was quite the spectacle! I can clearly state that this was one of the highlights of my visit. But then again, I was only there for four hours. I'm sure if I had spent the day, I would be hard-pressed to choose my favourite animal or experience.
I will definitely return, only this time for longer and with my family. I want to share my experience with them and I'm looking forward to taking in more of the sights and sounds.
My outing was truly wonderful and I hope yours will be too!
CAA Members get 10% off gate admission!