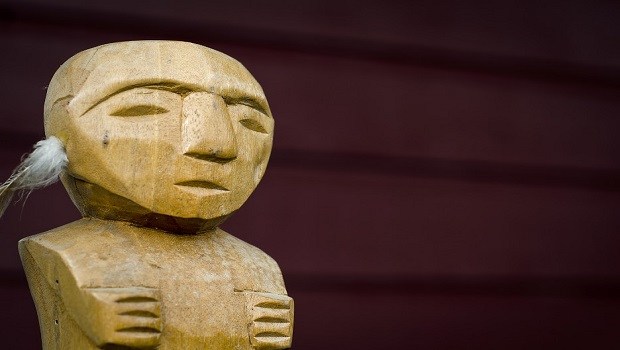 If you're an arts and crafts aficionado, then the Cook Islands is going to make your smile a little broader.
On the Cook Islands, art functions as the community's connection to the past, a direct line to a culture once suppressed by colonial missionaries. That these art forms have persisted is a testament to both their beauty and the resilience of the island tribes who carry on these traditions.  Here are just a few of the types of art you'll see on the Cook Islands.
Tattoos
Forbidden upon the arrival of missionaries in the early 1800's, tattooing (or tātatau) in the Cook Islands has seen a major revival recently. As with any banned art, this craft could have easily disappeared. Thankfully, many patterns and designs, each imbued with a unique cultural significance for island tribes, have persevered through the years. Many locals can be seen sporting these tattoos, and travellers are welcome to get tattoos of their own, granted that they fully understand their cultural weight.
Wood Carvings
Equally important to Cook Island culture is the art of carving wood. Ancient islanders practiced this craft on most wooden tools, effectively "tattooing" their objects with many of the same patterns used on their skin.  Some say these patterns belonged to different tribes or families.
Other popular carvings include staff-gods, totems that meld images of the gods with their human descendants. Encased in these intricately carved staffs are pieces of shell and feathers that represent the god's soul.
Weaving
A tradition that continues today, weaving is often practiced on the outer islands. Popular items include baskets, fans, mats and hats. Rito hats are a big draw for tourists and are considered very high in quality. Made expertly from coconut palm fibre, they're often decorated with hatbands made of pupu shells.
Tivaevae
Tivaevae are handmade patchwork quilts unique to the Cook Islands. These stunning creations are built on the foundations of family and community.  They are intended as family heirlooms, passed down from generation-to-generation, and are often made in groups as a social activity.
Interested in cruising your way to the Cook Islands? CAA's Extraordinary Explorations: Jewels of the South Pacific may be just what you're looking for.
Want more information? CAA Travel Consultants are ready to help you plan your next vacation. Visit your local CAA Store to book with an in-store Travel Consultant or call us a 1-800-922-8143.