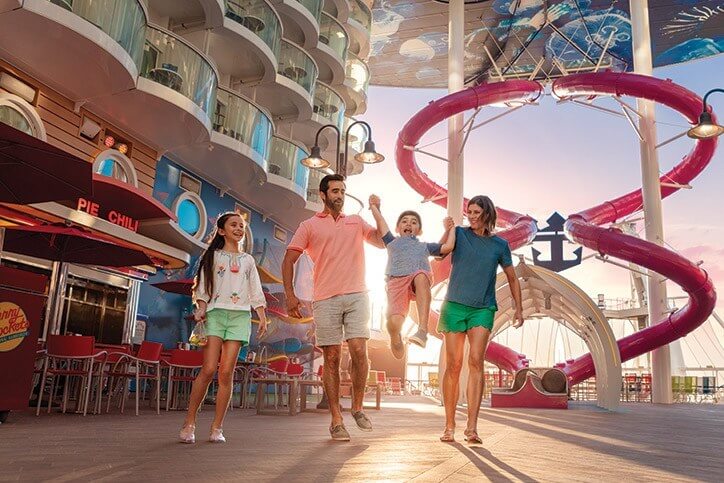 Deciding what to do with our precious vacation time can be a challenge. How do you choose between visiting a bustling city for the fine dining and entertainment options, or relaxing in a tropical resort with endless pools, bars, and activities, or taking a family trip to an exotic destination for the culture and excursions?
But who says you have to choose at all?
A sail on the world's largest cruise ship combines the best of all of those options into a single sailing experience. Symphony of the Seas® weighs in at over 228,000 tones, runs over 360 metres long, and carries 9,000 people, including passengers and crew. However, it's not the size of vessel that's the most impressive part of the story.
The newest ship from Royal Caribbean is a floating resort city complete with 20 restaurants and a dizzying array of bars, 24 pools, water slides, live music, and Broadway-style shows, laser tag, ice skating, and much more.
Seven Neighbourhoods.
You'll have trouble exploring all of the ship's seven distinctive neighbourhoods – each with their own theme – in a single seven-day cruise. These include Central Park in the centre of the upper decks, a lush greenspace lined with winding pathways that lead to quiet nooks, retail shops, live entertainment, restaurants, and a wine bar.
The lively Boardwalk neighbourhood, several decks below features a sports bar and arcade, a full-sized carousel, the AquaTheatre entertainment venue, and Sugar Beach℠ . The latter is an interactive ice cream and candy shop allowing budding culinary artists with a sweet tooth to create their own masterpieces with over 100 types of candies, ices creams, and toppings.
Other neighbourhoods include the Royal Promenade, a central hub for restaurants, retail shops, bars and lounges; Entertainment Place, home to a glow-in-the-dark laser tag arena, a full-sized ice-skating rink, and the 1,400-guest Royal Theater that puts on lavish shows; and Youth Zone featuring dedicated activities and spaces for young people from toddlers to teens.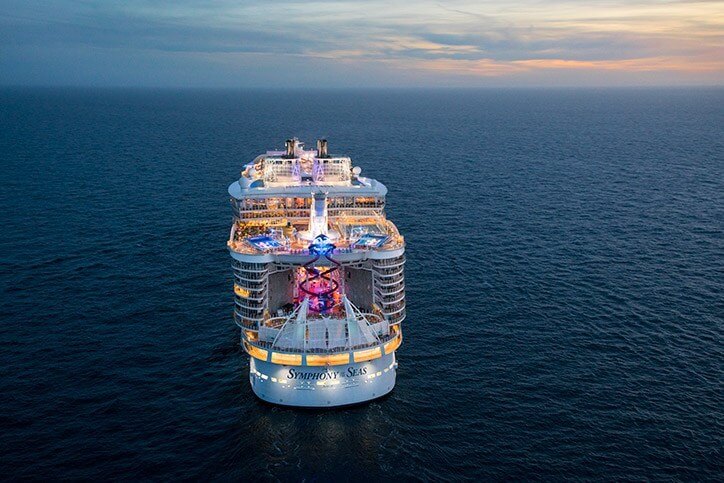 Activities.
When not exploring the array of attractions on the enormous vessel, passengers can find a variety of activities to enjoy. Symphony of the Seas offers something for everyone from adrenalin junkies to those just looking to relax and soak up the sun.
For the thrill seeker, Symphony has Ultimate Abyss℠ , the tallest slide at sea. Fearless guests plunge down the 10-storey winding, twisting tube at a dizzying speed. There's also a trio of high-speed waterslides called The Perfect Storm℠  that offer rides for guests of all ages. These multi-storey slides, the Cyclone, Supercell and Typhoon, have clear sections giving passengers views of Central Park below as they slide overhead.
This ship also has a FlowRider® surf simulator, rock climbing walls, zip-lining, a nine-hole mini-golf course, and a race-against-the-clock submarine-themed escape room. That's not to mention the two dozen pools and hot tubs, and the kid's water park.
You can also take a spa day or two. Symphony's Vitality℠ Spa includes heated ceramic loungers, saunas, and steam rooms, facial and body services including herbal poultice massages and acupuncture, as well as a beauty salon and barber shop.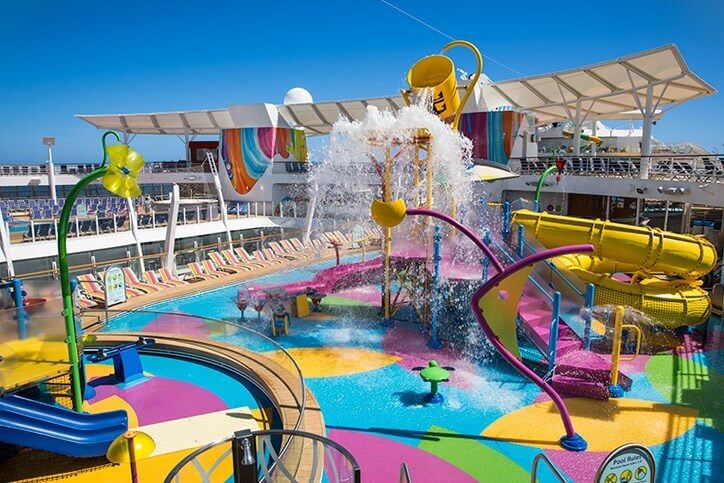 Dining.
This floating city also boasts a wider variety of bars and restaurants than some towns I've lived in!  Among the most noteworthy is the Alice-in-Wonderland themed Wonderland restaurant serving up original dishes created by the Mad Hatter. El Loco Fresh℠ features all of your Mexican favorites; Jamie's Italian offers gourmet Italian by celebrity chef Jamie Oliver; while Chops Grille is a traditional steakhouse. Hooks Seafood℠ delivers plates of fresh caught New England-style seafood. There's also Johnny Rockets℠ for traditional American food, along with spots for sushi and Asian-inspired dishes, and of course, pizza.
One of the most original spots to stop by for a drink is the Bionic Bar®. This watering hole is hosted by robot bartenders, mechanical arms that pour drinks on demand from hanging bottles.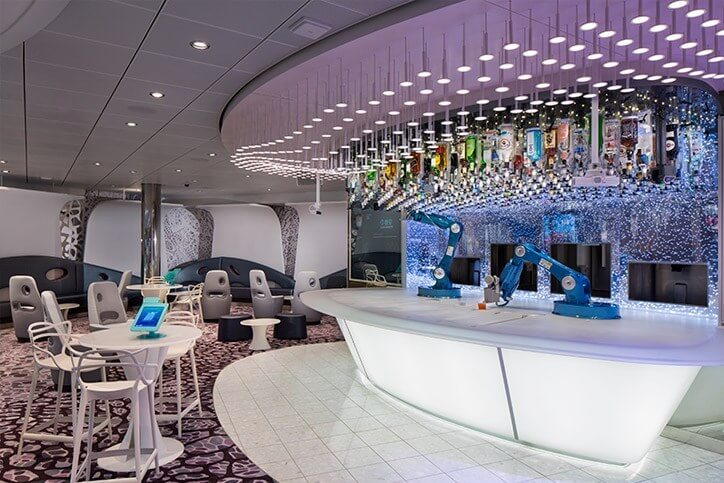 Entertainment.
There is an impressive array of evening entertainment options on Symphony. Guests can attend an original production of the Tony Award-winning Broadway musical Hairspray or the acclaimed ice-skating extravaganza, 1977, staring former Olympic skaters. The AquaTheater show, HiRO, is a thrilling outdoor spectacle featuring a fearless cast of high divers, tightrope-walkers, synchronised swimmers, and more in a jaw-dropping performance.
The bars, lounges, and smaller stages also feature an entertaining line-up of stand-up comics, magicians, and live bands. Travellers unafraid of risking a bit of spending money – or their dignity – can try out the giant casino or the dedicated karaoke bar.
Sports fans can always catch their favourite team in action on one of the 30 big-screen TVs tuned into the most important matches from around the world at Playmakers℠ Sports Bar & Arcade.
Itineraries.
Symphony of the Seas sails out of Miami, Florida offering a variety of Eastern and Western Caribbean cruises to destinations such as The Bahamas, St. Kitts and Nevis, Honduras, and Mexico. Of course, on a floating resort paradise like this, you may never want to leave the ship at all. Check out the upcoming sail dates and destinations and choose the perfect cruise for you. CAA Members can also take advantage of exclusive benefits.
Check out our limited-time cruise offers online!
You can also give us a call at: 1-855-660-2292 or visit your local CAA Store to book with a CAA Travel Consultant.