Recently, CAA's Marketing Manager for Travel (Colin Wood) took a group tour / guided vacation in Germany, the Czech Republic and Austria. Below is a compilation of his thoughts, highlights, European travel tips and observations:
Group Travel
Most of our group met up at the Munich airport. I could tell it was going to be a social and lively vacation, and as someone who shares those same qualities, that was just fine with me. Ours was a group of about 30, a nice size; lots of opportunities to get to know each other and make connections. While the group spends a lot of time together, there are plenty of opportunities to spread out and do your own thing should you decide to wander off. The amount of group activity would likely depend on the tour style you select. Ours had lots of social interaction with a great group of folks.
Guided Vacation or Tour
I used to be a backpacker. In fact, years ago I took off to Europe for a year-long break from University. Unburdened by commitment or responsibility, I was left with nothing but free time and endless possibilities. Now that I think about it, I was just happy to be there and let whatever happened, happen. That said, a lot of time was spent on the basics: finding accommodations, figuring out meals, and many other small things we might not think twice about with a typical vacation package.
After this trip, I know my perspective has changed. For one, our time in each destination was significantly shorter than what I experienced many years ago. Where I once enjoyed aimlessly exploring new cities, I now want to learn what these places are famous for, and get a real taste of what makes them special. That's where a quality guided vacation really shines. These tours are specifically designed to maximize your time experiencing the things you most want to see. Companies like Trafalgar and Insight Vacations have a great range of options, meaning you can choose the style and pace that best suits you. They've also figured out how to show you everything you came to see, but still leave you wanting to return and explore on your own. Along the way, our tour guides introduced us to all kinds of unique experiences in local places we would never have found on our own. Their approach makes you feel a lot less like a tourist, and a lot more like a traveller. Very cool.
Beautiful Prague
Prague's reputation preceded it. It truly is a beautiful city in a beautiful setting. If you haven't visited it yet, make plans. Our local guide (Peter) was hilarious. Unpretentious, knowledgeable and hilariously blunt with his opinions on what he felt were his country's shortcomings. Highlights of our tour with him included the thousand year old (and very impressive) Prague Castle and an evening dinner cruise on the River Vltava.
Salzburg
Fascinating city. Our walking tour was provided by a very knowledgeable local guide who gave us a bit of history and the layout of the key sights. Once the tour was over, there was plenty of free time to choose to visit the Cathedral, Mozart's birthplace, or the Christmas markets.
Christmas Markets
Holiday season got you down? Even the most jaded can get their holiday spirit back at the German and Austrian Christmas Markets. Munich's was particular big. It might have just been the Gluhwein talking, but it felt closer to what holiday shopping should be like. Gluhwein, for the uninitiated, is tasty warm mulled wine with a nice kick. Takes the chill off and more. Decorations, handicrafts, and all kinds of tasty treats are the most common purchases at the markets. Lots and lots of gift buying opportunities.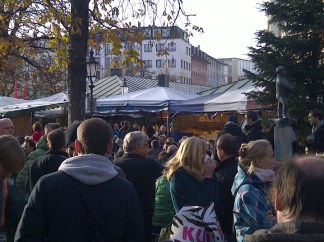 Tour Director & Drive Distances
A good Tour Director makes all the difference, and thankfully ours was excellent. Part guide, part historian, part social convener, and always ready with valuable sightseeing tips or a good joke. An all-round great travel companion.
You might expect that the driving parts of your guided vacation would be a little less enjoyable, but with a quality Tour Director, it couldn't be easier. Commentary ranges from local gossip, politics, celebrities, and travel info through to more conventional history and geography. There's always something interesting to talk about, plus, there are plenty of stops along the way to stretch your legs and grab a quick bite.
Colin's Next Trip…
No idea. But with limited time and looking for good value, I know I'll be considering another guided vacation in the future. Companies like Trafalgar and Insight have really got it right. From the unique local experiences, to the range of options and travel paces, there really is something for everyone. Plus, the convenience of having all the basics taken care of essentially lets you just sit back and enjoy your vacation.
Interested in a guided tour of your own? Check out CAA Travel for more!